Summer's sultry breezes and languid evenings leave little excuse to not get out and enjoy all the romantic nooks, top-notch dining spots, bougie bars and all-around awesome outdoor activities that New York City has to offer.
We've asked six of New York City's best travel writers to let us in on their favorite summer date secrets. These writers have traveled the world over and know where to find the best of everything abroad and at home, so their advice is anything but chopped liver.
Even the most jaded New Yorker should be be impressed with these options.  Get ready to swipe right for a great summer date in New York City and beyond.
An urban oasis: Governors Island
Meredith Rosenberg's top pick
Governors Island is one of my favorite summer date spots since the car-free island feels like such an escape from the city. There are hammocks, cute shops in historic homes and plenty of cool food trucks. And since the entire island is just 172 acres, it's the perfect place for renting bikes. The best part? Governors Island is just a five-minute ferry ride from Manhattan or Brooklyn.
We at oM are excited that it's now open until 10 p.m. on Fridays plus the new ice skating rink is a beauty.
Meredith Rosenberg is a freelance travel writer whose work appears online for CNN Travel, the Travel Channel, Conde Nast Traveler and more. You can view her portfolio at www.meredithlrosenberg.com.
Romantic bars and restaurants
Laura Manske's top picks
My husband and I lead busy professional lives — so we very much like to rendezvous for a special romantic treat at the end of each week — by going to a sophisticated, swanky NYC lounge to have our favorite cocktails, bar foodie-nibbles, and warm conversation. It always feels very sexy to sit on high stools at a bar (with a chair back, if possible), closely together, sharing stories. Among our best hot spots are Bemelmans Bar at the Carlyle Hotel; King Cole Bar at The St. Regis Hotel; the NoMad Bar and the Library Bar at the NoMad Hotel; and the Drunken Munkey. In the summertime, we add the Loopy Doopy Rooftop Bar at the Conrad Hotel and the bar at the Loeb Boathouse in Central Park.
Laura Manske, travel journalist, editor, photographer, and contributor to Forbes.
Pilot: A bar floats in Brooklyn
Kelsy Chauvin's top pick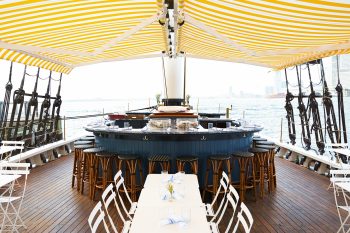 My spouse and I love fresh air, water, and seafood so for a date we found a great spot: Pilot. Last summer Brooklyn became home to this floating bar and restaurant, that's actually a transformed, historic wooden schooner. It's docked along the new-and-improved Brooklyn Heights waterfront (down from DUMBO — so it's reachable by subway, or better yet via water taxi or Citi Bike), and quite possibly has the city's best views of Lower Manhattan, Governors Island, and the Brooklyn Bridge. The vista is the perfect pairing for expert cocktails and divinely fresh oysters. In the summer heat, it's also a dreamy way to keep cool with the harbor breeze sans air conditioning.
Kelsy Chauvin is a travel writer Brooklyn. She co-authors the Fodor's NYC and Brooklyn guidebooks contributes regularly to Fodors.com, Condé Nast Traveler, Passport Magazine, Rand McNally, and other publications.
A Hudson Heights rendezvous
Kyle McCarthy's top pick
In summer, my perfect date night is an outdoor café in another country, so we go north to Hudson Heights. We have drinks over sunset at La Marina, a Hudson River-view bar with palm trees and rattan couches that reminds us of Negril. Then we walk along Dyckman Street to Mamajuana, a stylish Dominican-Argentine tapas bar which transports guests to Santo Domingo in seconds. The large outdoor café is packed with bling-draped rapper types and curvaceous women sipping sangria or Bacardi, some smoking hookahs. The food is fabulous and the longer you linger, the more you relax into the intoxicating tropical rhythm of Inwood. Although most couples arrive in gold SUVs, showy Italian sportscars or noisy Zero's, you can sneak in from the Dyckman Street A train stop just a block away.
Kyle McCarthy is editor at FamilyTravelForum.com and relishes all aspects of New York's multiculturalism.
A romantic ride on the Cyclone: Coney Island
Brandon Schultz's top pick
Coney Island was once a top summer destination and guess what–it's still there, and perfect for a date. Grab a pair of Nathan's Famous hot dogs, take a ride on the historic Cyclone, and sip a couple of beers at Coney Island Brewery, all while enjoying the summer sun over lapping waves bathing the sand along the recently upgraded boardwalk.
Brandon Schultz is a freelance travel writer and advice columnist based in New York City. Follow him on Instagram.
Bannerman Castle: Explore the Hudson Valley
Serena Norr's top pick
There are so many cool and educational things to do in the Hudson Valley and one of my new favorites is visiting Bannerman Castle. An easy Metro-North train ride into Beacon, NY (a super cute and accessible town for a day trip) will bring you into the port where the boat leaves for Bannerman Castle. They regularly host walking and guided tours and cool events (a production of 1776, Hamlet, concerts, and films are on the bill for the summer) where you can enjoy a unique way to experience culture amongst a stunning backdrop on the Hudson.
Serena Norr is a mom of 3 and the founder of Weekend Jaunts, a site dedicated to travel and adventures in NYC, Westchester and beyond.
Images credits: Serena Norr, Terence Lim, Mark, Nestor Rivera Jr, Duncan PJ and Pilot