Elk Lake Lodge is a rustic resort situated on 12,000 acres of privately owned forest preserve in the High Peaks. It's a timeless place that offers a true wilderness experience without sacrificing an ounce of comfort. If you love the Adirondacks, Elk Lake Lodge is a place of poetic visuals and astounding beauty. Many guests return year after year, pulled back to the simplicity and traditions. Its a horn of plenty for nature lovers and outdoor enthusiasts located just hours from NYC.
Get Outdoors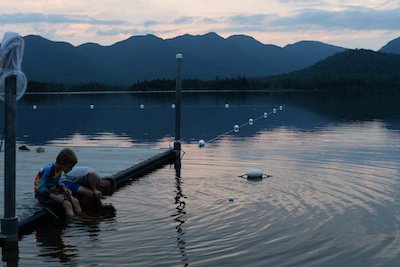 With 40 miles of forest trails accessible only to guests, chances are you'll have whichever trail you choose all to yourself. There are trails suitable for serious hikers as well as Sunday strollers. Fauna abounds, so be prepared to see moose, deer, beavers, bald eagles and black bears. A kaleidoscope of flowers, ferns and musk present a lush carpet of vegetal color.
Elk Lake is the resort's crown jewel. The clean glacial waters are dotted with dozens of islands and inlets that beg to be explored. Kayaks, canoes and rowboats are available to all guests. Swimming is a refreshing option.
Fish for speckled trout and landlocked salmon or just soak in the views and appreciate the serenity.
With no televisions, cell phone service or motorized boats on the lake, the silence is hardly ever broken, except for the mystical call of the loon.
The Digs 
Guests stay in one of six simple, clean rooms in the main lodge, each with two single beds and a bathroom. A fine alternative is to rent one of the eight cottages nestled around the property. They provide additional privacy and panoramic views.
The main lodge is where many guests choose to spend evenings reading by the fire or chatting with fellow guests.
Elk Lake Lodge is a low-key place so if you crave nightlife you'll be disappointed. If you need organized activities this is also not the place for you. The resort usually hosts 40 or 50 guests, so it's quite intimate.
The Green Scene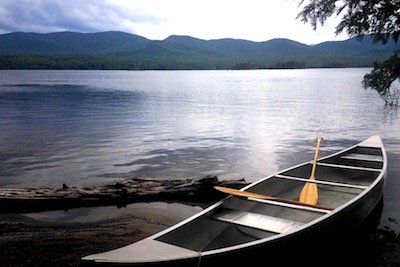 Maintaining the continued integrity of the Adirondacks is of great concern to the owners of Elk Lake Lodge, so sustainability is paramount. They pioneered the use of lead-free sinkers on the lake, which is now New York State law. They don't utilize cleaning products with petrochemical ingredients or solvents and they diligently recycle. They partner with Audubon on non-invasive wildlife research.
The Eats
Wholesome meals, featuring local ingredients, are included in the rate. The dining room offers views of Elk Lake and the mountains. Tables are scattered around a central fireplace for added warmth and coziness.
A hearty breakfast is served from 7-8 am and the dinner bell rings–literally– at 6 pm sharp. You'll choose from several main courses in addition to salad, soup and dessert. A packed trail lunch is provided daily for a portable meal on the go. Home-baked cookies and lemonade appear at 1 pm and cheese and crackers at 5 pm, so no one will go hungry.
A selection of wine and beer are available at the front desk for an additional fee.
Take Public Transit from NYC
No car is needed to enjoy this natural wonderland. Ride Amtrak's Adirondack line from Penn Station to Ticonderoga and ask for a pick up at the station when you make your reservation. There is an additional fee for this service. The train ride from NYC to Ticonderoga takes five hours. The ride from Ticonderoga to Elk Lake Lodge is 45 minutes.
Elk Lake Lodge is open from mid-May thru mid-October. There are an overwhelming number of repeat visitors who return year after year, so advance booking is recommended.
For additional information, visit Elk Lake Lodge.
Featured image courtesy of Gary Paige
Image credits: Elk Lake Lodge and the author
Allison is a native New Yorker, who has lived in Rome, Tuscany, Melbourne, Toronto and Los Angeles. She frequently contributes travel pieces to Family Travel Forum, using her own children as guinea pigs as they travel the globe. She is fluent in Italian and Spanish and laughably adequate in French. Her background as an Early Childhood Educator gives her an added understanding of what it takes to travel with kids in tow. She firmly believes that the most important part of education takes place outside of the classroom, on the road, around the world. She never misses a chance to sample local delicacies, as her love for travel goes hand-in-hand with her love for food and wine. Follow Allison at @gourmetrav.