Looking for an easy overnight getaway? Long Island's North Fork is just a two-hour Jitney ride away. You'll be transported to a coastal landscape of farm and vine, where food is made with homegrown ingredients and wine is produced at local vineyards.
In the seaside town of Southold, epicurean's flock to the North Fork Table & Inn. The hospitable young chef is committed to sourcing local so you'll be sampling some of the freshest foods available.
After dinner, sleep in one of the inn's four rooms. In the morning, explore Southold's beaches and work off some of last night's calories at the yoga studio just a few doors away.
The Chefs
Chef Stephan Bogardus grew up on the North Fork and these roots give him a hometown edge. His personal relationships with local purveyors, farmers, fishermen and wine producers means each morsel is clean and flavorful. He's a genuine talent who cares deeply about preserving the authentic agricultural spirit of the North Fork.
Pastry chef and co-proprietor Claudia Fleming won the James Beard Foundation award for Outstanding Pastry Chef in 2000 and her baking expertise continues to delight.
The Food
The six-course tasting menu is the way to go but there's also a three-course option or order a la carte. The menu is inspired by the bounty of the East End and North Fork, with the emphasis definitively on seasonality. In spring, treats like white asparagus, sweet peas and ramps announce earth's awakening. Boat-to-table seafood couldn't be any fresher, cooked in seawater that the kitchen staff collects from a nearby beach during their late afternoon break.
There are elements of molecular cuisine on the menu but nothing tastes like a science experiment. You will nibble dust and foam but the touch is always as light as a whisk with the spotlight remaining firmly on the primary ingredients. Chef respects the essential character of his ingredients too much to mask them with trendy technique.
The menu offers a playful take on texture so expect an unexpected dash of crunch in your duck terrine or asparagus soup.
Razor clams accented with chewy coconut shavings, dry aged Crescent Farms duck and seared foie gras with raw tuna and daikon, are a few of the delectable dishes.
Don't you dare skip dessert. Chef Fleming will weave a magical spell over your sweet tooth with her take on warm sugar and spice doughnuts and fruit-enhanced sorbets.
Local agriculture and viticultural are celebrated so expect ingredients sourced from Mar-Gene Farms in Mattituck and Backyard Brine Pickles in Cutchogue.
Brunch is served on weekends.
The North Fork Food Truck
The North Fork Food Truck is seasonal, cash only and located just outside of the inn. Feast on causal comfort food such as Hartmann's artisan hot dogs served on a Blue Duck Bakery roll, wild-caught lobster rolls and black bean burgers. You may purchase Chef Claudia's heavenly chocolate-chip and oatmeal raisin cookies by the piece or half-dozen to nibble on during the Jitney ride home.
The Inn
In the tradition of a classic European auberge, the Inn offers four simply furnished rooms. Rates range from $200-275 per night and include an amped-up Continental breakfast. House-made muffins, scones and granola, plus hearty classics like bacon and quiche, should please every palate. If the morning air is a touch nippy, enjoy your morning repast by the fireplace. It's an eye-opener so don't oversleep.
Things To Do In Southold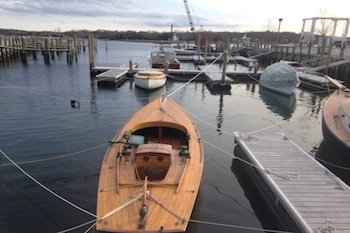 The inn provides beach passes to numerous local beaches.
It is just a short stroll to Founders Landing, a serene seaside stretch overlooking Southold Bay. You'll pass the marina, so take a peak at all the pretty seaworthy vessels.
The Giving Room is a yoga studio a few steps from the inn. The schedule offers Vinyasa flow, Pilates and a sunrise sun salutation class, just to name a few. The inclusive atmosphere and welcoming vibe is refreshing so consider dropping in for a class and a green juice.
Wine enthusiasts know that Southold sits in the heart of the East End's wine region. Bring your bike on the Jitney for a $15 fee and pedal away to sip and sample at a the nearby vineyards.
If the you're overwhelmed by so many fantastic choices, Bedell Cellars is a family owned vineyard dedicated to sustainable farming techniques. They are located in nearby Cutchogue.
Get Here from NYC
The Hampton Jitney makes several stops in Manhattan before heading to the North Fork and stopping in Southold. The journey takes two hours.
The LIRR  stops in Southold on its way to Greenport.
For more information on visiting the North Fork, go to Northfork.org and discoverlongisland.com
Featured image courtesy of Bedell Cellars
Photo credits: Mark Jordan, the author, North Fork Table & Inn
Allison is a native New Yorker, who has lived in Rome, Tuscany, Melbourne, Toronto and Los Angeles. She frequently contributes travel pieces to Family Travel Forum, using her own children as guinea pigs as they travel the globe. She is fluent in Italian and Spanish and laughably adequate in French. Her background as an Early Childhood Educator gives her an added understanding of what it takes to travel with kids in tow. She firmly believes that the most important part of education takes place outside of the classroom, on the road, around the world. She never misses a chance to sample local delicacies, as her love for travel goes hand-in-hand with her love for food and wine. Follow Allison at @gourmetrav.