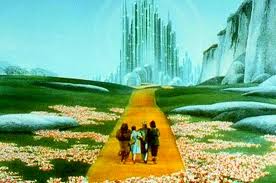 What: Yellow Bricks and Emerald Cities
When: Now through December 2009
Where: Geppi's Entertainment Museum, Baltimore
Why: If you're in town for a Yankees vs. Orioles game or some blue crab, add this to your activity list. 2009 marks the 70th anniversary of the release of The Wizard of Oz, and Geppi's Entertainment Museum is celebrating with a special exhibit featuring first editions of 40 Oz books, by creator and author L. Frank Baum as well as by children's writer Ruth Plumly Thompson and illustrator John R. Neill who continued the franchise after Baum's death in 1919. Movie-inspired merchandise like posters, dolls and even board games round out the show of vintage mementos.

As a nod to the fantastical world of Oz, Geppi's invited six illustration seniors from the Maryland Institute-College of Art to contribute original works inspired by the film. The students provided new takes on Dorothy, Tin Man, Scarecrow, the Good Witch Glinda, and the Wicked Witch of the West, including her flying monkeys. A haunting vision of the meeting between Dorothy and the Wizard might just be the star of the show.
Cost: Regular admission is $10, but on Orioles and Ravens game days, you'll pay only a dollar.
How to get there: Consult our Manhattan to Baltimore Transportation Advisor for multiple travel options. For pop culture and other current exhibits at the museum, check out the website below. (Geppi's Entertainment Museum, 301 W. Camden St., geppismuseum.com)