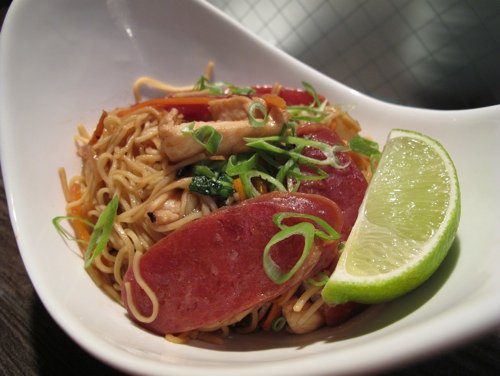 Manhattan chef King Phojanakong has opened Umi Nom in Clinton Hill as the sequel to Kuma Inn, his wildly popular, pint-sized Asian tapas destination in the Lower East Side. Drawing on the the chef's Thai and Filipino heritage, the Brooklyn follow-up features a fresh set of small plates along with noodle and fried rice dishes to showcase Southeast Asian cooking that's more polished than its "street food" stereotype.

True to its name, which means "To Drink," Umi Nom will offer Asian-influenced libations like sakes, Singha beer, and even—as a nod to its new home—Brooklyn Lager.
Of the two dozen new plates (most of which hover in the $10 range), King recommends the roasted Manila clams in spicy black bean sauce, the lightly battered crispy calamari, and chili glazed wok prawns. Of the latter he says, "We leave the head on, peel the shell, and sauté it with Thai chili, fish sauces, and palm sugar in a wok, which is one thing we don't use at Kuma Inn."
While Umi Nom may trump its sibling with a frying pan, Manhattan regulars visiting this borough should find comfort in its similarities, like Umi Nom's intimate interior. Prior to its current incarnation, the DeKalb Avenue storefront was an abandoned century-old Laundromat complete with a dry cleaning center, which now houses the open kitchen in the back. As the chef puts it, the property was an empty shell of rocks, rubble, and laundry machines, but it also had its charms: high ceilings, skylight, and an exposed brick wall with windows.
Though Umi Nom stays close to the original recipe, there's no guarantee Chef King's sophomore effort will repeat the success of his first. Still, this won't be the first time he's attracted gourmands to an untapped zip code. And armed with the time-tested blend of bold Southeast Asian flavors and gentle prices, there's no arguing that Umi Nom just might be the breakthrough Pratt needs to draw culinary gentrification east.
How to get there: Take G train to Classon Avenue (Umi Nom Restaurant, 433 DeKalb Ave, Brooklyn, 718.789.8806, uminom.com) Reservations suggested for Friday and Saturday.