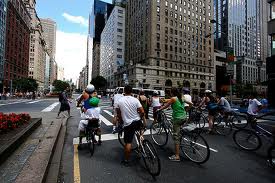 What: 2nd Annual Summer Streets
When: Saturdays, August 8, 15, 22, 7:00a.m.-1:00p.m.
Where: The bike route runs the length of Park Avenue, and connecting streets from the Brooklyn Bridge to Central Park.
Why: For most of us city slickers, a summer without sweltering heat and humidity is a beautiful thing. Let's celebrate the freakish mid-70-degree weather in August with a breezy bike ride through the car-free streets of New York. (Yes, you read that right: no cars, not even taxis.) The Summer Streets' green initiative is partnering with the bicycle and pedestrian advocacy group Transportation Alternatives (TA) to coordinate escorted bike rides from outer-borough destination points to Manhattan.
However, for off-island seekers, you can take your bike over the Brooklyn Bridge to Grand Army Plaza—one of the designated TA meet-up spots is under The Soldiers' and Sailor's Arch. Pick up some fresh goodies at the Farmers Market, pop into the Brooklyn Library, or have a picnic at Prospect Park.
Alternative routes: Pedal to the World War I Memorial in Queens, where the scenic ride will take you along Shore Boulevard and into Astoria Park. If you're seeking a Bronx adventure, your uphill legwork will lead you to Woodlawn and through the neighborhood's authentic Irish culture.
Your to-do list: Pump tires, strap on helmet, fill up water bottle, pack on the SPF, and bike for joy.
Cost: Free
How To Get There: Visit the Summer Streets website for a map, ride meeting points, activities, and more info. Note: For those without wheels, free loaner bikes will be made available at various rest stops, such as the Family Rest Stop, Musical & Cultural Rest Stop, and SoHo Stations.
Photo: Courtesy of lindsaypunk