When the holidays roll around, it's easy to get swept up with flash sales and discount codes. We took a deep breath and dove into the wild world of internet shopping to find products that are not only great gifts but also made by companies with missions focused on sustainability and empowerment. Because, as Purpose Jewelry's website notes, you shouldn't have to sacrifice style to make a difference.
---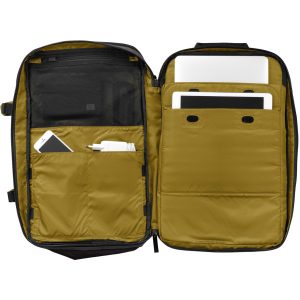 Victorinox | Vx Touring 17" Laptop Backpack | $190
Looking for a sleek and smart backpack? The Vx Touring 17" Laptop Backpack is the perfect companion for traveling on the subway or around the world. The pack is easy to zip open and includes myriad pockets for storage. Victorinox is regularly awarded for their sustainability efforts ranging from the use of solar energy to power the production of their watches to heating their headquarters with excess heat from the knife-grinding process.
---
Hydro Flask | Wine Bundle | $104.85
Need a gift that combines vintage with the great outdoors? The new Hydro Flask Wine Bundle offers the perfect combo. Using their famous TempShield™ insulation, they've created a bottle that will keep whites perfectly chilled and reds at room temperature as you hike to a peak or relax during a picnic. The 25oz bottle holds an entire 750 ml bottle of wine and is made of pro grade stainless steal so you don't have to worry about the bottle influencing the taste. Add in the 10oz wine tumblers and you have the outdoorsy-wine lovers gift of the year Plus, you can mix and match colors.
---
JambuKD | Kids' Shoes | $45-$75
JambuKD "designs with kids in mind" to a offer a versatile line of durable and colorful children's shoes. These cute and functional shoes are adventure-ready with shielded toe guards and water proof designs on many styles. Choose a gift for the kids that allows them to explore the world hands on and feet first! Many of JambuKD's styles are vegan friendly: made without any animal materials and just as durable.
---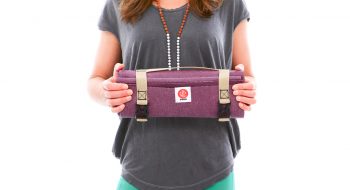 YOGO | Ultralight Travel Yoga Mat with Integrated Straps and Handle | $64.99
The YOGO Mat is the perfect gift for the always-on-the-move yogi in your life. The mat easily folds up and buckles with integrated straps and a handle so you can stow it in a small bag and take yoga anywhere. The mat is made with natural tree rubber, and YOGO plants one tree per mat.
---
The good looking Chambray Work Shirt offers casual, sustainable style with fits for both men and women. The shirt (and most of Loomstate's apparel) is both 100% organic cotton and made in a a Global Organic Textile Standard-certified factory. This is the gift for someone who appreciates comfort, style, and sustainable supply chains.
---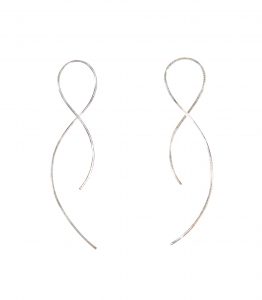 Contemporary curves, and high quality metal define the Vista earrings by Purpose Jewelry. Easy to add to an office outfit, a night on the town, or a casual meet-up at the local coffee shop, they're the perfect subtle and classy accessory for any outfit. 100% of Purpose Jewelry's proceeds go to International Sanctuary benefiting girls and women escaping human trafficking. The earrings are also crafted, packaged and shipped by these women, providing them employment and an added level of economic stability.
---
Raven + Lily | Feather Journal | $9
For the friend who's always jotting down ideas and taking notes, this artsy Raven+Lily Uzma Feather Journal is a simple and beautiful gift. The journal is printed on recycled notebook paper and made by artisans in India who are from "communities where women traditionally were not educated or employed."
---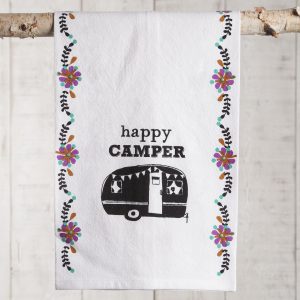 Natural Life | Happy Camper Flour Sack Towel | $11
Use this energetic towel to brighten up your kitchen and dry your dishes with a smile/ This 100% cotton, lint free towel is a great addition to any kitchen (no matter how small). Natural Life's commitment to doing good is vast. The organization supports local and national organizations that are committed to everything from mentorship for high school females to providing work opportunities for individuals with disabilities.
Vaya Bags offer funky and functional designs out of good ol' Queens New York. Their classic product is a backpack that also doubles as pannier for those of you with the requisite bike rack. Along with being women-owned and operated, Vaya is committed to using recycled materials (think seat belts and bike tubes) to craft their bags.