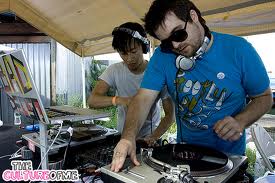 What: Brooklyn Electronic Music Festival, plus a Taco Truck, two-hour open bar, and ice cream.

Where: Old American Can Factory, Gowanus, Brooklyn

When: Saturday, August 8th, 4:00 p.m.– 4:00 a.m.

Why: Electronic music has come a long way since the early instrumental days of theremins and the ondes Martenot. Now, artists create a sui generis sound using noisemakers that synthesize, sample, and scratch. This weekend, the BEMF festival organizers—Famous Friends and Noise Problem—will transform a 6,000-square-foot warehouse into a 12-hour music fest in and out of doors.

Whether the band has a pop/rock influence or is rap-based, the selected lineup will span every genre of music. "Last year we were a niche festival, this year we're covering electric sounds all over the scale," said Ruth Heronemus, festival organizer for Famous Friends.
This year's schedule is split down the middle with an equal amount of bands and DJ's who will be spinning sounds from amplified instruments and plugged-in laptops all through the night. "There's an eclectic electronic scene in Brooklyn. In the city, you can go to Webster Hall and Bar 13 and it's totally different. But, when you come to Brooklyn people know what they are going to see is hard core," said Heronemus.
When asked who we should get amped about this Saturday, Heronemus said: Designer Drugs, Young Love, DJ Ayes, The Juan MaClean, and up and coming DJ American Dream Team.
Cost: $25 Pre-sale
How to get there: To the Old American Can Factory, take the F from Manhattan to Carroll Street. Exit at the 2nd Place (south) side of the station. Cross Smith Street and turn left to walk downhill on 3rd Street for 3 blocks (you will cross the Gowanus Canal). You will arrive at a huge corner building, whose orange Rooftop signage will confirm you're there. (Old American Can Factory, 232 Third St., Brooklyn, brooklynemf.com)
Photos: Courtesy of The Culture of Me