A day trip to the Catskills is great way to get out and get vertical. Two popular—and easy to reach—mountain resorts are Hunter and Windham. Can't decide which one is for you? Find out how they compare in this Catskill Mountain Smackdown where we compare Hunter Mountain versus Windham!
Slope Stats: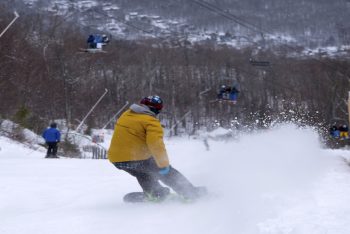 Hunter and Windham both boast the terrific slopes and snow with Windham boasting more terrain parks and Hunter more trails.
Hunter Mountain is comprised 320 acres for 67 trails, including 4 terrain parks. There are thirteen lifts including a zippy 6-seater express to the summit, some 1,600-feet above the base. The terrain is a balance of beginner, intermediate and advanced slopes.
Windham lists 285 acres for its 54 trails and 6 terrain parks. Its vertical drop is also 1,600-feet. There are twelve lifts including 2 high-speed quads and a good mix of terrain for all levels of skiers.
Find Hotels near Hunter Mountain:


Visit the Hunter and Windham websites for deals, but here are two that sound worthwhile. Windham has a fantastic First Timer package, offering access to beginner lifts (D, E, M, N, K, L), a lesson and rental equipment for only $109. The rental equipment comes with a helmet, and lessons can be scheduled between 10:00 am to 2:30 pm with no time limit.
Meanwhile at Hunter, a mid-week ski-and-stay package for beginners starts at $119 and includes two all day lift tickets and slope side lodging. "The ski-in, ski-out hotel is one of our great assets," says O'Connor.
First Timers
If it's your first time on the slopes, consider taking a lesson. "Our instructors at Windham are completely geared toward making your time here stress-free and fun," says Gorman. Windham's lower beginner slopes have ample "magic carpets," or conveyor lifts. The only downside is that in order to transition to the short beginner chairlift, newbies have to get to the other side of the base area, which would most likely involve taking off their skis or snowboard.
Find Hotels and Airbnbs near Windham Mountain:
Hunter's learning center has self-service kiosks for check-in and rentals due to large crowds. Once you have your gear and lift ticket, you can head out to the beginner area that is separate from the main mountain. The beginner zone includes "magic carpets" and a small chair lift so novices can easily learn to master the chair dismount.
Beyond the Slopes
Both Windham and Hunter focus on experiences that extend beyond the slopes. Both feature holiday fireworks and live music. Both have a zip line, a spa and snow tubing. Both host exciting rail jams and races.
But each mountain has its own personality and pulse that suits different types of skiers and riders. See which you prefer and let us know in the comments!
Take the Bus to Windham or Hunter from New York City
Buses from NYC can take you to either Hunter or Windham in roughly 2.5 hours. OvRride and Urban Sherpa offer trips to both mountains, with a variety of packages ranging from transport and lift tickets to plans that include rentals and lessons. "OvRride tends to have a younger market and a fun party vibe," says Katie O'Connor, the communications manager at Hunter Mountain. "Generally the buses leave when the slopes close, and you can still have an evening out in New York." Each mountain has welcome teams to greet buses and direct guests where they need to go.
Want to check how it is to ski in France? Check out our post about skiing and snowboarding in the French Alps. If you're looking for exciting deals check out these Winter Ski Holidays.
Photo credits: Hunter Mountain and Windham Mountain
Karen de Seve writes about the outdoors, science and nature for all sorts of media, from National Geographic to kids TV to natural history museums. Check out her snow sports blog www.famsnowtime.blogspot.com and follow @kdeseve on twitter.