Whether you're a seasoned skier or someone who just likes to dabble, trying a new ski resort and exploring new terrain is always exciting. But instead of heading to Park City again, why not try something completely different, like the French Alps?

I took my first international snowboarding trip to the French Alps last March by myself and without renting a car. One of the best things about Europe (besides the incredible bread, cheese and wine) is their train system. You can get from any major city out into the country and the mountains quickly, sustainably and without breaking the bank.

Instead of spending your entire year end bonus on a plane ticket directly from NYC to Geneva, opt to fly into Paris and hop on a train directly to the mountains for $100. My six-hour ride from Paris to the French Alps was quiet, easy and beautiful and a great opportunity to catch up on sleep.

In just a week, I was able to travel from Paris to several smaller towns in the French Alps and back all via train. I spent time touring and snowboarding in Bourg-Saint Maurice at the base of Les Arc, Sainte Foy near Val D'Isere and Val Thorens, which is a part of The Three Valleys — the biggest ski area in France.

In the 5 days I spent in the mountains I tried the full range of lodging experiences: an Airbnb, a standard hotel and a five-star ski in/ski out experience.
A Guide to the French Alps by Train
I was able to ride for free at Les Arc, Les 3 Vallees and Val D'Isere thanks to the Epic Pass, which included these French resorts. Even without it, the ski tickets in France are dramatically cheaper than they are here in the US (on average, a ticket at the window is around $55-$70).

Skiing and riding in France is notably different than riding in the US. There are no defined trails — everything is open and marked with skinny poles sticking up from the snow. Of course, there were groomed trails, but it wasn't always easy to tell what part was a trail and what was "off piste"! Additionally, people don't talk or acknowledge each other on the ski lift in France. Don't expect to make friends with random people on the lift.

Skiing and Snowboarding at Les Arc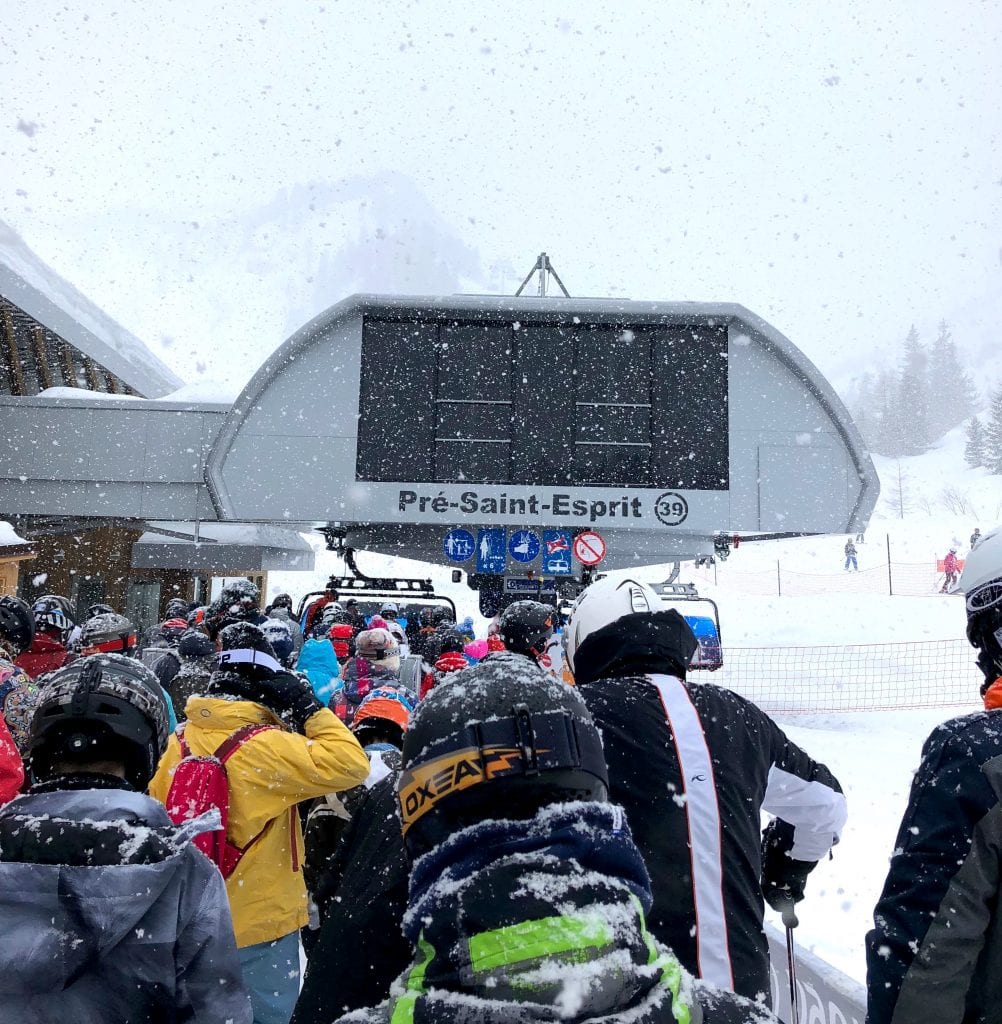 The Resort:
Les Arc is part of the Paradiski area, which contains two other resorts. It has 49,000+ acres of skiable terrain, 106 runs, 54 lifts and lots of options for novice to expert skiers and riders. It's highest peak is 10,500 ft.

I can't say I had the best day at Les Arc because it was snowing the entire time I was there. In blizzard conditions with extremely low visibility, I didn't see any of the views. Although I'm sure it would be so beautiful on a clear day.

The Lodging at Les Arc:
Finding an Airbnb in my budget and near a mountain wasn't too difficult, but the pickings were slim as I happened to travel to France during their spring break period in early March. I found a cute bed and breakfast near Les Arc with a very sweet family. They even gave me a ride to mountain!
Get to Les Arc:
Take a 5 hour train from Paris to Bourg St Maurice. Prices start at around $100 for standard coach.
Skiing and Snowboarding at Val D'Isere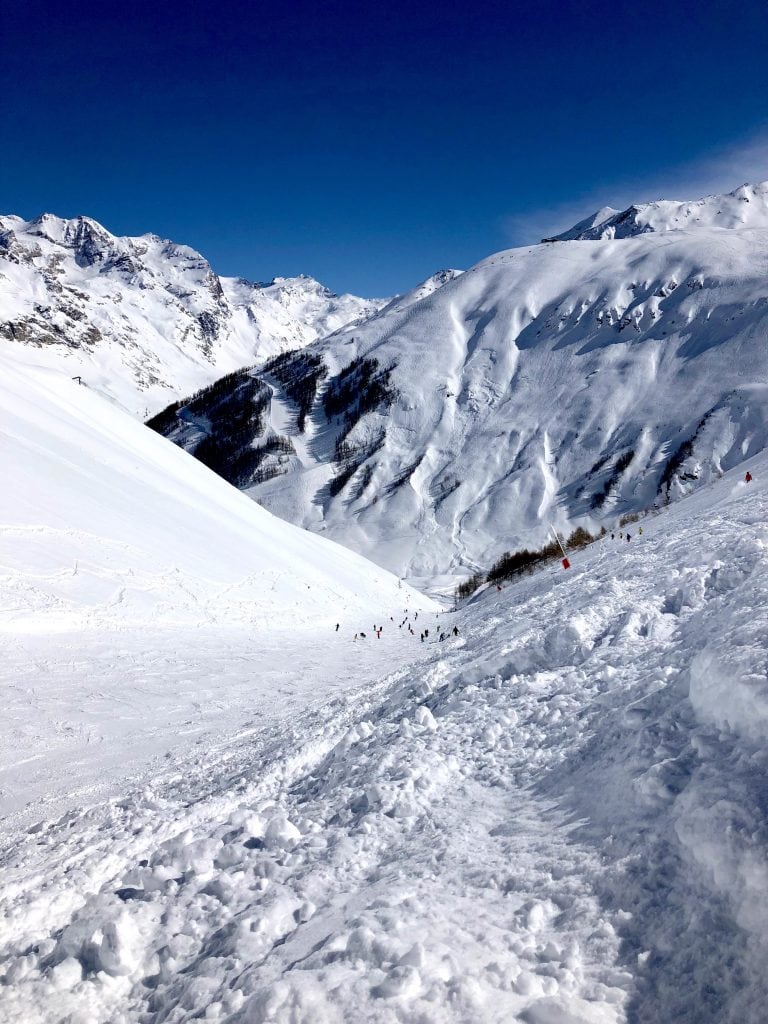 The Resort:
Val D'Isere is huge, fancy and a little intimidating! It has over 74,000 acres of skiable terrain, 154 runs and 79 lifts. While there are areas for novice skiers, most of the terrain is for intermediate to expert skiers and riders.

Val d'Isere was my favorite of the three resorts I visited, but that had a lot to do with the weather. I was supposed to have two ski days at the resort, but the first day was so stormy I didn't make it to the mountain. The second day, however, was crystal clear with fresh snow and no crowds. It might have been the best day of riding I've ever had.

The Lodging:
Val D'Isere is so popular that I wasn't able to find affordable lodging in the mountain village. But, I did find a quaint standard hotel in a small (literally one road) town called Sainte-Foy (pronounced sant fwah) along a gorgeous bus route to the resort.

Le Monal is also an excellent hotel near Val D'Isere (the bus trip was just $15 to and from the mountain) but note that there isn't much of a town or anything to do where it's based. The rooms are comfortable, the staff was friendly and the food and beer situation was excellent.

Take Public Transit to Val D'Isere:
Take the train from Paris to Bourg St Maurice, then a 40 minute bus ride to Sainte-Foy or Val D'Isere depending on where you've decided to stay. The ride will run you about $15 each way.
Skiing and Snowboarding at Val Thorens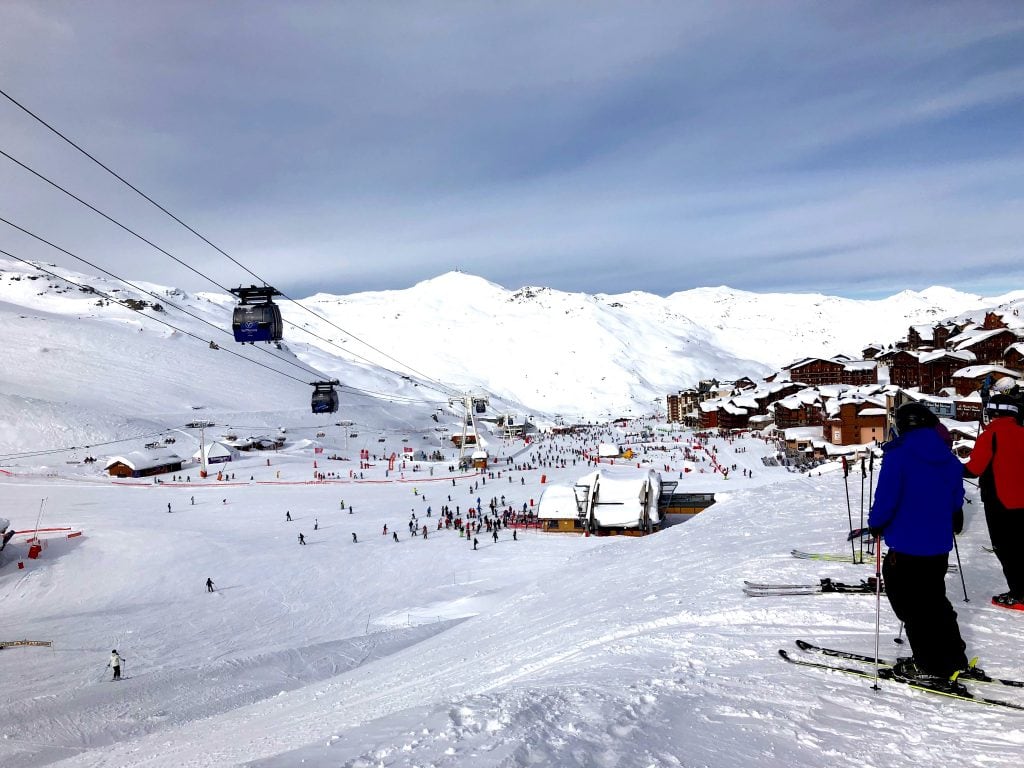 The Resort:
Val Thorens was absolutely the most overwhelming of the three resorts I experienced. Driving up to the resort, you are absolutely surrounded by skiable terrain. It's literally a 360 view of people skiing. It would be impossible to explore it all in a day (although I tried!).

The lines at Val Thorens were much worse compared to the previous two and not particularly orderly. Be prepared to shoved a little when waiting in the lift line at a French ski resort.

Val Thoren's highest point is 10,597 feet. It has 68 runs with 31 lifts. Since it's part of a huge resort network called Les 3 Vallées it's also connected to Courchevel, Meribel, Brides les Bains, Menuires, St-Martin De Belleville and Orelle.

While on the mountain, I easily skipped over to Orelle without actually leaving the trails or resort area. If I had more time, I would have explored more.

The Lodging at Val Thorens:
My last stop was Hotel Koh-I Nor at the base of Val Thorens (pronounced val torahn). This was the highlight of my trip. I had never stayed at a ski in/ski out location before. I'm not sure I can go back to staying off the mountain at this point!

Hotel Koh-I Nor is a luxury 5-star hotel with amazing views of the surrounding mountains, excellent service, an incredible spa and three restaurants. I had the pleasure of hanging out in the spa and pool area (they have this amazing Himalayan salt rock sauna) after hitting the slopes and before sinking into a giant, fluffy bed.

Closest Train Station:
Take the Omnibus from Bourg St Maurice to Gare de Moûtiers. Or if you're looking to be connected from an international airport, take the Eurostar train from London to Gare de Moûtiers.
From Gare de Moûtiers there is another bus to Les Ménuires which you can use as a basecamp to ski to Val Thorens.
Getting around the French Alps without a car
There are many mountains you can easily get to via train in France. It was easiest to get to Les Arc and Val D'Isere, while Val Thorens was about an hour from the train station. Note that if you arranged a trip to Les 3 Vallees, the smartest thing to do is find a bus from the train station to the resort.

A ticket from Paris to Bourg-Saint-Maurice was just $100 and a ticket between the towns near the ski resorts ranged from $8 to $15.

Outside of using trains, I was able to book taxis and get rides from my hosts. Taxis wait at every train station, making it easy if you haven't planned ahead and if all else fails, a hotel can help you arrange a car.
Body photos by author, header photo byBenh LIEU SONG