New Haven, just over 90 minutes from NYC via Metro-North, is gifted with a vibrant food scene. Though the area is best known for its pizza parlors, New Haven is also home to culinary pioneers like the Northeast's first sustainable sushi restaurant. Here's our guide to enjoying a gourmet retreat in New Haven.
I. Pizza
Thin-crusted, slightly charred New Haven pizza is also known as "apizza" (pronounced ah-beetz) and can be ordered with or without cheese ("mootz"). While three famous pizzerias — Frank Pepe's, Sally's Apizza, and Modern — dominate the conversation, a host of newer spots are serving up a fresh take on New Haven pizza.
Frank Pepe's (157 Wooster St, New Haven) has been perfecting the art of pizza since 1925. Frank Pepe came from humble origins to create an empire, where long lines of patient patrons wait for pizza cooked on two massive wood burning ovens. Try a signature white clam or the classic tomato pie, ordered "well-done" for an authentically New Haven charred crust.
There's never a dull moment at new kid on the block Pizza Zinc (966 Chapel St, New Haven) — the menu includes such offerings as Salmon Gravlax, Fig + Speck, and Broccoli Rabe. Located in the heart of downtown, Zinc's cozy interior is the perfect spot for an adventurous date and boasts a full bar should the night take a turn for the worse.
At BAR Pizza (254 Crown St, New Haven), you can order four things — beer, wine, pizza, and salad — a testament to BAR's commitment to a no-nonsense, homemade menu. Along with your pizza (we recommend a white pie with mashed potatoes and bacon), enjoy a glass of in-house brewed beer. Be sure to stay late: BAR is one of the only nightclubs in the downtown area.
II. Local Flavor
When you've had enough of tomatoes and bread, New Haven boasts a number of restaurants serving a wide range of cuisine. Check out these in-the-know spots to eat well and mingle with the locals.
Ready for breakfast? Claire's Corner Copia (1000 Chapel St, New Haven) is the choice for Yale students and townies alike. You'll find kosher comfort food as well as lighter options, including a range of smoothies. Unquestionably, the star of the show is Claire's delectable Lithuanian coffee cake, dished out in a healthy hunk and slathered in the richest icing we've ever tried.
Louis' Lunch (261-263 Crown St, New Haven) claims to have invented the hamburger sandwich in 1900 and continues the tradition to this day. Tucked into a tiny building downtown, Louis' attracts a fair crowd of people eager to chow down on a hamburger, potato salad, and side of chips. Be warned: do not order ketchup unless you'd like to be ejected bodily from the establishment.
Entrepreneur Jason Sobocinski owns a number of New Haven businesses, but the jewel of his collection is undoubtedly Caseus (93 Whitney St, New Haven). A gourmet fromagerie and restaurant, Caseus (named after the Latin word for education) is dedicated to the art of the perfect cheese. Don't miss their heavenly poutine or irreplicable bread-crumb topped mac and cheese, composed of a blend of nearly eighty different cheeses. The best part? Much of Caseus' ingredients are sourced locally, including eggs from Cohen Farms and beer from Jason's Black Hog Brewery.
Miya's (68 Howe St, New Haven) is run by chef and White House Champions for Change for Sustainable Seafood recipient Bun Lai, who recently cooked for Barack and Michelle Obama. Much of Miya's menu is constructed around invasive species such as catfish and Asian carp rather than overfished favorites such as salmon and tuna. If you're brave, order the Future Sushi Especial for a taste of sushi in the year 2150, when humans eat more plants and insects and less animals. No matter what you try, be assured that you can only find it at Miya's.
III. Fine Dining

New Haven's restaurant hotspots come alive at night. Whether you're in the mood for a white tablecloth or convivial, low-lit space, you'll find plenty of places at which to plan a special evening out.
Sit in Harvest's (1104 Chapel St, New Haven) central courtyard during pleasant weather or inside the dining room when it's chilly. The wine bar and upscale farm-to-fork bistro boasts an oft-rotating menu constructed with fresh produce reflecting the best of the season. Order the Wood Fire Harvest Sliders or the Filet Mignon, both featuring grass-fed beef from locally-based Slope Farms. If you're still craving cheese, the Lobster Mac and Cheese is also fantastic.
John Davenport's (155 Temple St, New Haven), located on the Omni Hotel's nineteenth floor, features sweeping views of Long Island Sound and central New Haven. Menu standouts include the New England Lobster Roll (best enjoyed in sight of the water), NY Strip (14 ounces of angus beef), and the creative cocktail menu serving drinks (like the Maple Collins) inspired by and sourced from the region. John Davenport's also puts on an expansive breakfast buffet with quiche, bacon, oatmeal, an omelet station, and a bagel bar.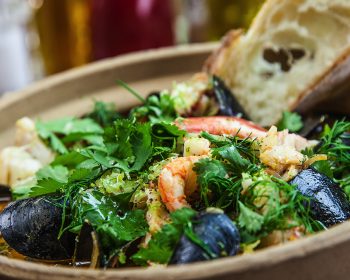 For an intimate setting, try Heirloom (1157 Chapel St, New Haven) inside The Study at Yale Hotel. Featuring chef Carey Savona's "farm + coastal" dining, Heirloom presents simple food that doesn't get in the way of the conversation. We love Heirloom's chicken and dumplings, adapted from the chef's grandmother's recipe, oysters from Rhode Island and Massachusetts, and the star of the show, New England Bouillabaisse.  
Take the train from NYC
Ride Metro-North to New Haven. The trip takes approximately 2 hours.
---
You can also check out our Architectural Walking Tour of New Haven Guide. Find more things to do in New Haven at INFONewHaven. Thanks also to Taste of New Haven.
Lead Photo: Miya's, Frank Pepe's courtesy of Joe Hall. Louis' Lunch and Claire's Corner Copia courtesy of Madison Murach. All other photos courtesy of respective establishments.
Charlotte Leszinske is a writer newly arrived in NYC after a short stint in Paris (but is still a Californian at heart). When not searching for half-priced plane tickets she likes to explore bookshops and breweries in the outer boroughs.