Located at the pinch point of Elmhurst, Jackson Heights, and Rego Park, Corona is gritty in a good way. Composed of both densely urban and residential spaces, the neighborhood's main thoroughfare, Roosevelt Avenue, bustles with people weaving through food carts and locals vending bracelets and soccer jerseys. Walking southeast towards the park, you'll notice the slow replacement of street noise with bird songs and sunlight, creating the strange sensation of entering another world only blocks away.
Get Outdoors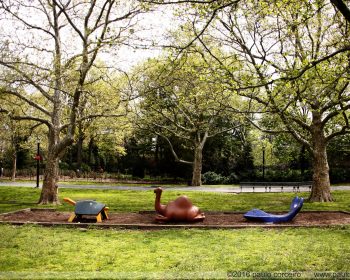 Flushing Meadows-Corona Park can't be missed. Take a long but pleasant stroll (approximately 1 mile from Junction Blvd subway station) or bring bikes from Mets-Willets Point subway station over the pedestrian bridge to enter at David Dinkins Circle. Stay to the north for expansive lawns and a look at the iconic Unisphere, built for the 1964 World's Fair, or travel south for a jaunt about Meadow and Willow Lakes.
To stimulate your curiosity, wander into the New York Hall of Science's collection of hands-on exhibits. Kids will love the museum's Science Playground, boasting such features as fog machines, water play areas, and a giant lever to move the world.
Petite Queens Museum is also a good bet — check out the colorful Neustadt Collection of Tiffany Glass and number of contemporary art projects, many of which are ongoing. Due south of the museum you'll find the Maloof Skate Park, where experienced and amateur skateboarders alike come to test their skills. The impressive New York State Pavilion, its stark concrete architecture simultaneously eerie and beautiful, is here as well. Both are great spots to relax and people watch.
Eats + Drinks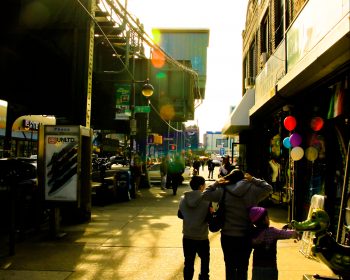 Enjoy a sit-down meal or graze from Corona's wealth of street snacks: either way, you'll be getting a rich taste of Latin American cooking. Mexican, Dominican, Colombian, and Ecuadorian cuisines are well represented in Corona. Follow the restaurant-lined corridors beneath the trellised subway tracks you're almost guaranteed good food. Be warned that vegetarians may have a difficult time finding something to suit their tastes: offerings of the area are often heavy on meat.

Our top choice: El Dorado Cafe (10202 Roosevelt Ave), offering hearty fare from the corner of Roosevelt and 102nd St. Order an Ecuadorian special plate, which includes a protein and accompaniments of rice, lentils, plantains (green or sweet), salad, and a complimentary bowl of popcorn. Their soup and ceviche offerings are fresh and flavorful and the environment is cozy, occupied by families sharing a meal after shoving several tables together.
Insider Tip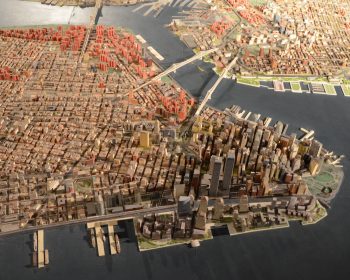 The Panorama of the City of New York at Queens Museum is not to be missed. Recreating NYC on a 1:1200 scale, visitors can get a God's-eye view from glass balconies extending over the model. Tiny airplanes fly up wires and lights on the board reflect the current time of day, changing over the course of dawn to dusk. Bend over the railing and take a good look: you'll never be so amazed by the scale and diversity of a city nearly eight and a half million people call home.
How to Get There
Take the 7 train from Grand Central Station towards Flushing. Depending on your destination, get off between Junction Blvd and Mets-Willets Point stations.
Photos courtesy of gigi_nyc, Paulo Corceiro, Ayla, Chris Devers
Charlotte Leszinske is a writer newly arrived in NYC after a short stint in Paris (but is still a Californian at heart). When not searching for half-priced plane tickets she likes to explore bookshops and breweries in the outer boroughs.