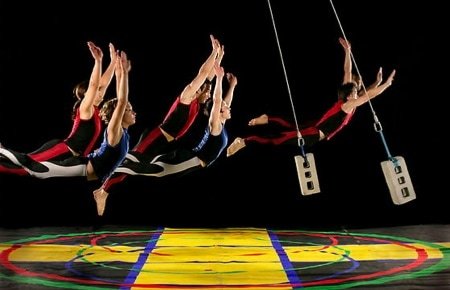 For the past 31 years, BRIC Arts Media, the organizational arm behind Celebrate Brooklyn! has programmed the annual summer performing arts festival. This year's nearly 30 days of scheduled performances brings the fields of music, dance, word, and film to the Bandshell at Prospect Park. The local and international roster of talent continues to fulfill BRIC's goal to spotlight artists whose work raises a hand to celebrate the borough's diverse population.
Carefully curated programs like the Latin Music Series, Mexico Tourism Series, and Roots Music Series are designed to display an array of artists spanning the globe, which includes the locally diverse borough of Brooklyn. An international presence has been palpable at the festival so far with the likes of Venezuelan group Los Amigos Invisibles, Sarajevo-born composer Goran Bregovic, and the Puerto Rican pop star Obie Juan Bermudez. The local line-up has been equally impressive with Blonde Redhead, They Might Be Giants, and acrobatic Williamsburg locals Streb with Invisible Forces.
"Our eclectic and diverse lineup is true to our roots and reflects the diverse community in Brooklyn," said Jack Walsh, the program's executive producer.

Streb moved to Williamsburg ten years ago and brought with them their gravity-defying Cirque du Soleil posturing movement, which had a showing at the Bandshell last week. Once on stage, its eight-member company had no boundaries, not even from within the use of their bodies. In deep-hued fitted attire, they took over the stage with a 20-foot rotating floor. Each amplified fall and stunt made the crowd cry out in successive ahhs, ohhs, and wows as they watched them shift with somatic prowess. They flittered in between vertical pipe grid lines, performed jumps atop a mobile human turntable, and darted in front of swinging bricks and industrial bars. Their frequent and seemingly near misses made you wonder whether these were really orchestrated PopAction acrobatics with choreographer Elizabeth Streb as the mastermind. "Its one, two, three minds at a time. We are a build-it-and-they-will-come synergy," said Streb.
With nearly 15 performances left, Celebrate Brooklyn! is sure to continue to draw a packed house to its outdoor venue. This Saturday's annual day long African Festival has a cameo of artists taking the stage, including King Sunny Ade of Nigeria, South Africa's Freshly Ground, and Senegalese drum troupe Cheikh M'baye & Sing Sing. Next Thursday, Stephen Petronio Company's celebrates its 25th year as a contemporary dance company with new work, "I Drink the Air Before Me," classically scored by composer Nico Muhly. And Prince's album "Purple Rain" is marking its 25th anniversary with a sing-a-long evening to the music and movie on August 6th with Escort.
Walsh admits they've lined up more benefit shows than in recent years—artists include David Byrne and Jackson Browne as well as indie favorites TV on the Radio and Animal Collective—but the ticket cost for these handful of shows enables a full roster of free ones thanks to the support of their sponsors, Jamis Bicycles and Dero Bike Racks, who are making it all the more accessible to travel in the green lane with CB Bike Zone.
How to get there: Take the Coney Island Bound F train to 15th street/Prospect Park Station. 2 or 3 trains to Grand Army Plaza or the B-68, B-69, or B-75 buses to Prospect park West & Ninth Street. (Celebrate Brooklyn! at The Bandshell, Prospect Park West and Ninth Street, 718.855.7882, briconline.org/celebrate)