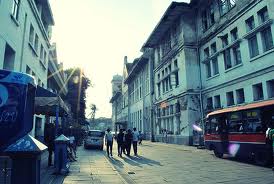 What: Rooftop Films
When: Fri July 17th, Doors at 8, Music 8:30, Films at 9p.m.
Where: Gowanus, Brooklyn
Why: Now that the humidity has made an official cameo this summer, what better reason to enjoy the outdoors than a rooftop screening that hails all the way from Rotterdam? Yes, that city in the Netherlands making a name for itself as it experiences its own urban renaissance. This weekend, the International Film Festival Rotterdam (IFFR) partners with Rooftop Films in a first-ever film screening collaboration that begins with a dark comedy set in Indonesia.

Rooftop Films plays host to the premiere of two entries from the IFFR's 2009 festival. One entry is just a short trip off the island to Gowanus, Brooklyn. Screening tonight is the dark comedy "The Blind Pig Who Wants to Fly," which took the award for best film. It's about a series of political, lustful sketches that interweave a Stevie Wonder-singing dentist, a firecracker-eating woman, and a pig. Its Indonesian director, Edwin, has flown to the states and will be on the roof of The Old American Can factory to participate in a Q&A session.
"The goal is to expose new audiences to films they wouldn't otherwise see, and to get people to personally connect with these foreign filmmakers," said Rooftop Films artistic director Mark Elijah Rosenberg.
True to Rooftop screening tradition, there will be live music before the screenings and an after-party with free drinks courtesy of Carlo Rossia Sangria. These screenings "are a more communal, intimate experience, and our programming reflects that ethos," said Rosenberg. "We always seek out films that explore larger political issues through personal stories and intimate filmmaking." So, although you'll be sharing your beads of sweat with a couple hundred folks, at least you'll have a conversation piece to talk the night away.

Cost: $9, $6 in advance for select shows
How to get there: Gowanus Screening: To the Old American Can Factory, take the F from Manhattan to Carroll Street. Exit at the 2nd Place (south) side of the station. Cross Smith Street and turn left to walk downhill on 3rd Street for 3 blocks (you will cross the Gowanus Canal). You will arrive at a huge corner building, whose orange Rooftop signage will confirm you're there. (Old American Can Factory, 232 Third St., Brooklyn, rooftopfilms.com)
Photo: Courtesy of basibanget