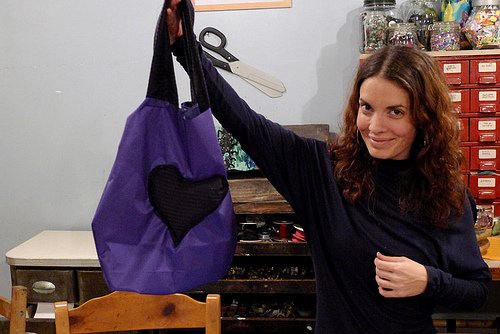 What: The Sweatshop, a partnership with Etsy, Bags for the People, and BurdaStyle
When: Saturday, July 18th, 1-6 p.m.
Where: 303 Grand Revolving Storefront, Williamsburg
Why: It's high time that more than the fashion-prone gather for a meeting among designing minds. This is a call for all pattern lovers, seamstresses, budding tailors, and well, anyone who likes the environment. Regardless of what your hands and feet can do with a vintage Singer, the Sweatshop says it's meant to be a fun social soirée for a good cause.
This Saturday, Street Attack's revolving storefront will turn into a party space for people who sew and those who wish they could. In an effort to be the change they wished to see in others, three New York-based friends—Megan Talley, Glenn Robinson, and Kelly Martin—started Bags for the People as an alternative resource to help Union Square Market shoppers ditch plastic bags in favor of their free self-designed and eco-friendly recycled fabric ones.
Now, in collaboration with famed Etsy DIY-ers, and the open source sewing community through BurdaStyle, Bags for the Peoples' pay it forward initiative is providing sewing machines, free drinks, food, and rockin' music while you sew. In exchange for your presence, you'll take home your very own Charlie Bag courtesy of BurdaStyle. Whether you're a skilled seamstress, a budding homemaker, or just out to support a good environmental cause, this is a great indoor event (and break from the mugginess). And, when we see your bag over your shoulder we'll know that you support the green movement like we do.
Cost: Free
How to get there: Take the L train to Lorimer. Exit on Union & Metropolitan end. Walk four blocks West on Metropolitan to Havermeyer. Left on Havermeyer and down two blocks to Grand. Right on Grand and its just off the corner. For more details on upcoming events, visit 303Grand.com. Make sure to RSVP: info@303grandnyc.com.