Herman Melville's opening paragraph of Moby Dick contains the sentence: "Whenever I find myself growing grim about the mouth; whenever it is a damp, drizzly November in my soul; whenever I find myself involuntarily pausing before coffin warehouses, and bringing up the rear of every funeral I meet; and especially whenever my hypos get such an upper hand of me, that it requires a strong moral principle to prevent me from deliberately stepping into the street, and methodically knocking people's hats off — then, I account it high time to get to sea as soon as I can."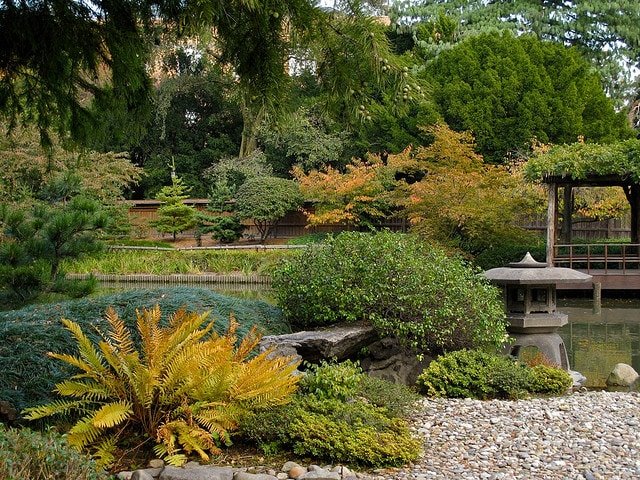 Anyone living in New York, must occasionally feel the need to be rid of feeling "grim about the mouth." For many years, my personal preference for a refreshing and uplifting escape has always been the soul-satisfying Brooklyn Botanic Garden. Less than a half-hour by subway (on the #2, #3, B or Q trains) from mid-town, the BBG will transport anyone from the grinding intensity of Manhattan to an oasis of tranquility that is unmatched anywhere in the greater New York area.
Unique in its dedication to remaining a garden (not a park-like so many of the other gardens in the city), the Brooklyn Botanic Gardens encompasses more than 50 acres of mature trees, specialty gardens, ambling pathways, and a feeling of calm and beauty.
Founded in 1910, the 52-acres adjacent to the Brooklyn Museum contain more than 10,000 different types of plants. Regardless of the time of year you choose to visit, there is an ever-changing palette of color and design. Crocuses emerge through the snow in February; daffodils cover south-facing hillsides in March; the growing warmth of April gets the magnolias to bloom along with the cherry blossoms in both the Japanese Garden and the Cherry Esplanade; the fragrance of lilacs fills the air in May along with tulips and thousands of blooming azaleas; the roses burst forth in June as do the gigantic rhododendron bushes, and the summer months are filled with world-class annuals in every corner of the garden.
If you prefer listening to this article – click the video below:

The fall foliage rivals anything you will find in the surrounding countryside, and the winter brings its own splendor and stillness with the added pleasure of being able to duck into the warm tropical greenhouses with their spectacular array of exotic plants and flowers. In short, at any time of the year, if you want to immerse yourself in boundless beauty, head to the Brooklyn Botanic Garden. An hour there will lower your blood pressure and clear your head. Three hours might change your outlook on life.
How to get there: Take the #2 or #3 to Eastern Parkway – Brooklyn Museum Station; the B or Q trains from mid-town to Prospect Park station; or 3 to Eastern Parkway– Brooklyn Museum station; B or Q to Prospect Park station; S shuttle to Prospect Park station. (The B train does not run on weekends.) (Brooklyn Botanic Garden, 1000 Washington Avenue, Brooklyn, 718.623.7200, bbg.org)
Photo: Jim Sibley, aloucha, Flatbush Gardener