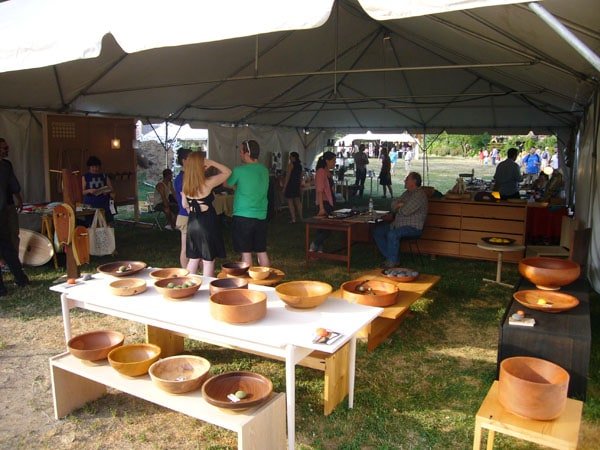 What: Makers Market
When: Friday, June 5-6

Where: Socrates Sculpture Park, Queens
Why: Long Island City has more than Manhattan views and water taxi beach to offer this weekend; with the sun finally shining (please, oh please), come visit the giant, pause-worthy structures while browsing through one-of-a-kind goods and wares. Presented by American Craft, The Noguchi Museum, and R 20th Century Gallery, Makers Market in Socrates Sculpture Park is showcasing over 50 craft makers from New York to California, including Daniel Michalik / DMFD Studio, Elyse Allen Textiles and Esque Studio. You'll find unique textiles, ceramics, turned wood bowls, glassware, bicycles, jewelry, furniture, motorcycles and other creative goodies. If you've been putting off hanging pictures and decorating your cozy New York space, or just can't stand your cheapo LACK coffee table anymore, here's your chance to pillage beautiful, reasonably priced designs while supporting the arts and drinking cocktails. Score!

Cost: $50 Friday, June 4 evening (5-8PM) for the waterfront-perched preview event, complete with St. Germain specialty cocktails, hors d'oeuvres, first dibs on the haute merchandise, and a Manhattan skyline sunset.
FREE admission over the weekend.
How to get there: By subway: Monday through Friday take the N or W train to the Broadway stop in Queens and walk eight blocks west on Broadway (toward the East River) to the intersection of Vernon Boulevard. On Saturday and Sunday, take the N train to the Broadway stop. By bus: Q103, Q104 to Broadway and Vernon Boulevard Q19A to Broadway and 21st Street. By shuttle: For Makers Market, The Noguchi Museum is extending its usual Sunday shuttle service between the Museum and Manhattan to include Saturday, June 27. The bus leaves Manhattan for the Museum from the northeast corner of Park Avenue and 70th Street (in front of the Asia Society). The return bus leaves from the entrance to The Noguchi Museum at 9-01 33rd Road at Vernon Boulevard (across the street and one block from Socrates Sculpture Park) and discharges passengers at Park Avenue and 70th Street. The trip takes approximately 30 minutes one-way. Fare: $5.00 for one-way, $10.00 for round-trip. Schedule: Pick-ups in Manhattan (in front of Asia Society) at 12:30PM, 1:30 PM, 2:30 PM, and 3:30 PM.

Friday, June 26 preview event, 6-8PM; Saturday, June 27, 11AM-7PM; Sunday, June 28, 11AM-5PM
(Socrates Sculpture Park, 32-01 Vernon Boulevard at Broadway, Long Island City (Queens), NY, 718.956.1819, socratessculpturepark.org)