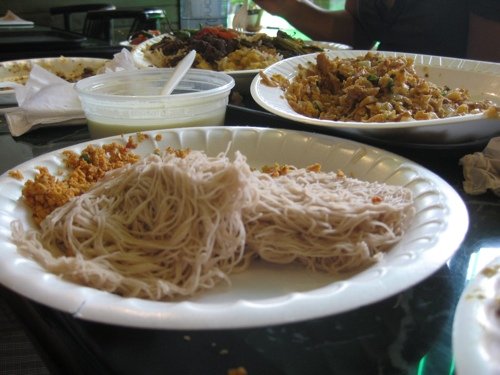 The last time I ate authentic Sri Lankan food, I was squatting in the streets of Colombo, scooping rice off an aluminum thali with my bare hands. That was nearly three years ago. Since then, the legendary NY Dosa cart in Washington Square Park run by a Sri Lankan named Thiru is about as close as I've gotten. With a craving for curry, I took a tip from my Lankan friend and headed to a place in the "Lost Borough," to the area with the highest concentration of Lankans (and Lankan restaurants) in New York.
I caught the ferry to Staten Island, then set forth on a bus down Victory Boulevard. Fifteen minutes into the ride, the Lankan strip appeared; it must have been no more than two blocks long. I passed Lankan grocery stores and Halal butchers and mini-marts lined with the sort of flags you see at used-car dealerships, and suddenly, there was New Asha near the end of the block. I wanted to grab one of the flags and wave it around in anticipation of the spicy coconut flavors to come.
While its appearance suggests more deli than restaurant—the menu is spelled out on a fluorescent snackbar board and the seating is little more than a constellation of chairs and tables—what matters is that the important stuff is all there. "What do you like?" asked the owner, Viji Devadas. I assured her I have eaten Lankan food before, and know exactly what we want. First, kottu roti, my favorite of all Lankan dishes: a medley of roti, eggs, meat, and vegetables diced on a hot grill. The noisy clang of its preparation brings me back to those distant, dusty streets. Alongside it, I order ten, no 20 idiyappams (a.k.a hoppers): thin vermicelli-style rice noodles rolled into a sort of patty and served with a creamy coconut curry and spicy coconut paste called sambol. And lastly, an order of mutton curry with puttu (dry-ish gram rolls) on the side. Unlike its Indian analog, the Lankan curries are much drier, and the onions and garlic are added closer to the end, giving it a more pungent, herby taste.
As we waited for our food, Viji encouraged us to step through the door on our left, which leads to a Lankan grocery store run by her brother. After picking up several items we have no idea how to prepare and a couple of Lion Stouts, Viji's brother assured us we could drink with our meal next door, I return to New Asha. Viji asked me about my travels in her home country, and then shared a story of her own. "I had some TV guys in here a few months back. Travel Channel. Anthony… something, I think that was his name," she says.  "Anthony Bourdain?" I asked. Casually, she nods. "Yeah, I think so." Apparently, he was finishing off an episode of "No Reservations" and wanted to check out a few spots that were known for bringing a little Lanka back to the States. As I pigged out on dishes that were as bold and genuine as I had hoped they would be, I wondered if Bourdain found this place authentic.
I was a foot out the door when Viji's brother yelled out, "Next time, you call ahead. We'll have some special toddy waiting for you!"
How to get there: Take the 1, N, R train to South Ferry. Boats are free and take 20 minutes. From the terminal, take the MTA S91 bus to Cerba Ave. (New Asha, 322 Victory Blvd., Staten Island, newasha.com)