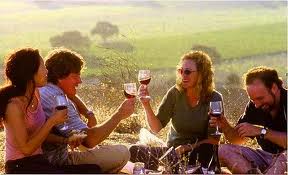 What: Wine Film Festival
When: Five Sundays starting June 28th—July 26
Where: Enoteca, Carroll Gardens, Brooklyn
Why: If you can't be in Provence, Burgundy or the Napa and Santa Ynez valleys, wine lovers must look to adventures that can be harvested closer to home. This weekend, take a trip across the Brooklyn Bridge to Enoteca, a new wine bar in Carroll Gardens that's pairing two of the things a summer destination simply isn't complete without: vino and an outdoor film festival.

Starting this Sunday, Enoteca will host its first "Wine Film Festival," an evening series of al fresco film screenings. "People love wine, so we thought why not show how we can acknowledge that with a film festival in our beautiful garden," said Marco Chirico, son of owner Joseph Chirico.
The five film lineup begins with director Randall Miller's 2008 movie "Bottle Shock" about a 1970's Paris sommelier who travels to Napa Valley to find someone to win a blind taste test against French wine. Night two will show "Sideways," the Academy Award winning film for adapted screenplay about two middle age disgruntled men road-tripping through California wine country. For a turn in tone, the documentary "Mondovino" will follow about the impact of the globalization of wines. The Italian setting of "The Secret of Santa Vittoria" will be the fourth screening, exploring what happens when a wine village hides a million bottles from the Germans during WWII. Anthony Quinn and Giancarlo Giannini make this film worth a viewing. Finally, actor Keanu Reeves will close out the festival with "A Walk in the Clouds" with enough gorgeous scenery and vineyard shots to inspire travel in pursuit of a little fermented juice that's good for the summer spirit.
With each film, Marco, the wait staff and their wine consultant Charles Siccaron will be on hand to suggest local and vintage wines, flavors, and varietals for regulars and new visitors coming to the charming space. Good thing this destination is only a borough away.
Cost: Free screenings

How to Get There: Take the F train to Carroll St. Exit near Smith St. and President St. Head West on President towards Court. (Enoteca, 347 Court Street, 718.243.1000)