Has texting replaced face-to-face girlfriend get-togethers? Even when we "do brunch" there's not much actual face time as we bury our heads in our ever-present devices. Girlfriend getaways to the rescue.
Time to spend quality time with your best friends while getting (or staying) fit, sipping fine wines, enjoying casual or elegant dining experiences, pampering body and mind alike, and, at the end of the day, laying your head in luxurious digs.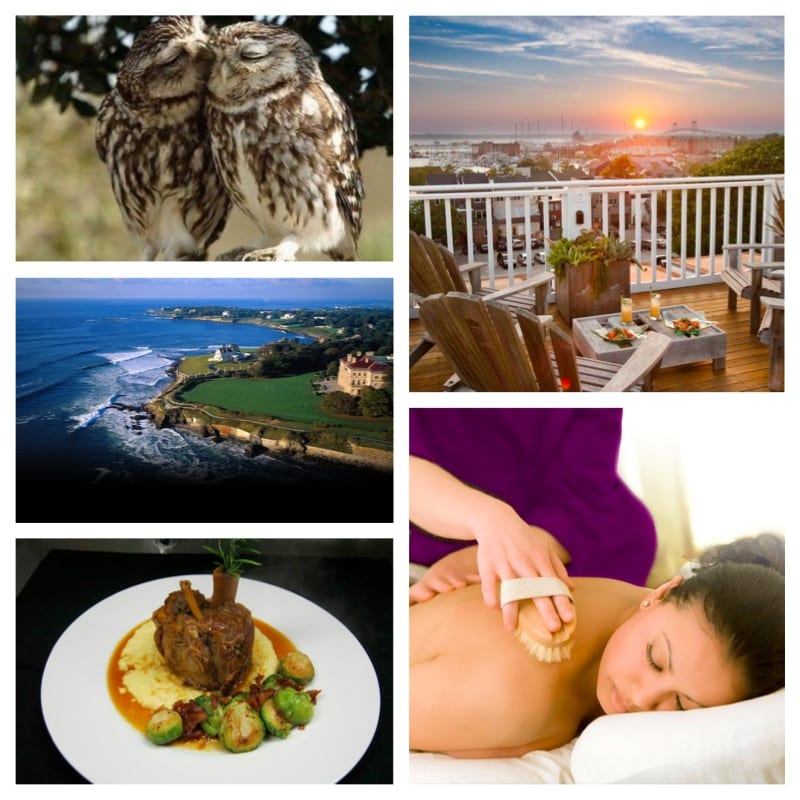 Must do: Strolling the Cliff Walk, you'll experience the same unbeatable ocean views that first attracted Newport's elite. Along the more than three-mile path that begins at Easton's Beach, you can peer into the spacious backyards of the palaces that front Bellevue Avenue, including the Breakers, built for Cornelius Vanderbilt.
Nature-based activities: Myriad trails crisscross the more than 300 placid acres of the Norman Bird Sanctuary in Middletown. Among the paths through stands of red maple, black gum and black cherry trees, short trails climbing to craggy ridges are the most rewarding. The most popular path, the Hanging Rock Trail, provides views of the ocean and Gardiner's Pond.
Sleep: When overnighting at the luxe Vanderbilt Grace, an iconic Newport mansion, take advantage of the sumptuous spa with its swimming pool and a signature treatment involving hot aromatic compresses.
Eat: At the Fifth Element, a casual restaurant, choose from among a diverse array of tasty appetizers, such as the mussels in spicy red wine tomato broth, and lamb kabobs with cabbage salad. Don't miss their watermelon or cucumber martinis or other well-crafted cocktails.
How to get there: If you have a boat, sail to Newport. Otherwise, you can take the Bonanza bus to Providence from Port Authority or an Amtrak train from Penn Station. Once in Providence, you can hop bus number 60 run by RIPTA from Kennedy Plaza towards Newport. Get off after about 1h10m ride at the last stop at Newport Gateway Center at 23 America's Cup Avenue. If the Providence-Newport Water Taxi is running, by sea is a more enjoyable way to go. For more details on Newport, visit gonewport.com.
St. Michaels, MD
Must do: A visit to the Chesapeake Bay Maritime Museum, an 18-acre complex along the harbor, gives you an intimate feel for the life of a waterman as you explore a typical crab shanty, the 19th century Hooper Straight Lighthouse, and a working boatyard.
Nature-based activities: It's an easy, under 10-mile bicycle ride from St. Michaels to the dock of the Oxford-Bellevue Ferry, the oldest privately-operating ferry in the country. After 10 minutes crossing the Tred Avon River, you'll arrive at Oxford, one of America's oldest towns, where you can pedal along the tree-lined streets, stopping for a picnic at the town park along Morris Street that fronts the river.
Sleep: At St. Michaels Harbour Inn, you'll find the suites that come with Jacuzzi tubs particularly tempting, as is their spa offering a luscious detox hibiscus body wrap as well as therapeutic Reiki and reflexology.
Eat: You'll need a reservation at ever popular 208 Talbot. This is your ticket to some creative fare, from an Asian noodle soup chock-full of shellfish and seasoned with lemongrass to the pan-seared mahi mahi served with jalapeno cheddar grits.
How to get there: Take Greyhound bus to Easton, MD (5 hours), then a taxi for a 15-minute ride to St. Michaels.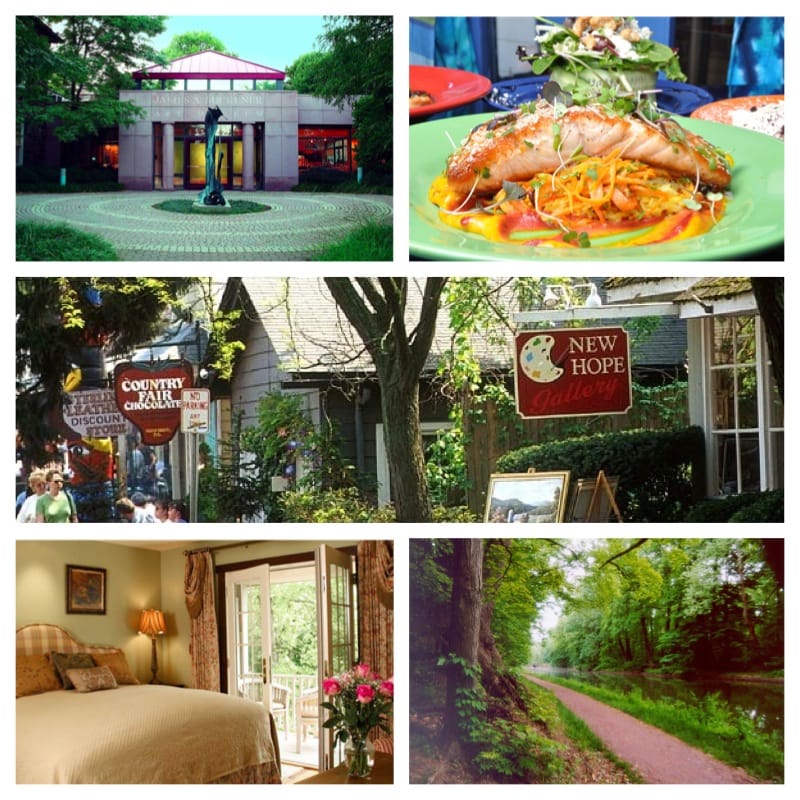 Must do: Gallery hop along Bridge and Main streets but don't miss the James A. Michener Art Museum that showcases the works of creatives who migrated to Bucks County.
Nature-based activities: Tackle the Delaware Canal–it figured prominently in New Hope's prosperity by transporting coal to the eastern seaboard—by walking, jogging or bicycling three miles along the canal's sycamore-lined towpath from Lock 11 to Centre Bridge.
Sleep: Tucked away on a verdant estate yet just 2.5 miles from town, the Inn at Bowman's Hill guarantees your visit will be tranquil and luxurious. De-stress by signing up for a hot stone or deep tissue massage, soaking in the hot tub fronting a pond, or lounging beside the heated outdoor pool.
How to get there: Take the Transbridge Bus (Doyleston/Frenchtown/Flemington line) from Penn Station to New Hope. The bus stops at the UPS Store, Logan Square (6542A Lower York Road), and just down the road is the New Hope Cyclery (404 York Road), a short walk to rent bikes and ride into town. Alternately, get off the bus one stop earlier at Lambertville and walk across the bridge (approximately 10 minutes) into New Hope.
Finger Lakes Region, NY
Must do: Whether for a weekend or a week, join a wine tour and drive along the Cayuga Wine Trail, stopping at award-winning Goose Watch Winery or Swedish Hill Vineyard, or any of the more than two dozen wineries to sample vintages bound to satisfy any palate.
Nature-based activities: Taughannock Falls State Park in Trumansburg has some impressive features, most notably one of the highest waterfalls east of the Rocky Mountains. The flat and barely-one-mile Gorge Trail leads to the base of the falls that drop more than 200 feet. But the more challenging Rim Trails rewards you with a scenic vista of the park's wide gorge. Cool off at Cayuga Lake, which is perfect for swimming.
Sleep: With a lakeside setting, the elegant Geneva On The Lake is suffused with old world charm and activities aplenty. Cruise the lake on their pontoon boat, play croquet or bocce, or opt for swimming laps in a 70-foot outdoor pool.
Eat: Set in a turn-of-the-20th-century farm house in Lodi with lovely views of Seneca Lake, Suzanne Fine Regional Cuisine centers its ever-changing menu on locally-sourced ingredients. Oenophiles will delight in the well-selected wine list with many from local wineries.
How to get there: Rent a hybrid in NYC or take the Shortline bus from New York to Elmira. There is no transportation between Finger Lakes towns, but there are a number of wine tours that will take you around. Cyclists will discover the joys of exploring the region by bike. Visit fingerlakeswinecountry.com for packages, tours, local transportation companies, and more information.
Litchfield Hills, CT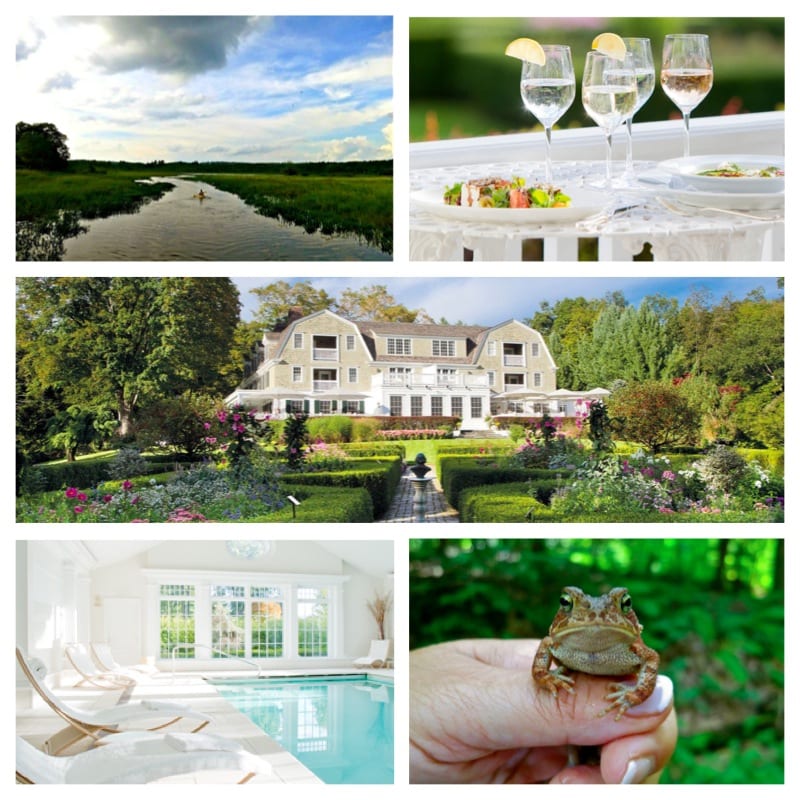 Must do: The Institute for American Indian Studies vividly recalls the life of the northeast's original woodland tribes. A replica of a 17th century Algonquin village is complete with wigwams, a dugout canoe and a longhouse.
Nature-based activities: Don't be surprised to see white-tailed deer or red-tailed hawks or hear the twitter of chickadees as you hike on any of the 35 trails at the White Memorial Foundation and Conservation Center in Litchfield. A visit to this picturesque wilderness is like stepping back to the Connecticut of yore with trees that are more than 200 years old. On June 21, celebrate the center's 50th anniversary with the High Tea on Chikadee Bridge and Boat Parade. Kayak along Bantam River and dress up (optional) in Victorian attire for a chance to win prizes.
Sleep: It's a definite splurge, but a stay at the Mayflower Inn & Spa in Washington is 100% restorative with fitness classes, such as aquatic splash, and options for private lessons in anything from fly fishing to kayaking.
Eat: Chaiwalla is an atmospheric tea house in Salisbury where you'll want to linger. You'll find afternoon high tea with lemon curd and scones plus Scottish shortbread. with exotic teas that the owner Mary O'Brien has selected from her exotic travels to every tea-growing region of the world, including the Azores. Her whiskey cake is well loved as is her tomato cheese pie.
How to get there: Consult oM's guide to renting a hybrid in NYC. Travel and food writer Jeanine Barone specializes in hidden treasure travel. She recently designed Doc-in-a-Bag, the unique travel first-aid kit organizer.