"The people, community, food, and family in Cranston inspire my creativity," says Carolyn Rafaelian, founder and creative director at Alex and Ani. "All of my family lives in RI; my roots are here. I've traveled and experienced worldly places enough to realize that there is an extra energy in Rhode Island."
New Yorkers planning a city break might overlook the tiniest state in the country, but Rafaelian would argue that's a big mistake. Besides owning a sustainably-minded RI-based jewelry company, which recently launched a Team USA Winter Collection, Rafaelian runs a winery and a couple of popular coffee shops around town. Knowing RI and its locals is her business.
While wearers of the new Sochi-styled line are meant to feel encouraged to "reach higher, live stronger, and love greater," we just find ourselves wanting to race north to the Ocean State with a weekend bag—and Alex and Ani bangles.
Make the most of your next Rhode trip with some help from Rafaelian's personal guidebook.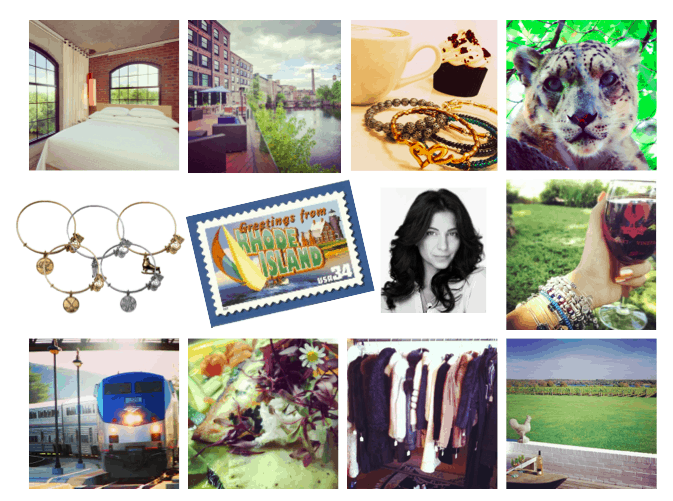 For a weekend escape, I recommend a visit to my winery in Little Compton called Sakonnet Vineyard. The sacred grounds are waiting for people to make memories there.

When I need to relax in a natural environment, I go to Roger Williams Park Zoo in Providence.

My favorite quick breakfast spot in Cranston or Providence is Teas and Javas. I co-own this shop, which offers the freshest gourmet treats and my favorite Italian coffee and Jasmine tea.
One cool off the beaten path activity in Cranston is Emma's Back Porch. Antiquing is always fun and I love to visit Emma's and hunt for hidden gems.
For dinner, Plum Pt. Bistro is Saunderstown. It's a mix of Italian, French, and American foods and has a great after hours atmosphere.
The best hotel in the area is the NYLO in Warwick. I suggest this hotel to our out-of-town guests because it has lovely loft-like rooms and is in a convenient location. The "romance getaway" special includes overnight accommodations, a chilled bottle of bubbly with chocolate covered strawberries, and breakfast for two. Rates start at $189/night for this package.

Directions: Providence is three hours from Manhattan. Consult oM's Providence Transportation Guide and oM's guide to renting Hybrids in NYC.
Check out the following stories for more ideas on things to do in Rhode Island: Treasure Island: 12 Gems of Providence, RI, A Closer Look at Providence's Cultural and Culinary Attractions, The Best Things to Do in Bristol, Rhode Island
Photos: *jude*, @that_girl_who_, Alex + Ani, Roger Williams Park Zoo, Plum Pt. Bistro, Nylo, Emma's Back Porch

The co-founder and editor-at-large at offMetro, Lauren is a sustainable travel specialist and freelance journalist with frequent bylines in National Geographic, Bicycling Magazine and Shape. Follow Lauren's adventures at @laurenmati.