Upstate New York is home to some of the most fertile farmland in the nation, keeping menus fresh, lively and imaginative. If you think NYC has cornered the market on bold tastes and ethnic cuisine, a visit to one of these restaurants will prove that the boundaries of creative cooking have forged into small towns. These villages may be quintessentially all-American, but they serve a cornucopia of globetrotting cuisines. Get out of town to taste for yourself.
The Eats: One Caroline Street Bistro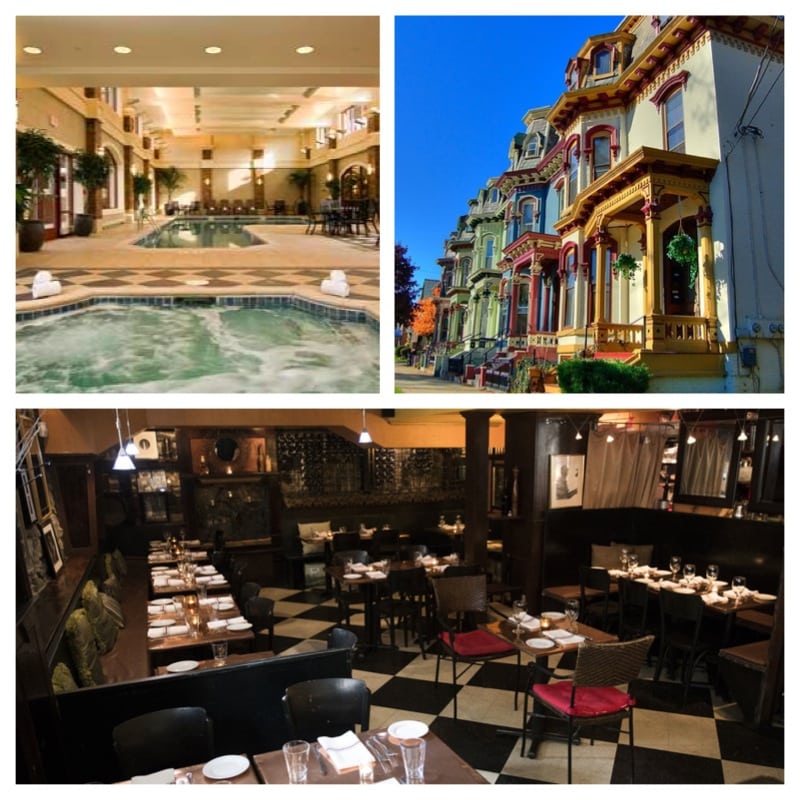 Step out of the cold and into this refined bistro. The live jazz and Louisiana-influenced menu may have you believing that all that snow outside is really a Creole landscape of lush cypress and tupelo trees. Gulf Coast and Southern comfort foods are prepared with New York and New England-sourced ingredients. Pasture-raised meats and organic produce are used whenever possible. Get things started with a bowl of steaming gumbo, packed with locally raised chicken, spicy sausage and broth-enriching okra. Guide your palate on to the sticky chicken, prepared with the holy trinity of the Southern kitchen: bell pepper, onions and garlic. The dark beer reduction adds a gorgeous glaze, and the giant portion is served over dirty rice. Jambalaya, blackened catfish and red beans and rice are an interplay of flavors that showcase the multicultural influences of Cajun cooking. This is not the time to skip dessert. The molasses cake is topped with warm toffee sauce. The bliss is increased by the addition of a scoop of vanilla ice cream from The Ice Cream Man. Located in nearby Greenwich, they make their ambrosial frozen desserts in small batches using fresh local cream and a little bit of soul.
The Digs: Hampton Inn & Suites Saratoga Springs
If you think chain hotels are all generic operations with no personality, the Hampton Inn & Suites Saratoga Springs may change your mind.  Charming touches, like personalized notes written on post-its, fresh-baked cookies and a super-welcoming staff, make it seem more like a boutique property. It is located on Lake Avenue in the heart of town, close to the train station and within walking distance from all attractions.
The Directions: Amtrak from Penn Station to Saratoga Springs takes just over three hours.
Ithaca
The Eats: Moosewood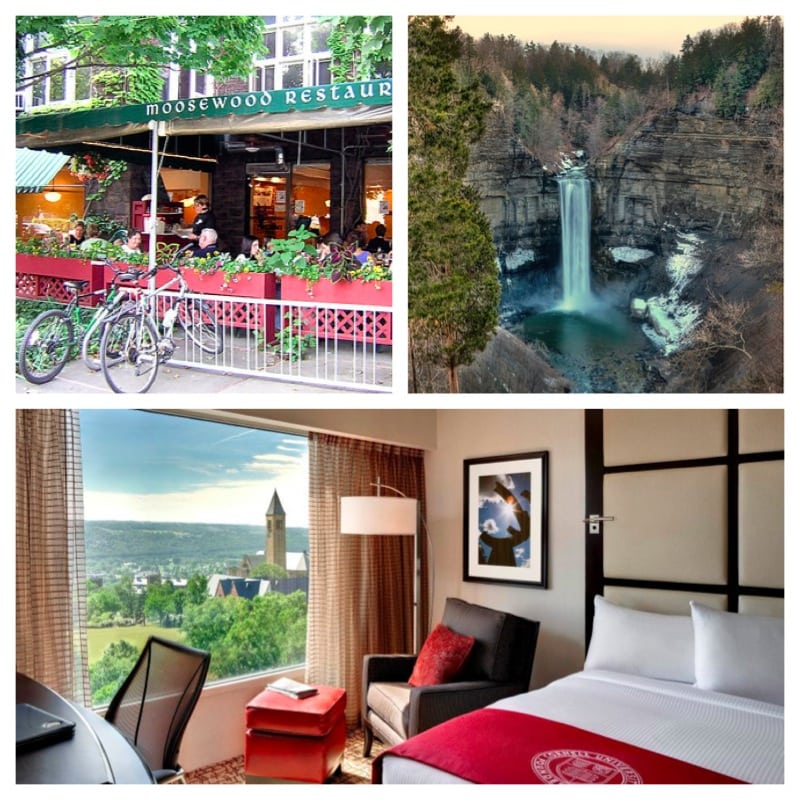 The collegiate Finger Lakes town of Ithaca claims to have more restaurants per capita than New York City. One in particular has been attracting attention for decades. The Moosewood Cookbook is a home kitchen staple, beloved for its wholesome recipes and homespun graphics. For over 40 years, this collectively owned casual restaurant's emphasis has been on natural foods cuisine. They pioneered plant-based cooking way before it was trendy and continue to be a driving force. Moosewood introduced many Americans to formerly unfamiliar pan-Mediterranean dishes such as spanakopita, moussaka, tapenade and pesto, bringing these once-exotic foods into the mainstream American culinary lexicon. The menu changes daily and sometimes hourly, but fresh produce is the common denominator. Moosewood works closely with suppliers who are members of the Finger Lakes Organic Growers Cooperative, purchasing local whenever possible. Fish is served, as is beer and Finger Lakes wine, so don't get the idea that Moosewood serves ascetic food for monks. It's a celebration of salubrious bites served in a festive atmosphere.
The Digs: Statler Hotel
A stay at the Statler Hotel is a distinct lodging experience. The property is jointly run by eager students from Cornell's respected School of Hotel Administration and seasoned hospitality professionals. Complimentary shuttle service from the Ithaca bus stop, free Internet access and a can-do staff make the Statler a standout.
The Directions: Ride the Shortline or Greyhound from Port Authority to Ithaca in five hours.
The Eats: Caffé Rustica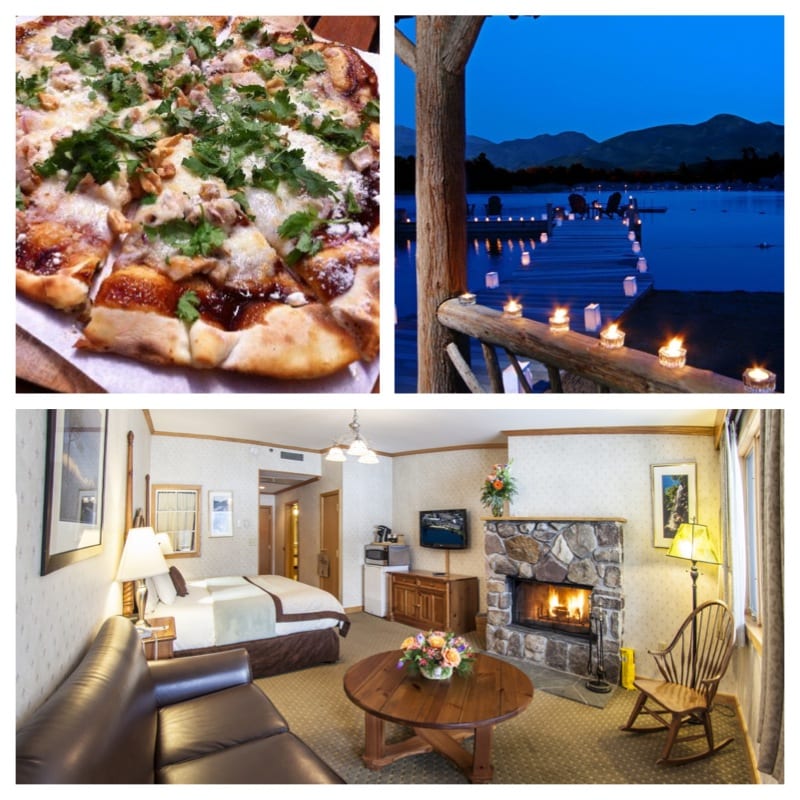 Don't let this restaurant's location, in a mini-mall in the shadows of a Price Chopper supermarket, fool you. You can't get more authentically Italian unless you journey to the boot-shaped country itself. Enter and you're instantly transported to a rustic Tuscan farmhouse. Chef Kevin Gregg trained at the Culinary Institute of America, with stints in Italy to authenticate his technique. He has a deep commitment to buying ingredients from neighboring North Country purveyors. The pizzas are cooked in a wood-fired oven, topped with delicacies such as house-made sausage and locally foraged mushrooms. The pastas are all sure things, so you can't go wrong whether you order lasagna or gnocchi in a sauce of wild boar. Their garlicky take on cioppino is noteworthy. This fortifying fish soup is served all along the Mediterranean Coast, where it goes by a variety of monikers, including cacciucco, brodetto and bouillabaisse. At Caffé Rustica, the broth is so briny and flavorful, you may be transported to an Italian port town, waiting to hop the next ferry to Sardinia. You'll need to ride the free and efficient Lake Placid Xpress trolley to dine here, as it is two miles from Main Street, where most hotels are located.
The Digs: Golden Arrow
The Golden Arrow is one of the greenest resorts in America. It's a gorgeous hotel on the shores of Mirror Lake, convenient to all the town attractions. Book the Bed & Breakfast package from $99/night.
The Directions: Take Amtrak's Adirondack from Penn Station to Lake Placid. You will ride the train to Westport, where a bus will shuttle you the remaining 45 minutes, straight to the heart of Lake Placid. The entire journey takes six hours.
Lead photo: Sathish J
Allison is a native New Yorker, who has lived in Rome, Tuscany, Melbourne, Toronto and Los Angeles. She frequently contributes travel pieces to Family Travel Forum, using her own children as guinea pigs as they travel the globe. She is fluent in Italian and Spanish and laughably adequate in French. Her background as an Early Childhood Educator gives her an added understanding of what it takes to travel with kids in tow. She firmly believes that the most important part of education takes place outside of the classroom, on the road, around the world. She never misses a chance to sample local delicacies, as her love for travel goes hand-in-hand with her love for food and wine. Follow Allison at @gourmetrav.