Twenty minutes on Amtrak's Adirondack line. That's all it takes to feel completely removed from the city. Another three or so hours of rambling along the Hudson, and Manhattan's a faint memory. Lawn jockeys stand guard on wraparound porches, flanked by flowerpots and rocking chairs. This is Saratoga Springs, "The City in the Country." Its main stretch boasts a solid roster of restaurants; a handful of lively bars, a CVS and a Ben and Jerry's, but calling it a city still seems a stretch. It feels like more of a town; one bustling with culture (both artistic and horse racing) and the quaint calm that only the country can bring.
Saratoga's population more than triples during the summer racing season, and with good reason, but if crowds aren't your thing, off-peak offers plenty to see and do, plus a few sweet ways of doing very little.
Saratoga Race Track

The thoroughbreds come to play from late July through Labor Day. The festive stadium reminds you of its 1864 birthdate throughout its red and white architecture. City transplants Blue Smoke and Shake Shack recently brought a few new options to the historical grounds, but the stadium's known for its BYO tolerance. Visitors are welcome to bring both food and beer (or Saratoga cocktails) to the picnic-friendly venue. Drop by in the off-season to see harness racers training the side track, and to sneak a peek of the almost romantic, eerie-epic view of the track after the dust has settled.
The Spa
Before it became a racing destination, the city's natural mineral springs gave it the moniker "Spa City." The Roosevelt Bathhouse (Franklin D. Roosevelt was one of the health retreat's strongest supporters) has operated as a spa since the 1930's, with original bathtubs and tiling to boot. Now part of the Gideon Putnam Resort, the Roosevelt Spa carries in quality what it lacks in frills. The mineral bath-massage-petit facial treatments will leave you feeling smooth and lithe; even a little effervescent (like the bathwater). The mineral water is naturally freezing, so it's mixed with a bit of hot fresh water to make it just warm enough for comfort. Don't be thrown off by the rusty color; the iron-filled water oxidizes upon contact with the air. If you're curious about what the brown bubbly tastes like, the answer is a little metallic and (not surprisingly) not so good.
Mineral bath is $25 for 40 min., $20 for 20 min. before a treatment; $30 and $25, respectively for herbal mineral bath. Swedish massage is $50 for 30 min, $85 for one hour. Petit facial (30 min) is $50. Check the site for other prices and spa packages.
The Original 1887 Saratoga Cocktail
(Use small bar-glass.)
Take 2 dashes Angostura bitters.
1 pony of brandy.
1 pony of whiskey.
1 pony of Vermouth.
Shake up well with two small lumps of ice; strain into a claret glass, and serve with a quarter of a slice of lemon.
Note: A pony is equal to 1 ounce
The Springs
You can also sip on mineral water from the more socially acceptable spouts that pop up all over town. Most are housed under small pavilions, though some lay low as lone, unmarked spickets. The water we tried tasted only a little better than it smelled (a pungent, sulfur stench), but each spring has its own flavor profile so you might want to make a detoxifying mineral-crawl of your morning stroll. Or get the full-body treatment outside of the spa by visiting The Victoria Pool ($8 adult, $4 child, children under 5 free) or Peerless Pool ($2 adult, $1 child, children under 5 free).
The Great Outdoors
The Roosevelt Baths, Saratoga Performing Arts Center (SPAC) and Saratoga Spa Golf are all part of Saratoga Spa State Park. You'll want to crane your neck to see the pines towering above the park's manicured lawn, but it's the forest that kept us busy. We took the Hemlock Path, a peaceful trail of wetlands forest and fields just over a mile long, noted for its blue butterflies. For the most direct walk to the path from the park's center, take Gideon Putnam road to Route 9, cross onto Crescent Ave, and look for the path on your left. If you hit Reservation Drive, you've just missed it.
Check out Johnny Miller's Saratoga Adventure Guide for more details on Hemlock and other Nature Trails, plus tons of other outdoor options in and around Saratoga. The top of the county hits the Adirondacks, and you can make your way to one of these hikes by Zipcar or bike. (Sadly, there are currently no bike rentals in town, but Blue Sky Bicycles and Elevate Cycles can give you a tune-up and organize community rides.) Opting for a cozier, quieter Saratoga in the snow? Bring your cross-country skis or rent a pair of snowshoes from the Park Office to take advantage of 12 miles of winter trails.
Arts & Culture
See
Get your nature, art and literary fix in one hit with a tour of the Yaddo Gardens and Mansion. Abutting the racetrack, the 400-acre estate was originally owned by financier Spencer Trask and his poet wife, Katrina. Bequeathed to the town for the purpose of housing future generations of creatives, Yaddo hosts monthly exhibitions by resident artists. Past Yaddo residents include Langston Hughes, Sylvia Plath, Truman Capote, Leonard Bernstein and Mike Doughty (see "Sleep" for more on artist residencies). The culturally curious have plenty of museums to hop between in Saratoga, each with impressive children's "edutainment" areas. The National Museum of Racing and Hall of Fame gives visitors a look at horse racing history, the anatomy of a racehorse plus jockey training and fashion. The National Museum of Dance and Hall of Fame and notoriously haunted Saratoga Springs History Museum also bring historical fashion into focus. The Saratoga Automobile Museum houses some of the world's hottest engines in a converted bottling plant. The museum hosts a number of car shows throughout the year, notably the Wine & Food and Fall Ferrari Festival (where oM met up with Marcus Samuelsson) and the Spring Euro/Auto Show.
Listen Catch big acts at the SPAC and lesser-knowns at Putnam Den or Caffé Lena, the country's oldest continually operating coffeeshop, which helped launch the likes of Bob Dylan, Arlo Guthrie and Ani DiFranco.
Do Do a little of your own performing with one of the Dance Museum's classes, or get creative with a workshop at the Saratoga Arts Center or Feneex Boutique & Gallery, where the colorful French artist and owner Francelise Dawkins teaches her craft of textile collage art.
Explore Feneex is one of over twenty studios and galleries of the Beekman Street Arts District. The neighborhood is the center of  "See You On Saturday," an evening of artist receptions, exhibit openings and food and drink specials that takes place from 5-8pm on the first Saturday of each month.
Sleep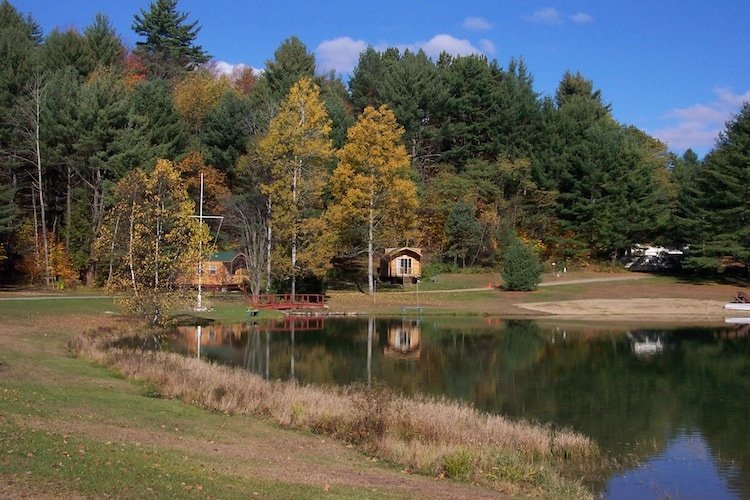 The Gideon Putnam Resort is your pick for classic Saratoga in the heart of the park (with free shuttles to help you get in and out of town). The hotel has revamped its rooms and added event spaces, but the façade and spaces like the horserace-muraled Putnam's Lounge are straight from the '30s. Like the rest of town, Gideon's prices peak during racing season. Look out for specials in the off-season (rooms starting at $109/night), like these packages (we hear a Green Getaway weekend is in the works). The Rustic Barn Campground promises something a little more…rustic. Their RV/tent sites (starting at $35 and $26/night, respectively) and cabins (starting at $140/night with 2 night minumum) sit by a pond in the woods, bordering Adirondack park and about 13 miles from Saratoga (best to travel by Zipcar for this one). Right in Saratoga, The Geyser Lodge offers a traditional B&B Inn, plus a cabin and carriage house for rental (rooms start at $109/night; "Breezy Knoll" Cabin starts at $350 for 2 or 3 weekend nights; Carriage House rates vary, with one week minimum) within a couple of miles of all the action. If you go carless, Geyser is about 30 minutes walk to the train station, Saratoga Spa Park and the racetrack 20 minutes walk to downtown.
Looking to stay longer than a weekend? Your artistic prowess could score you a two- to eight-week stay at Yaddo (stay is free; application is $30 plus media upload fees). See Yaddo's site for more information on artist residencies.
Food in Saratoga Springs
There are more restaurants per capita in Saratoga Springs than in any other town in the US. Needless to say, your stomach won't leave wanting. Start the morning with something, anything baked from Mrs. London's Bakery, then for a quick organic bite, pop into Four Seasons Natural Foods, a café in the back of a health food shop where the menu's always changing. Hattie's, the town's Louisiana-accented hot spot, has been serving Saratoga fried chicken alongside seasonal southern cuisine (look out for soft-shell crab in the summer) since 1938. If you're planning a winter getaway, consider a visit in the fall for the annual Saratoga Restaurant Week.
How to get there: Amtrak's Adirondack route takes passengers between New York City and Saratoga Springs twice daily (trip is just over 3.5 hours). Trains run more frequently to the Albany, where you can hire a shuttle to take you on the forty-minute ride to Saratoga. You can also take Megabus from NYC to Albany. If your hotel does not offer a shuttle service, you might want to carpool with a Zipcar. Biking is also great way to get around Saratoga and surrounding areas, so BYOB (bring your own bike) if you have one!
Photos: Top two and gallery shots courtesy of the author. Bottom two courtesy of The Saratoga Automobile Museum and The Rustic Barn Campground

KPICASA_GALLERY(SaratogaSpringsWeekendGetaway)