Napeague Bay and the Atlantic Ocean are both an easy 10 to 15 minute bike ride from the LIRR station in Amagansett. The beaches are less crowded than neighboring Montauk or East Hampton, and mom and pop shops still exist here along the main drag. Side streets off Montauk Highway lead through quiet, tree-lined blocks with beautiful homes, making it a nice, relatively flat place to peruse on two wheels.
For those who have brought their bike on board (the LIRR permits bicycles) and are now hungry after the two and a half hour train ride, the center of town is as close as a few turns of the pedal. As you exit the parking lot, take a right on Route 27 and you will soon find an array of options along the main street.
Affordable, Locally-sourced Food

If the weather wills it, consider picnicking at the the beach or taking a hike to a perfect lookout. The local IGA supermarket on route 27 on the eastern edge of town has a great deli, and is next door to a liquor store should you want to reward sore glutes after a day of riding. The smaller Brent's General Store, also on route 27 but on the western edge of town, has a deli and limited selection of food items.
As for cafes, Mary's Marvelous in the center of town on route 27 offers a variety of baked goods, pastries and an array of daily specials, soups and sandwiches, all made in-house. The baguette with soppressata, fresh mozzarella and pesto or the chicken of the day is a trustworthy choice. The vegetables are often sourced from one of the various local farms. Also on the affordable end is Astro Pizza, just down the street from Mary's, specializing in pizza and Italian fare. About 1.5 miles west on route 27, La Fondita has a fun, colorful atmosphere and is lauded for its fresh Mexican "street food," outdoor garden, and environmental activism within the community. The Clam Bar is another local favorite, situated between Amagansett and Montauk, about a 13.5 mile bike ride east on route 27 from the Amagansett train station. Order a lobster roll and eat slowly on an outdoor picnic table.
A Fancier, Sustainable Catch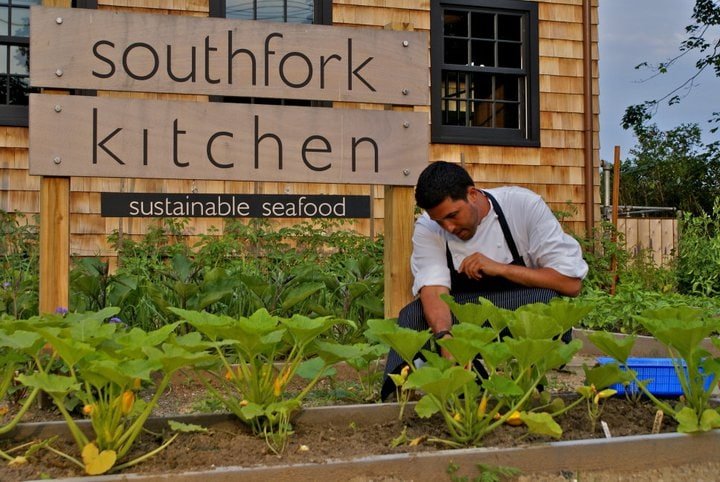 For those with a little more to spend, Inlet Seafood in Montauk is highly recommended. The restaurant, which boasts a sushi menu and solid local wine list, is owned by six commercial fishermen; you'd be hard-pressed to find a fresher catch on Long Island. A bit further from Amagansett, about 16.5 miles down route 27 and then a left on East Lake Drive, it is located directly on the water. Diners can sit on the outdoor deck and take in some spectacular views.
South Edison and Crow's Nest, both in Montauk, get much of their fresh produce from the ladies at Amber Waves Farm. For after-dinner entertainment, check out the live music line-up at Stephen's Talkhouse on route 27 in Amagansett. This casual, laid-back spot has been around since the 1970s, and has seen the likes of Doc Watson, Mick Jagger and Albert Collins pass through its doors.
Sleeping Accommodations
There are a range of places to stay in the area that cater to a variety of needs. For those with a mid-range budget, look no further than The Sea Breeze Inn (tel: 631 267 3692). Operated for over 53 years and three generations, this homey venue relies on word of mouth and cannot be found online. Practically across the street from the train station parking lot, an 1/8 mile ride down Route 27 you'll see Atlantic Avenue on your left, where the Inn is quietly tucked away at 30 Atlantic Avenue. You may arrive to find Rob, a former high school teacher who taught for 26 years, taking a break on the swing of the front porch. There are three private cottages available and also rooms in the main house that have shared bathrooms.
Those wanting to wake up with a direct view of the water and access to a private beachfront have two terrific options. Ocean Colony Beach and Tennis Club offers rooms with a living and dining area, efficiency kitchen and bath. To reach the hotel, take a left out of the train station parking lot and ride about 5.5 miles down Route 27 in the direction of Montauk. Come sunset, grab a cocktail at Gurney's, just a few sandy paces away. On route 27 in Montauk, you'll find Hither Hills State Park, offering sites for both tents and campers on the ocean. Cedar Point County Park, about eight and a half miles from the town center on the bay side of the island, is another very reasonable camping option, though it is more of an effort to reach by bike.
For the Art Lover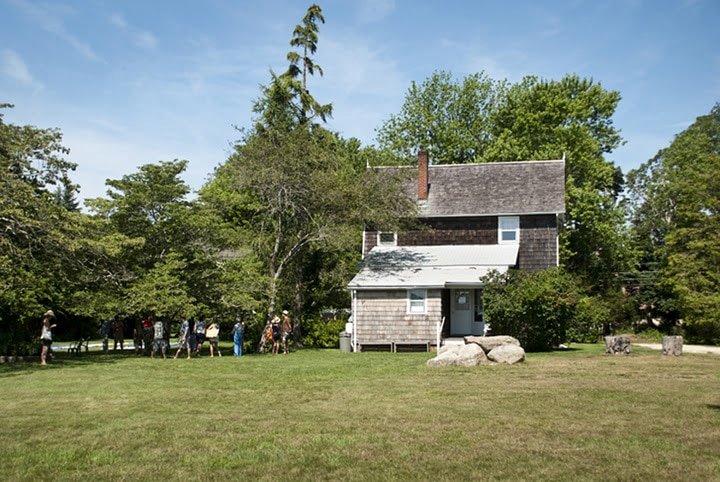 Five miles outside of Amagansett, the iconic Pollock-Krasner House and Study Center is a must-see for art lovers. Delight in hearing how the two produced so much of their work over the years and enjoy the backyard view of Accabonac Creek in The Springs. To get there, turn left on route 27 and after less than a ¼ mile, take the first left on Old Stone Highway. Follow the road until you reach the end where it forks and take a right onto Springs-Fireplace Road. About a ¼ mile further you'll come to number 830 where the house is located. The Springs also boasts an excellent farmers market (780 Springs-Fireplace Road) on Saturdays from 9am-1pm and The Fireplace Project also houses a small gallery space and is a short ride down the street (851 Springs-Fireplace Road) from the Pollock-Krasner House.
Bike and Hike
There are many trails to choose from, some hillier than others. The recommended "Trail Guide- East Hampton, New York" map is very useful for identifying and navigating the trails. If looking for a multiple day hike, the Paumanok Path is a 125-mile trail that stretches the South Fork. Hikers can attempt to conquer the whole stretch or enter at various points along the path. Deer make a regular appearance on much of Long Island so look out for them when biking. Long Island has one of the highest rates of lime disease and other tic-borne illnesses. A thorough tic check at the end of each day can easily prevent any complications.
How to get there: From New York City, Amagansett can be reached on the Long Island Railroad or the Hampton Jitney, both about a two and a half to three hour ride. Buses offer a more regular schedule on weekends than the train but are a little more expensive. Once in Amagansett, bike rentals are available within a mile of the station at both Body Tech and Amagansett Beach and Bicycle. With many places to see, trails to hike and beaches to relax, bikes are a great way to get around the scenic area.
Photos: Courtesy of the author, erin longstocking, and respective establishments.
KPICASA_GALLERY(AmagansettLongIslandBikeAdventure)
Exploring Amagansett by Bike