Fourteen craft breweries currently call New York City home, and there are at least five more in the works. The city's current brew boom isn't a new phenomenon; it's a resurgence.
Back when NYC was still New Amsterdam and well before lager-loving Germans flocked to the city in the 19th century, Stone Street was known as Brewer's Lane. By the late 1800s, the boroughs' pint glasses runneth over. As Urban Oyster founder David Naczycz will proudly inform you, NYC was once home to 125 beer breweries, with 48 of them in Brooklyn alone.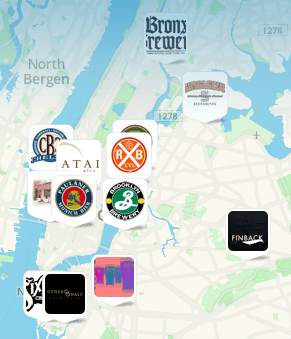 Celebrate the city's sudsy past and present by making your next city walk (read: bar crawl) a brewery hop.
The newest of Urban Oyster's food and history buff-friendly tours, the NYC Brewery Tour takes the thirsty and curious to meet the staff, learn the craft, and of course, taste the good stuff (with pizza to soak it up). Kicking off just in time for NYC Beer Week, the four-stop tours rotate between breweries. You can also use Urban Oyster's helpful map (scroll down) to plot your own personal brewery crawl. Just be sure to confirm if and when your destinations are open for public tours.
Our adventure with Naczycz began at La Birreria. Eataly's covered rooftop beer garden, Birreria crafts three exclusive beers in copper casks. Our tasting finished with a bang, or rather, Flip. A true chilly afternoon treat, the FL!P begins with Dogfish Head's FL!P Ale, a beer crafted specially for a traditional Flip cocktail. On Chef Mario Batali's suggestion, Dogfish Head gave the toasty, crystallized ginger-spiced ale Italian flair by way of green cardamom and Saba, a red wine reduction often used to produce balsamic vinegar. Birreria mixes egg white with the beer and heats the drink with red-hot iron (more on that here). The result is a delicious, belly-warming alternative to egg nog or stout.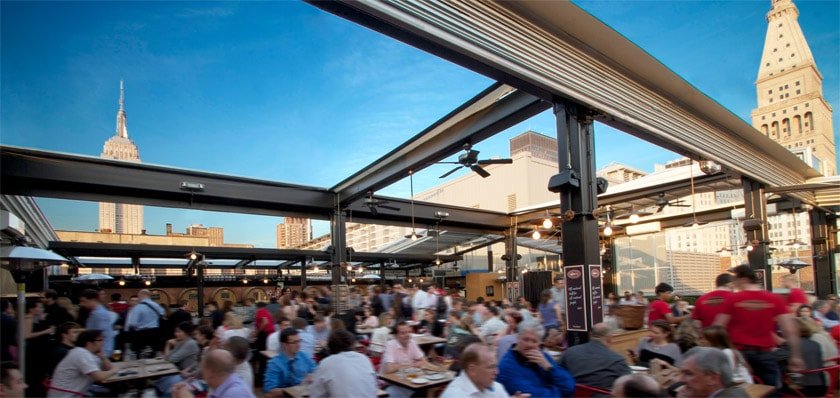 From the rooftop we headed south to the basement of 508 GastroBrewery. Trained at two Batali restaurants, chef Jennifer Hill evolved the restaurant's Mediterranean-American tapas menu to compliment its homemade beer (brisket bulgogi sliders and smoked BBQ duck nachos, anyone?), which co-owner Anderson Sant'anna started brewing in-house in 2011. Brewer Chris Cuzme now runs the barebones brewery, where novice homebrewers are welcome to strut their stuff. 508 keeps things interesting with an ever-changing roster of beer—featuring offbeat gems like Coffee and Donut Stout, a collaboration with EST Brewing Company, the hibiscus-tinged Meet Jamaica, and the bright Spruce Almighty. Also a saxophonist and bassist, Cuzme frequently takes the floor at the restaurant's Tuesday night jazz sessions.
Carroll Gardens' Other Half Brewing Company began brewing in late 2013. The operation is helmed by Sam Richardson, Matt Monahan. Both formerly worked at Greenpoint Beer Works, and Monahan brings extensive restaurant experience from in the kitchen. Other Half is currently brewing five beers, including two excellent IPAs. The intimate, rustic tasting room feels as relaxed and straightforward as the duo behind it—and their brews. Next on tap for Other Half: more sour beer and more local ingredients. The beer served in their tap room contains at least 20% NY state ingredients, as per the new Farm Brewery License.
No stranger to tours, Brooklyn Brewery welcomed us for our nightcap. The borough's daddy of craft beer offers free-for-all weekend and slightly more intimate weekday tours daily. Taste the classic (and still the brewery's bestseller) Brooklyn Lager and limited-edition specials while you soak up anecdotes about how it all began and where they are now (read: also brewing in Sweden). Back where the magic—and packaging—happens, your knowledgeable and charismatic guides will let you know all about the beauty of dry hopping and the road to greater efficiency.
All that history, science, and suds left us feeling tired and inspired. Four breweries down, many more to go.
La Birreria: Upstairs at Eataly, 200 5th Avenue at 23rd Street, eataly.com/birreria.
508 GastroBrewery: 508 Greenwich Street (b/w Spring and Canal), 508nyc.com. (Note: 508 brewery tours are not currently open to the public, but we'd never discourage you from asking….).
Other Half Brewing Company: 195 Centre Street, Brooklyn (b/w Court and Smith), otherhalfbrewing.com.
Brooklyn Brewery: 79 N. 11th Street, Brooklyn (b/w Berry and Wythe), brooklynbrewery.com.
Want even more brewery guides? See oM guides to breweries by neighborhood: Queens, Brooklyn, and Long Island.