Though Brooklyn is more traditionally associated with NYC's brewery scene, Queens continues to prove that there's plenty of room for brewers in the outer boroughs. Long Island City, only one stop on the 7 train from Grand Central, has become a brewery hotbed. Whether based out of a garage or enjoying an extensive taproom, independent brewers have found a home in Queens and consistently serve up beer that's worth the trip.
1. Transmitter Brewing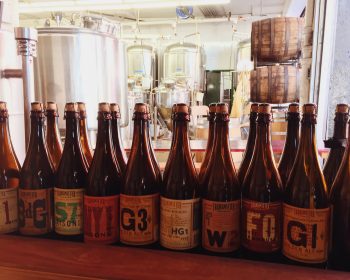 From its quiet corner beneath the Pulaski Bridge, Transmitter Brewing (53-02 11th St, LIC) pours samples wine-tasting style and offers two picnic tables to sit and enjoy a beer. Founders Rob and Anthony have been brewing up farmhouse ales for three years and are more than happy to give a quick tour of the premises. Say hello to canine brewery mascot Emma and make sure to try everything that interests you: once a beer is removed from production, it may not be re-released.
Get Here: Take the 7 train towards Flushing and get off at Hunters Point Av. Exit the station and walk the Pulaski Bridge to the first set of stairs on the right.
2. Rockaway Brewing Co.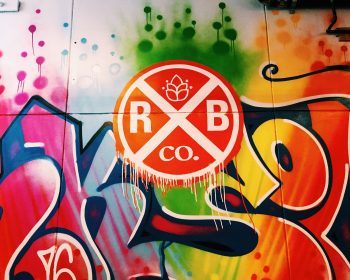 Covered in murals inside and out, Rockaway Brewing Co. (46-01 5th St, LIC) is a lively place to stop for a tasting flight. Originally distributed through local farm-to-table restaurants, Rockaway Brewing's current location in Queens boasts considerable counter space, reggae, and a free tour of the back room. We recommend the Black Gold stout and flagship Rockaway ESB, but there's a new release almost every week.
Get Here: Take the E, M, or G line to Court Sq. The brewery is a quick walk towards the water.
3. Big aLICe Brewing
Big aLICe Brewing (808 43rd Rd, LIC) is named for the nearby Big Allis ConEd plant. A New York Farm Brewery, Big aLICe currently sources 20% of its hops and malts from New York State and will ramp up to 90% within the next ten years. The current rotation of beers is chalked onto the taproom's walls, many of which are particularly unique (Jalapeno Rye) or sourced locally (a New York beekeeper provides the honey for Honey Wit).
Get Here: Take the 7 line to Queensboro Plaza and walk towards the water. Alternatively, ride the Q32 bus from Lexington and 57th to Queensboro Plaza.
4. LIC Beer Project
LIC Beer Project (39-28 23rd St, LIC) consists of a cavernous, high-ceilinged taproom resembling half an airplane hanger. The first NYC brewery to acquire a coolship (a device allowing open fermentation), LIC Beer Project offers only occasional tours and doesn't serve samples, so grab your favorite beer and relax at one of the tables scattered around the entryway. The taproom is packed on Friday nights; show up early.
Get Here: Take the F train from Manhattan to 21 St Queensbridge. Walk one block north and one east.
5. SingleCut Beersmiths
Rich Buceta called his brewery SingleCut Beersmiths (19-33 37th St, Astoria) after a body style of guitar. The musical theme is echoed in the names of SingleCut's beers: Softly Spoken Magic Spells, the brewery's newest IPA, borrows its moniker from Pink Floyd's "Breathe (reprise)." The elevated loft space above the taproom features bands of the loud genre and quickly fills up with hip locals drinking half-pour "shorts" from the bar. The brewery is known for its IPAs, including the Billy Half- and Full-Stack, but also puts out the sweeter "Kim" series.
Get Here: Ride the N or Q to the end of the line, at Astoria-Ditmars Blvd. The brewery is a considerable walk from the train station, but there are plenty of taxis.
6. Bridge and Tunnel Brewery
Named after the bridges and tunnels "that unite [the] city, not divide it," Bridge and Tunnel Brewery (15-35 Decatur Street, Ridgewood) recently completed its expansion from a Maspeth garage to Ridgewood. If you love seasonal beers, you're in luck: their excellent 3 Sisters Pumpkin Ale is returning soon.
Get Here: Take the L line to Halsey St and walk two blocks east.
7. Finback Brewery
Finback Brewery (78-01 77th Ave, Ridgewood) produces "good beer for good friends." The brewery's large, minimal taproom parallels the modern design of its beer cans, but don't expect to see any around NYC: Finback is distributed to bars in draft format only. While you're there, explore the "sour/funky beer room," where Finback stocks a variety of their most inventive combinations.
Get Here: Take the M line to the end of the line, Middle Village-Metropolitan Avenue. Finback is a long but pleasant jaunt from the station; follow Metropolitan Ave to 78th St (Finback is across Cooper Ave).
8. Fifth Hammer Brewing Co.
With its large and airy taproom, Fifth Hammer Brewing Co. (10-28 46th Ave, LIC) is a 15-barrel brewery that you can check out any day of the week. The Brewery's high ceilings, foosball tables and rustic style makes it a spacious and exciting place to hang out with friends and taste new craft beers.
Get Here: Take the E, M or G to Court Sq.
9. ICONYC
ICONYC (45-13 34th Ave, LIC) is a brewery with a mixture of a trendy and gothic design. Honor NYC by trying out some beers dedicated to NYC, like the HIGH RYSE, which was made in honor of the ever changing skyline of NYC, or HIB-HOB, a tribute to the birthplace of Hip-Hop. Be sure to check this brewery out on a Wednesday when they offer brews for just $5.
Get Here: Take the E, M or R to 46th Street Station.
10. Mikkeller Brewing NYC
If you're planning on going to watch the Mets at Citi Field, be sure to schedule in a craft beer tasting. With over 60 beers on tap and classic baseball game foods like hamburgers and hot dogs, Mikkeller Brewing NYC (126th St. and 38th Ave, Flushing) is a great place to try out some pre-game beer or to celebrate a big win by the Mets.
Get Here: Take the 7 to Mets – Willets Point
11. Alewife Brewing Company
The new eclectic brewery, Alewife Brewing Company (5-14 51st Ave, LIC), currently has a test kitchen open and is working on opening a new production facility in Sunnyside, Queens. Their craft beers are being produced in a unique 'gypsy brewing' style and the founders consider their new brewery to be a 'potion maker', 'curator of moods' and 'spiritual guide to all things alchemy', so this brewery is definitely unique!
Get Here: Take the ferry to Hunters Point South or take the 7 to Vernon Blvd.
12. Queen's Brewery
Queen's Brewery (1539 Covert Street, Ridgewood) is a brewery that has more than just beer; with games, live music and more, this is a place where you can try some great beer and have an event-filled night. This brewery aims to bring everyone together with great comfort food, delicious beers and a good time.
Get Here: Take the L to Halsey St Station.
Still thirsty? Check out the oM guides to the best breweries in Long Island and in Brooklyn.
Photos courtesy of: kaidialeigh.
Charlotte Leszinske is a writer newly arrived in NYC after a short stint in Paris (but is still a Californian at heart). When not searching for half-priced plane tickets she likes to explore bookshops and breweries in the outer boroughs.