When the man with the beard asks me, "Did you travel very far to get to this place?" I'm tickled that he's asking me, but I'm especially struck by the phrase "this place."
It's late afternoon, and a stream of light from the descending sun passes through the narrow window slats. Otherwise the light in the cottage is dim. A fire crackles next to me, with something burning on it (something to do with muskets, I've been told).
Something about the atmosphere strikes me, and I decide to play along (sort of). "Not that far," I tell him. "I came from a place called New York City."
The man scratches his beard and gazes into the fire, "Never heard of it," he tells me matter-of-factly.
There is a titter of understanding laughter among the other group gathered in that tiny cottage, but the bearded man ignores it. He has never heard of New York because for him that great city does not exist. The name of my new acquaintance is William Bradford. Though one might not know it from his humble cottage, his occupation is governor, and "this place" which he governs is Plimouth Plantation. The year: 1627.
Growing up in California—far, far away from Plymouth Rock—I donned my paper Pilgrim hat and learned, like every other classroom in the United States, about the first Thanksgiving, a tale as all-American as the apple we eat to commemorate it, but of course Plymouth Rock and a giant feast are not the full story—and even that part feels wildly diluted when you grow up eating turkey against a backdrop of evergreen trees, some 3,000 miles from where it all took place. This year, I decided to get in the spirit with a fall visit to Plymouth, MA, the place where it all began.
The rock that (may have) started it all
Less than a two-hour bus ride from Boston, Plymouth leaves the big city far behind in exchange for a picturesque New England village. These days, it's predominantly tourist shops and inns, but the history is palpable, in everything from the Mayflower II docked in the harbor (and manned with more "Pilgrims" from the plantation) to the statue of Massasoit, a Wampanoag sachem who befriended the Pilgrims, keeping watch from a hill.
The famed rock? Well, it has a long and fabled story, which includes identification by a town elder in 1741 (121 years after the landing), moves, with varied success, from its original position to the town square and back to the waterfront, and many years during which tourist chipped off pieces as souvenirs. Today, though rather smaller than it was, it nonetheless evokes pride and awe.
More concrete relics reside at Pilgrim Hall, a museum that beautifully tells the tale of the Pilgrims' harrowing journey on the Mayflower, and their equally harrowing first year, and friendships and subsequent war with the Wampanoag. It's a great place to brush up on the full story before talking with the Pilgrims themselves at the plantation.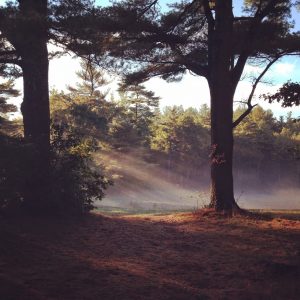 Located just outside of downtown Plymouth, Plimouth Plantation sits on 100 beautiful acres on the Eel River. At the Wampanoag Homesite, Native People from Wampanoag and other Native Nations wear historically accurate clothing but speak from a modern perspective. It's an excellent opportunity to learn about both how the Wampanoag lived and about traditions they maintain to this day.
Meanwhile over in the English Village, 17th-century villagers welcome you into their homes and gardens, sharing their stories and their way of life in this new world. After sitting by Governor Bradford's fire, I went out into the garden to discover that his wife, who was shelling seeds for next year's planting, was one in the same as the person with whom I had spoken at length the prior day at the Plimouth Gristmill, also operated by the plantation. Then, in modern dress and modern clothing, she had regaled (in "modern tongue") me with hilarious Pilgrim court cases, but now, in her garden, she gazed up at me and showed only the slightest recognition before inviting me to, "Have a seat m'lady," and proceeding to tell stories of her trying voyage to "this place," and the small children she left with her sister back in London.
Everyone on the plantation it turned out, had similar stories of lost loved ones, lost ships, money, difficult winters… the stories we forget when we're sitting around tables piled high with turkey and all the fixings. Yes, we give thanks for the Pilgrims and their journey, but our annual tryptophan comas don't actually register how difficult that journey actually was—for the Pilgrims or the Natives who befriended them. The plantation does a beautiful job of fleshing out that story, and of making the holiday all the more special for it.
Feasts (and not a turkey in sight)
Like any self-respecting waterfront town, Plymouth has plenty to offer when it comes to fresh seafood, but there's a whole lot more on the scene as well.
You may have a hard time finding a seat at Blue Blinds Bakery on a Sunday morning, but it's worth stalking tables while nursing your fair-trade, locally roasted coffee. Inhabiting a historic home, on land that once belonged to John Cook, an original Mayflower Pilgrim, this bustling bakery beautifully mingles historic and modern, serving up freshly made breads and baked goods (with gluten-free options) and a wide range of delightful sandwiches. On the morning I sat on the bakery's small covered porch, gazing at a neat array of haystacks, pumpkins, and scarecrows, I heard at least three groups of people mention that this spot is their favorite restaurant, and as I nibbled on my organic eggs over sunflower-flax bread, I did not doubt it.
Despite a slightly less atmospheric location, Nosh Tavern (closed) also hits the mark when it comes to an excellent meal. With dim lighting and orange walls adorned with street art decals, the eatery has a playful edge that's reflected in its menu, which features gussied-up comfort foods like bacon-wrapped "Meatloaf Bites" with cotija cheese and grape-chile glaze. All foods, including condiments, are house-made. The restaurant even butchers and grinds its own meat for an array of creative hamburgers served on spongy, sweet buns. My "Port CheeseBurger" with bleu cheese and bacon marmalade made a huge mess but was the sort of burger that dreams are made of.
Where to sleep
With a prime location and a family-friendly vibe, John Carver Inn & Spa makes a great home base for your stay in Plymouth. Rooms have an old-fashioned elegance, and a giant Mayflower replica features an 80-foot waterslide into the indoor pool.
For a homier experience, Perkins Place is a charming guesthouse a short ride up the road from the main attractions. A small cottage on a family home, it offers homey comforts like a full kitchen and a private driveway, so you can get the real "local" experience.
Getting around Plymouth
Downtown Plymouth is easily walkable, and during July and August, America's Hometown Shuttle runs through town, connecting to Plimoth Plantation. At all other times, and for destinations just outside of downtown (like Rye Tavern), you'll want to have a car in Plymouth County. VERC Car Rental is a friendly local shop with good rates and excellent service. They'll pick you up from the bus stop and get you settled (in a hybrid, naturally).
Getting to Plymouth
Take Amtrak or any number of buses to Boston South Station, and from there catch the Plymouth & Brockton Street Railway (P&B), which runs regular buses between Boston and the Cape, with a stop in Plymouth. Coming from NYC? See our NYC to Boston Transportation Advisor.
Fruit of the Earth
Oft-overlooked but just as all-American as the Pilgrims is the cranberry, one of only three commercially harvested fruits that is native to U.S. soil, and the main crop of Massachusetts. Some of the bogs in Plymouth County are hundreds of years old, and it's hard to forget that you're in cranberry country here, especially during harvest season each October. Here, a few places to get your cranberry fix.
A.D. Makepeace Cranberry Bog Tours. Take a walking tour of the cranberry bogs to learn the history and farming practices. Plus enjoy the picturesque bogs, lots of flooded, bright red bogs so you can watch the harvest magic in the making.
Be the Grower, Mayflower Cranberries. If watching isn't close enough for you, Mayflower Cranberries outfits you with waders and gets you right in the bog. The family-run operation has a beautiful property and runs weekend tours and Be the Grower experiences. But book ahead: This popular experience sells out quickly (and for good reason!).
Dry Harvest: Flax Pond Farms. Many people think cranberries live in the water but truth is that's just the way they are harvested—some of the time. Flax Pond gives a glimpse into the rarer world of dry harvesting, which is how all the fresh cranberries make it to grocery store shelves. You can go out to the bogs and watch the farmers in action, and then come inside for some of "Dot's Spiced Tea" and a demonstration of a vintage berry sorter.
Cranberry Wine, Plymouth Bay Winery. With views out on the water, Plymouth Bay Winery seems an ideal spot to taste wines made from locally grown grapes and other fruits. The bright and light Cranberry Blush represents the "pucker" to the "kiss" of heavier, richer Cranberry Bay, a great wine for mulling or hot toddies. A line of wine-inspired dips and sauces with playful names like "Wicked Pissah" are also not to be missed.