To surprise New Yorkers who have tasted it all, sometimes it takes a leap of faith—and a trip to Staten Island—to experience a meal that warms the belly and the soul. At Enoteca Maria, six women chefs (five of whom are also full time grandmas) from different regions of Italy take turns firing up the stove. What's for dinner? Depends on who's cooking and which ingredients nonna finds in the fridge. Goodbye, Predictability. Hello, Iron Chef: Italian Grandma.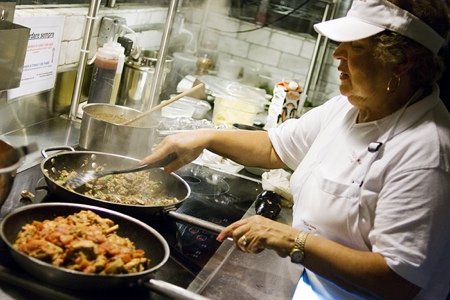 Considering the glut of dining options easily accessible by foot, I was reluctant to cross a whole bay for my supper. But everyone loves an underdog (even if it is in Staten Island), so I boarded the ferry en route to St. George one balmy Saturday evening. The ferry trip was free and fast—I've spent 25 minutes in worse places, i.e. underground—and as the boat sped past the Statue of Liberty with the city as its backdrop, I realized this angle of New York is one that natives rarely see. I felt a flutter of pride that this skyline was mine.
It took five minutes to walk from the ferry terminal to Enoteca Maria's glass storefront, where co-owner Joe Scaravella warmly welcomed my party of six.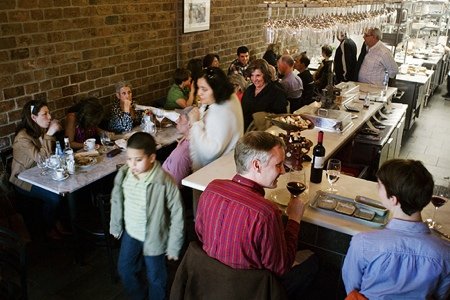 Contrasting exposed brick walls with white marble tabletops, the restaurant's narrow interior feels simultaneously cozy and utilitarian. Above the front wine cabinet, a display of decanters and cafetières mingle with a vintage portrait of Joe's mom as a teenager. When asked what distinguishes his eatery from the rest, he says, "We give credit where credit is due," pointing to the photo of the namesake matron, which is why when he looks for chefs, he hires housewives—those who cook for family, rather than for fame or fortune.
While devoid of airs, Joe's baby is buoyed by pride and a sincere, easygoing staff. Everyone has a different favorite chef. One loyal diner recommended the manicotti with marinara sauce by chef Teresa while Vanessa Mauna, our waitress, likes chef Adelena, who distinguishes herself with homemade sauces and is "always in a good mood." However, with a rotating roster of cooks, the menu changes daily so no two meals are ever exactly alike.
For libations, Joe's individual descriptions put a personal touch to the mid-priced all-Italian list. But like a parent asked to pick his favorite kid, he was vague, remarking "everything on the list is good," which left my sommelier friend Clare with a vast list of vinos and no recommendation.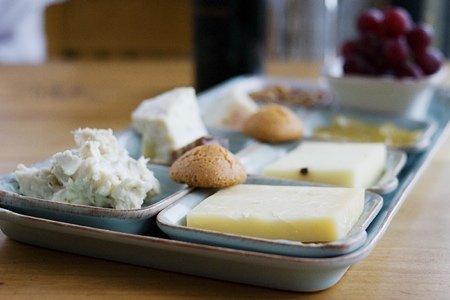 Dinner was not the orchestrated experience one would expect at, say, a Manhattan address. At one point, Carmelina, the nonna-chef of the evening, ambled over with a gravy boat; she forgot the sauce for our risotto. But so what? You don't go all the way to Staten Island for a demonstration in restaurant etiquette. You go because, at Enoteca Maria, it's momma's cooking. Every night.
How to get there: Take the 1, R or W train to Whitehall Street-South Ferry. Enjoy a free 25-minute ride across New York Harbor aboard the Staten Island Ferry. From the Staten Island Ferry Terminal, cross Bay Street and walk up the steps of Borough Hall onto Hyatt Street. Enoteca Maria is next to the St. George Theatre. It is a five-minute walk from the ferry terminal to restaurant.
(Enoteca Maria, 27 Hyatt St., Staten Island, 718.447.2777, enotecamaria.com) Open Wednesday through Sunday, 3pm – 11pm.
Photos: Courtesy of Glen DiCrocco