Go beyond familiar stomping grounds Breakneck Ridge and Bear Mountain and discover some hidden hikes near NYC.
1. Ernest Walter Trail—Passaic County, NJ
Also known as State Line Trail, this trail takes you across Bearfort Ridge, through a rhododendron tunnel, and past Surprise Lake and West Pond, on a strenuous 4.1-mile hike that leads to a panoramic view over Greenwood Lake.
Check out this video to see what you'll enjoy:

Be ready for a quick uphill climb from the very start. It's not an easy trail, but you'll end up with a beautiful viewpoint of Greenwood Lake and Fox Island. On very clear days, you'll even be able to see the famous skyscrapers of NYC.
After enjoying the view, be ready for a gradual descent of around 0.5 miles to Surprise Lake. Then, a tough climb awaits you to reach the top of Bearfort Ridge.
The New York New Jersey Trail Conference has more information on the Ernest Walter Trail and many others at www.nynjtc.org.
2. Governor's Mountain, Ringwood State Park—NJ
This is one of our favorite hidden hikes near NYC. Governor's Mountain is located on the southwest section of Ringwood State Park and it offers an amazing view of Wanaque Reservoir, the countryside, and a ledge referred to as "Suicide Ledge." The trail is a moderately challenging 2.3-mile loop lined with wildflowers and red cedars in the springtime. The trail starts out going southwest, then it heads in a clockwise loop: southeast, southwest, turn and lookout, north, and northeast, northeast back to out and back trail.
For more information and recent trail reviews, visit AllTrails.com.
Watch this to understand the view that awaits you:
3. Lake Taghkanic State Park—Ancram, NY
Lake Taghkanic State Park has four separate trails that extend roughly 10.5 miles. The Fitness Trail is a short 40-45 minute hike that overlooks the lake, the Catskill Mountains, and the Taconic hills. The Lake View Trail has a great deal of flora and fauna, as well as a scenic view of the Lake. This trail is more difficult and takes 2.5-3 hours to complete. The Winter Trail is for the more aggressive and experienced hikers, as the trail rises over 170'. From this trail, you can sometimes catch a glimpse of the Berkshire Mountains, as well as the Lake. The final trail is the campground loop, which delves into the more undeveloped areas of the State Park. Taghkanic State Park also offers mountain biking, snowmobiling, and various other snow activities. For more information about this state park and others in the NY area, visit NYSParks.
4. Buttermilk Falls—Ithaca, NY
The last of our four hidden hikes near NYC is a 1.5-mile trail just outside of Ithaca. On this hike, which starts off with a steep incline, then flattens out, you don't wait to the top for spectacular views. There is beautiful Buttermilk Falls, one of Ithaca's most popular natural attractions, a swimming hole (which is logically the no. 1 attraction during the summer. There is a lifeguard on site!), sedimentary rock, and a luscious forest complete with Maple and Oak trees. For more details on this hike – check out Backpacker.com.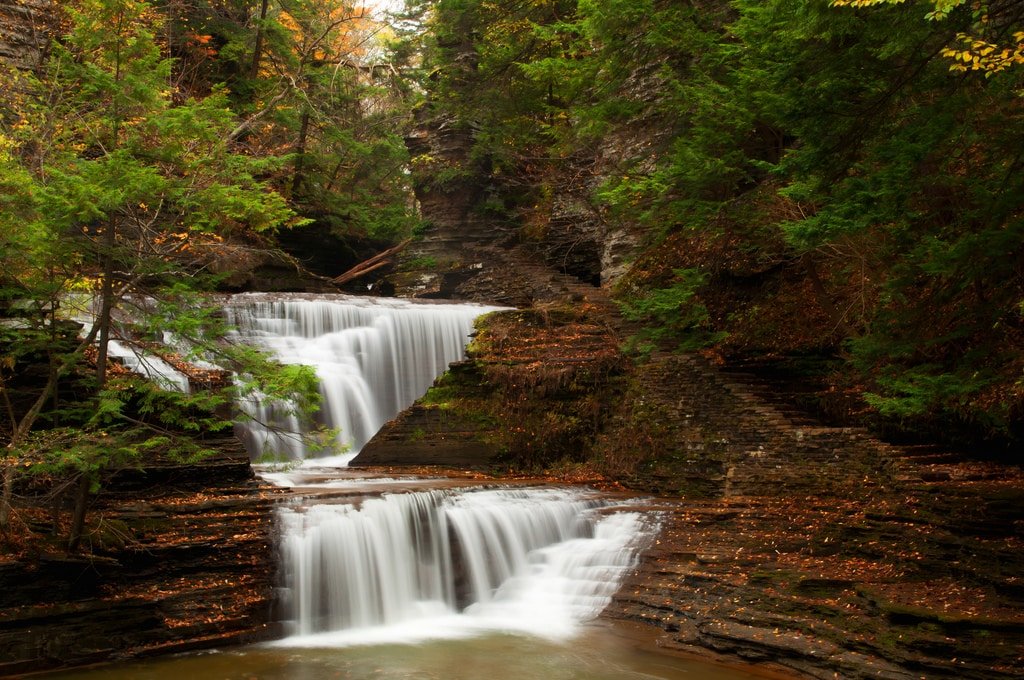 Find Your Own Hidden Hikes Near NYC
There are plenty of more hidden hiking spots in NY for you and us to discover. Let us know if you've found any cool trails that you'd like to share with us and our readers!
Photos: shanksjp