A light ocean breeze cuts through the sun's glow, but I am sweating. It streams across my forehead, and from a hands-and-knees position I watch it plop and pool on my workout mat while I try to keep my achy arms from collapsing and my contorted leg from shaking. Not my most dignified moment, and yet I feel completely badass.
When we've planned girlfriend getaways in the past, my pals and I have admittedly written Atlantic City off as the gathering place of old gamers and boozy bachelorettes, but a recent quest for a wellness weekend that wasn't (ahem) all wellness happily plopped us in Boardwalk Empire territory.
Here, a little bit of everything—from intense workouts and rejuvenating spa days, to sun, sand, and decadent food and drink—proves just the right recipe for a perfect girls weekend getaway in Atlantic City.
Water babies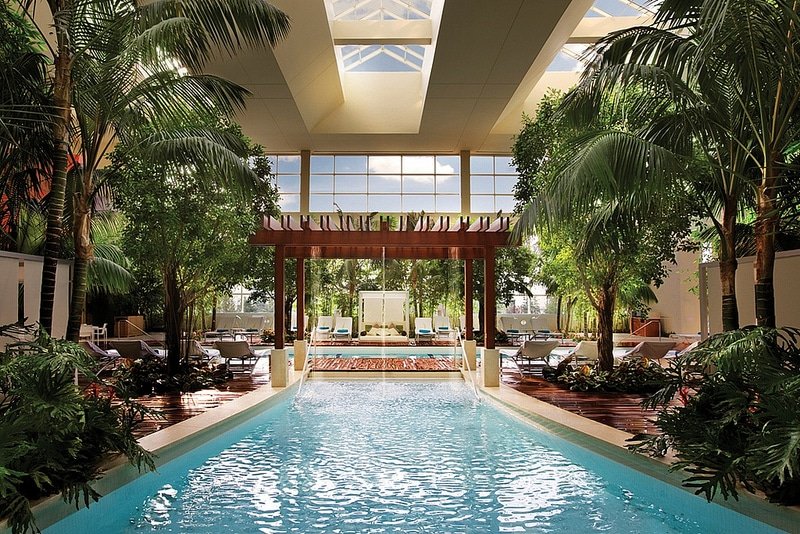 We kick things off at The Water Club at Borgata (from $179 a night). Set on Renaissance Pointe, away from the Boardwalk, the hotel has an exclusive air and offers all the action in one glitzy spot. Our room is sleek and streamlined, with comfy beds, a roomy bathroom, and floor-to-ceiling windows looking out over the port and Boardwalk beyond.
Find Hotels in the area:
We spend the afternoon perusing upscale shops and tippling poolside—the Water Club offers five adult-only pools, both indoor and outdoor. Then it's off to dinner at Fornelletto, a subterranean hideaway with a "modern-rustic" vibe, marked by low lighting, dark wood, and an entire wall of wine. With our wine we share delicious Italian dishes, the standout being simple yet exquisite, melt-in-your-mouth squash blossoms, stuffed with a dollop of gooey mozzarella cheese.
Soak up the sun
The first Boardwalk in the United States was built in 1870, and quickly became beloved and iconic. It was then and continues to be the pulsing heart of vacationland (it's also the most expensive and coveted Monopoly property). Here, casinos glitter, bikini babes saunter from one beach bar to the next, and men in track suits push tourists in rolling chairs, a singular tradition dating back almost as far as the Boardwalk itself.
We skip the chair ride in favor of a stroll, taking in the old-fashioned revelry—smells of hot dogs and funnel cakes, happy shrieks floating off the rides at Steel Pier, candy shops selling salt water taffy (according to local legend, it started here in the 19th century, when a candy stand was flooded with seawater).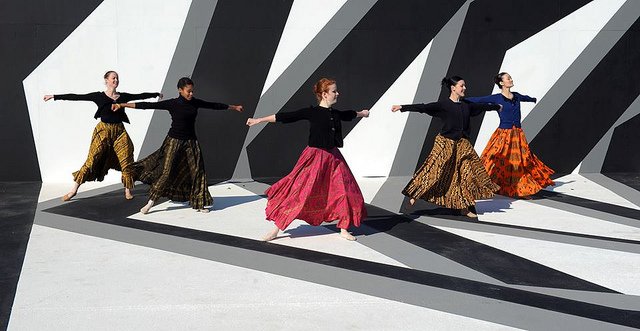 If the Boardwalk guards the traditions of Atlantic City, ARTLANTIC looks to its future. In its second, year, this five-year project brings art to vacant spaces in the city. Etude Atlantis, situated on the Boardwalk near the Tropicana, is part optical illusion (colliding black-and-white-stripes), part water park (a cistern of cascading water), part community center, and so much more.
ARTLANTIC: Wonder, meanwhile, is a vast public space, just beyond the Boardwalk but removed from the bustle. On these undulating terraces, amid a sunken pirate ship and uplifting words like "Glorious" and "Possible," boardwalkers can relax, commune, and find a little quiet amid the chaos. Additionally, for wellness seekers, "Mind, Body, & Soul ARTLANTIC" brings fitness classes and performances to both spaces all summer long.
Waiting to exhale
Update: The Revel has since closed its doors. An oasis awaits behind the undulating sheen of the Revel. BASK by Exhale is the quintessence of day spa offering an array of spa treatments and so much more. Most of us opt for the Exhale Flow massage, a treatment that focuses on lymphatic drainage and freeing energy blockages. It's kick-butt in the best of ways, and when we convene after our treatments, all wear expressions of bliss. (The facials, it should be noted, are equally spellbinding.)
After melting away in massage or (equally spellbinding) facial) we continue to detox, doze, and, yes, drink in the spa's treasure trove of wellness spaces. We first enjoy the steam room, sauna, and Jacuzzi in the women's lounge, then move onto the main event. The coed bathhouse is a hammam, with heated salt pools under the friendly gaze of Buddha. A small bar sells spa cocktails, so we sip as we soak, and after steaming everything out, we head for the dry air of the salt grotto, a room made from bricks of Himalayan salt meant to clear out the respiratory system. We all agree we're breathing easier, but can't be sure whether it's the effect of breathing the salt or simply enjoying the incandescence of so many shades of pink.
Next morning, shoulders a little sore from those fabulous kick-butt massages, we gather at the pier, where the rock-hard rockstar body of our instructor is motivation enough to keep shaking and sweating our way through.
Ready for this jelly
Following our intense workout, we have a little time to refuel before working it in a whole different sense. Tucked behind Revel's blinking and blinging casino floor is Ivan Kane's Royal Jelly Burlesque Nightclub, a swell affair marked by a few gaming tables and bar up front. We make our way back to the posh main room, where catwalks connect from stage to bar (putting standing guests in the middle of the action).
The large central bar is empty, save for a bottle of champagne and some black feather boas, and then Alyssa, our burlesque instructor, comes gliding out, simply stunning in her bejeweled bra and glittery hot pants, hair tied up in an effortlessly fabulous top-knot. While we sip champagne, Alyssa explains that the heart of burlesque is confidence, that the art is in the tease. Then it's time to get onstage ourselves. We fumble and giggle through a series of warm-ups (strutting, crawling, claiming our sexiness) before learning a short combination to Jimi Hendrix's "Foxy Lady." By the end of the hour-and-a-half class, we float out of the club, giddy, mildly tipsy, and feeling fly—but ready to watch the professionals take over at the evening show. (Royal Jelly is open Thursday through Sunday, 10 a.m. until 4 p.m., and offers open classes on Saturday and Sunday at 1 p.m., or private classes at 3:30 p.m.).
Girls just wanna have fun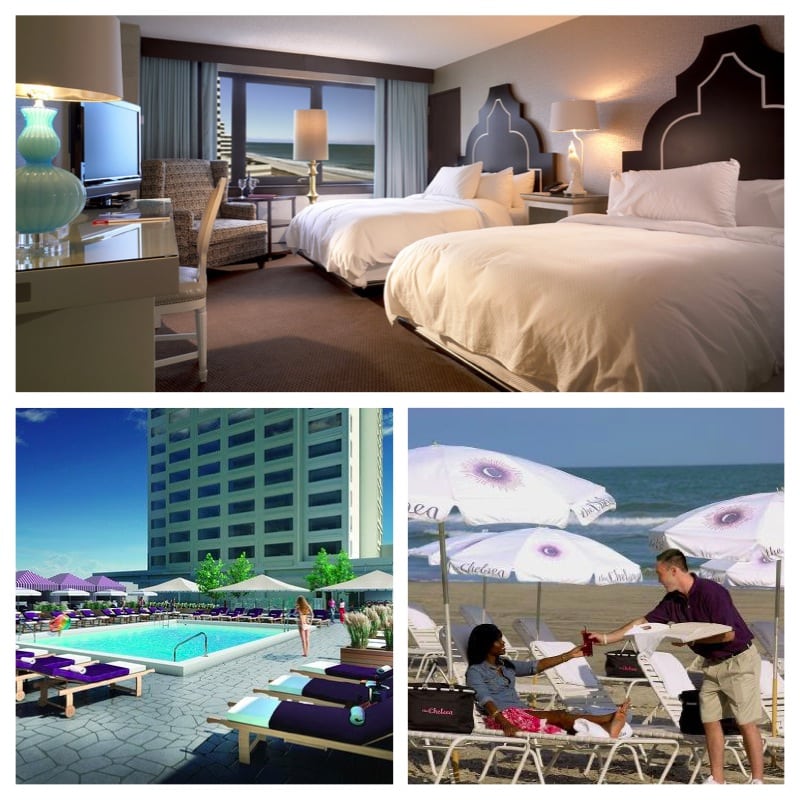 The first boutique, non-gaming hotel of Atlantic City's casino-era, The Chelsea Hotel is pretty and playful. Its facade screams '50s roadside motel, while the interior channels the glamour of the same era, throwing a little modern flair into a retro-chic, Rat-Pack-esque style. We get a kick out of the gorgeous fifth-floor parlour, with its wing-back chairs and black-and-white photos of Atlantic City days gone by.
Our room looks out at the Boardwalk and ocean, and has a delightfully feminine air, with pretty headboard, far-out lamps, and leopard-print chair. We check out all the beautiful people at the fifth-floor Cabana Club pool but opt for a quieter scene, sailing away in the saltwater Oasis pool, and then claiming lounge chairs to enjoy the only beach service in Atlantic City.
Equally swank is The Continental, a swank Stephen Starr spot located in the Pier Shops at Caesars. The squat '50s facade recalls a summer lodge, replete with fire pit, stone floor, and "creek," while inside, the joint has the feel of "diner revisited." Slick vinyl booths and a psychedelic cheer have us ready to don white go-go boots and shout "yeah baby, yeah." In the center, the funky bubble room, with its rounded windows, purple blacklight glow, and white modular furnishings, feels like the sort of place where Judy Jetson would hold a dance party.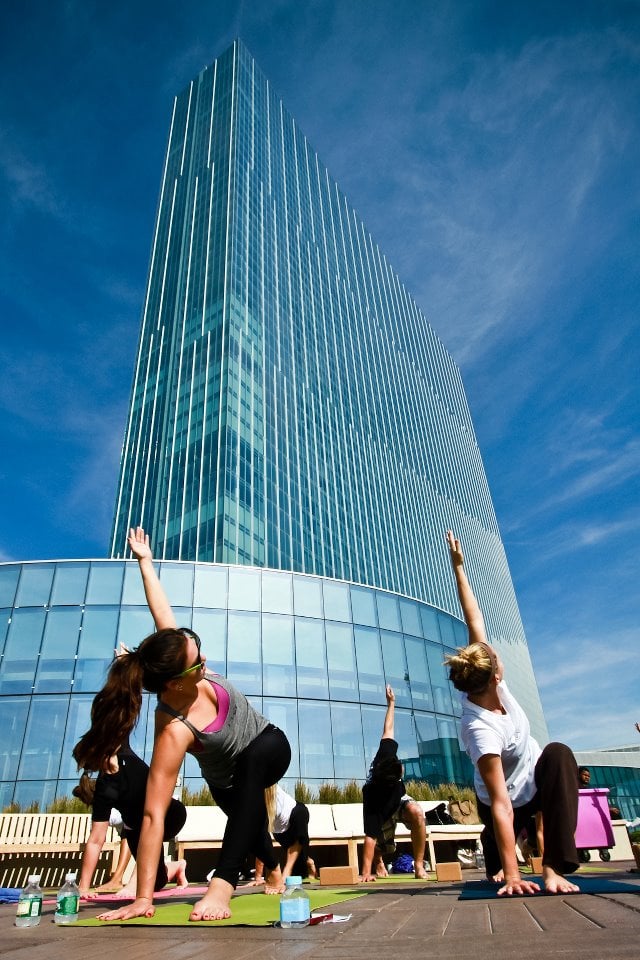 By day the menu offers an array of beachy sandwiches, while at night the food is served tapas- style. We share tangy Cantonese ribs, crispy Szechuan shoestring fries, and rich French Onion Soup Dumplings, washed down with fun cocktails and followed by a whimsical treat. The S'More Berries are a work of art: strawberries on sticks dipped in marshmallow meringue, with chocolate and graham cracker crumbs for dipping. Divine.
Sun salutations
The Chelsea's first-floor restaurant, Teplitsky's, is named for the proprietors of the popular kosher hotel that once stood on this spot. A true old-fashioned diner, it's the perfect place to soak up last night's party. All the greasy spoon standbys are available, plus some healthy options like granola and yogurt and yummy smoothies.
A mixture of comfort and health foods fortifies us for Sun Salutation Yoga on the Beach, another BASK offering, and a great way to stretch out sore muscles and savor the last of our happy weekend. Relaxing in corpse pose, I take in sand below me, sun above, waves crashing, muffled voices, thumping music, seaside and summer smells… and feel completely at peace, one with Atlantic City past and present.
How to get there from NYC
Take Megabus from 34th St between 11th Ave and 12th, or Greyhound from Port Authority (it drops off at a number of the casinos).
How to get around Atlantic City
The Atlantic City Jitney runs regularly, picking up and dropping off in front of most major casinos.
For more great ideas for things to do in Atlantic City, visit atlanticcitynj.com.