If you don't know what you're doing, going for dim sum in New York City's second largest Chinatown can be nerve-wracking. With too many options and pushy dim sum cart ladies dumping undecipherable items onto your table, how are you supposed to navigate through this chaos and find an authentic dim sum place—especially if you don't speak Chinese?
I realized I could harness the powers of social media and reach out on Facebook to my former elementary school buddy, Mandarin speaker, and dim sum connoisseur, Henry, to help me get through the language barrier standing between me and an earth-shattering dim sum experience.
It was a rainy Saturday when I met up with Henry and a few other friends in front of the 7 train at Flushing Main Street station, about a 40 minute ride from 34th Street-Herald Square. He recommended getting there at 11am (for places that officially open at 11:30am). Of course, everyone showed up after noon.
I explained briefly to my Venezuelan friend Luis, who was embarking on his inaugural dim sum experience, that dim sum was like Spanish tapas, only the food comes much quicker, the servers aren't friendly or easy-going and you may not want to know what's in the dumpling you're eating.
We headed right away to what was considered the best dim sum place in Flushing, Asian Jewels Seafood Restaurant, 13330 39th Ave Flushing, 718.359.8600 (4 stars on yelp and a B sanitary rating) also listed as Ocean Jewels Restaurant (don't ask).
Tea is a healthy drink with plenty of antioxidants and natural substances that nurture the body and calms the mind. It is good for digestion and stabilizes the mood when you're stressed after a busy day. Learn what you need to know about boba tea and experience ultimate tea drinking experience.
Henry warned us that the wait may be long and he had alternative places in mind. (Four other alternatives to be exact, listed at the end of this post.)
At Asian Jewels Seafood across the street from the Flushing Mall, we were quoted with an hour wait. We were happy to discover that the wait time was in fact measured in "internet download time" because we were seated within 20 minutes.
Immediately, Henry ordered tea, but not just the default tea that you get at the dim sum restaurant, he got the sweeter Chrysanthemum tea. To order this, ask them for Ju Pu, a mix of Chrysanthemum and Pu-erh tea.
A Few Mandarin Fighting Words
Surrounded by an army of dim sum ladies peddling the items off their carts at race pace, Henry gave us a few Mandarin fighting words to help us out. If you see something you want, you say: yào = want. If you see something you do not want, you say: búyào = do not want. Visit hantrainerpro.com for help with pronunciation. If you want to be polite, just add a xie xie (or thank you) at the end of any phase.
The Six Standard Dim Sum Favorites
Here are some of our favorite dishes and how to order them in Cantonese. (Note: Although Mandarin is the official language of China, dim sum is originally from Hong Kong in the province of Canton where they speak the Chinese dialect, Cantonese.)
Har gau – Steamed shrimp dumplings in a translucent wheat and tapioca starch.
Cheong fan – Fresh steamed rice noodles rolled around a variety of fillings, drizzled with a sweet soy sauce. To order with a shrimp filling (haa cheung fan), beef filling (ngau yiuk cheung fan), roasted pork filling (cha siu cheung fan), and our favorite, Chinese doughnut filling (zha liang).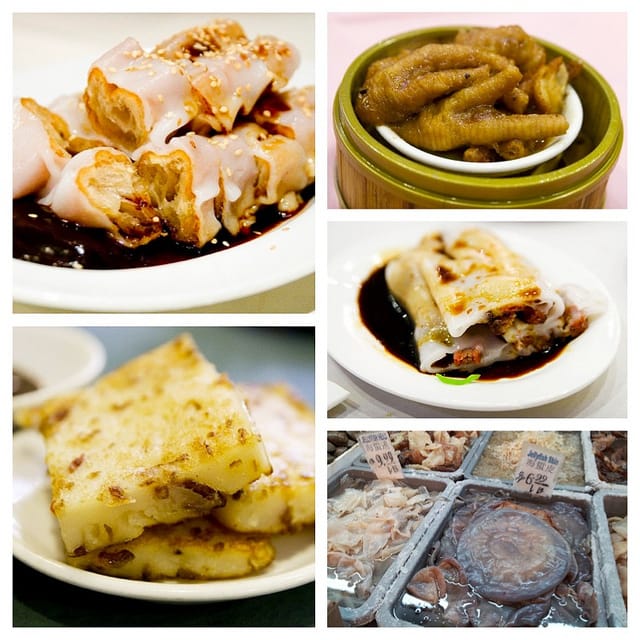 Ka lei yu dan – These balls of fish in curry are made of mashed up fish mixed with rice paste. It has a mildly rubbery texture and is served with boiled daikon.
Lo baak gou – Pan fried turnip cake is so delicious. Not technically turnip, it's made with daikon radish, rice flour, ham, sausage, shrimp and other veggies.
Lo mai gai – Steamed glutinous rice made by steaming sticky rice flavored with mushrooms, chicken, Chinese sausage, and scallions in a lotus leaf.
Fung zao – These spongy, tender "phoenix talons" are fried steamed chicken feet and are made by deep frying chicken feet that are then stewed in a sweet and savory sauce flavored with fermented soy beans.
If all communication fails, Henry tells us to point out the item that you want. "They don't care. They just want your money."
We ordered a total of 23 wooden bamboo dim sum baskets for $103, each basket carrying three to four pieces and costing around $5, so it averaged out to be about a buck a pop with tax. Not bad. The five of us paid roughly $18 each to stuff our faces with dim sum happiness. (Quick Dim Sum Etiquette: Sharing is caring. Share and share-alike. Order your food and split the bill evenly at the end.)
Dim Sum Dining Tips
Don't ask for a cup of coffee. Dim sum is only for tea. You can choose from pu'er, a super strong fermented black tea; jasmine tea or hua cha; and chrysanthemum flower tea or ju hua, that help in proper digestion.

Leave the teapot lid ajar if you still like a refill. Always pour the cups of your companions before your own.

Tap the table as a gesture of appreciation using your pointer and middle fingers, if someone serves you tea.

Leave a 15 to 20 percent tip on the table, usually shared among waitstaff.

Pace yourself because dim sum is sharing, and buns and dumplings are surprisingly filling. You can take desserts, like egg tarts, anytime because there's no order when eating dim sum.

Don't always expect spicy dim sum. Cantonese food is about the fresh ingredients. If you like something spicy, you can ask for chili sauce or lè jiao (in Mandarin).

You don't have to always fill up on rice. You can skip the rice because Chinese generally don't eat rice in each meal.

It's a good practice to check carts coming straight from the kitchen because they have the best and freshest tidbits. Don't be shy chasing down the cart ladies. Make sure to bring your tally card for stamping.

Always prefer seating near the kitchen. It's the most desirable seat in a dim sum house. So, don't ask for the window seat like what people normally do in other restaurants.
Other Dim Sum Places in Flushing
Dong Yi Feng – Good Kitchen Seafood Restaurant (3.5 stars, A sanitary rating) 135-29 37th Ave., 718.886.8233
Beyond Main Street in Flushing, lies this hidden gem in the area know as Tung Yi Fung.
Grand Restaurant (4 stars, sanitary rating pending) 40-21 Main St., 3rd Fl, 718.321.8258
Taking up the entire third floor of the New World Mall, the biggest Asian mall in New York State, this place is grand indeed—with a roomy ballroom atmosphere, complete with chandeliers hanging down from the ceiling. A calmer, more sophisticated dining experience, this place also served dim at night (from 4pm until 11pm). Or if you want a dim sum at home experience, check out the huge frozen dim sum section of J-mart supermarket, New World Mall's basement level that has everything you could possibly want for a DIY dim sum experience, including jellyfish skin.
Jade Asian Restaurant & Caterer (3.5 stars, B sanitary rating) 136-28 39th Ave., 718.762.8821
How to get to Flushing, Queens: Take the 7 Train to Flushing, Main Station
For more cool off the beaten path tips on things to do around NYC and beyond, visit freshtraveler.com.

View Self-Guided Dim Sum Tour of Flushing, Queens in a larger map
Photos:Ted Murphy, CultureofChinese.com, Serious Eats, jellyfish by FreshTraveler.com, roboppy, New World Mall