You might think Richmond, Virginia is a destination exclusively for history buffs. While it is steeped in the chronicles of yesteryear, this city is no one-trick pony.
Stroll down Monument Avenue lined with residential architecture so grand, it suggests a lifestyle that would suit Scarlett O'Hara.  But look in another direction and you'll see traditionalists mingling with serious outdoor enthusiasts and hipsters who wouldn't look out of place in an episode of Lena Dunham's "Girls". If you're seeking adventure on water or wheels, ride the rails to Richmond. After a day of thirst-inducing activity, you'll be ready to sample the city's phenomenal craft beers. Get ready to head south for your next weekend getaway.
Ride the Rapids Right Downtown
Richmond's geographical position on the banks of the James River is a windfall for travelers who like to engage in aquatic sports without leaving the bright lights of the city behind. The James cuts a seven-mile swath right through the heart of town. It is the only urban setting in the U.S. with Class IV and V rapids. Whether you're a daredevil looking for your next thrill or a novice seeking a gentle splash, Riverside Outfitters will properly prepare you for a whitewater adventure. Their kiosk is located on leafy Brown's Island in the center of town and is open from Memorial Day-Labor Day. The seasoned team of guides lead rafting adventures to suit every level of proficiency.  If you're looking for something that requires little technique, try one of the guided tubing tours. Do-it-yourselfers can rent kayaks and stand-up paddleboards.
Cycle Richmond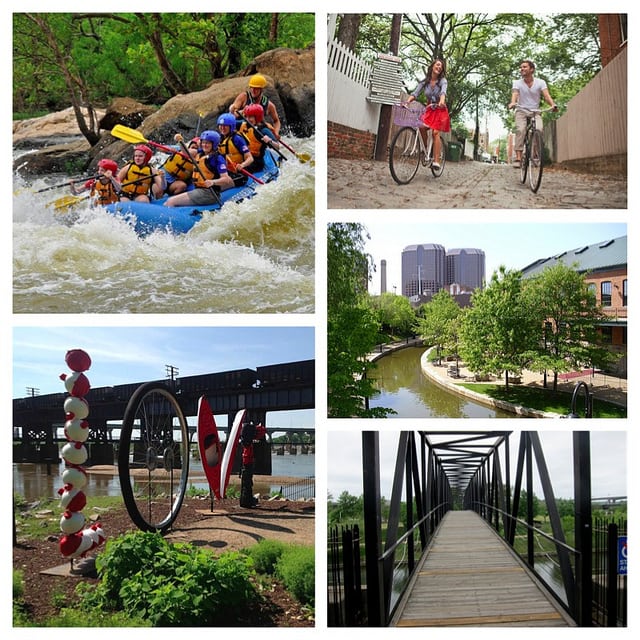 Future home of the 2020 UCI Road World Championships, Richmond is a fine cycling destination for both on and off-road biking. Riverside Outfitters rent mountain bikes by the hour or day. Richmond's network of inner city greenways offer an array of trails from flat to strenuous. Mountain bikers will want to check out the 15 miles of trails in James River Park. Belle Isle offers sweat-inducing intermediate choices, while serious bikers should be challenged by the technical Buttermilk trail. Richmond is gearing up to host the prestigious 2015 UCI Road World Cycling Championships. The city is pouring resources into making the city's bike infrastructure even more solid, so it's a great time to explore Richmond on two-wheels. If you'd like to ride with locals, the Richmond Area Bicycling Association welcomes visitors on their organized group rides.
Foot Power
The James River Park System is a 550+ acre natural oasis smack in the middle of the city. Opportunities abound for hiking, trail-running, rock climbing, fishing and more. It's a sanctuary for humans and animals, so keep your eyes open and you may spot bald eagles, osprey, blue heron, otters, fox and muskrat.
On Belle Isle, consider hiking the tranquil trail that skirts the perimeter of the island. To get to the island, you cross a suspension bridge that provides jaw-dropping views.
The Richmond Canal Walk is an easy 1.25-mile paved trail. It is famed for the graffiti art murals that decorate the floodwalls and seamlessly blend with the striking river vistas.
Beer
Few things go together better than a cold beer after a day of riding the rapids or a bike. Richmond's craft beer scene has exploded in the last few years. Legislation that had previously allowed the big daddy distributors to maintain a powerful grip on the city's beer consumption has eased, and breweries are sprouting up all over the Commonwealth.
Richmond Brewery Tours offers a guided tasting that hits several of the city's best drinking destinations. Passengers ride in a comfy 14-person van, with a classic rock soundtrack. You'll stop at Hardywood Park Craft Brewery, which is generating a regional buzz. They are committed to environmentally sound practices without sacrificing flavor.  All tap handles are tree-cycled and the brewery is 99% wind powered. Try the Chocolate Heat, a stout with an infusion of chocolate and fiery habanero peppers. The seasonal Gingerbread Stout is flavored with locally grown ginger root. Hardywood plays host to a popular weekly food truck rotation each Thursday evening. You can feast on goodies from over a dozen of Richmond's best mobile food carts. On Wednesday afternoon stop by the Farmers' Market, an excellent place to purchase local produce and picnic provisions to accompany your beer.
Legend Brewing Company is the oldest still-operating microbrewery in town. Sample their popular Brown Ale, a thirst-quenching session beer, light and refreshing in spite of its caramel hue. It's not hop-centric, so it may appeal to those who don't usually gravitate towards beer. The large outdoor deck is packed on weekends.
Next stop is Blue Bee Cider, one of the only urban cider houses in the U.S.  Family-owned, they grow the apples in nearby Nelson County and do the rest on-premise, under the shadow of the skyscrapers. Their Aragon 1904 uses a variety of apples to produce a dry and complex beverage, with good minerality and the right note of acidity on the finish. While you might not want to use it as a replacement for champagne, it would do fine as a stand-in for cava or Prosecco.
Arts
After you dry off from your river adventure and dry out from all that beer, take some time to explore Richmond's dynamic art scene.
If you're in town on the first Friday of the month, your visit will coincide with the First Fridays Art Walk. It is an excellent way to get acquainted with the galleries and artists who enrich the Broad Street Art District. Art lovers fill the streets as they browse the dozens of venues that open their doors for this celebration.
Richmond is something of a tattoo hotspot, and is proud to have the number three ranking on the Today Show's list of the top 10 most tattooed cities in America. In warmer weather you'll be sure to spot some innovative examples on the bodies of locals who sport ink.
No trip to Richmond would be complete without a visit to the sprawling Virginia Museum of Fine Arts. The global collection spans thousands of years and admission is free for all but special exhibits. Permanent collection highlights include Art Deco and Art Nouveau as well as the largest public collection of Fabergé outside Russia.
Where to Stay
The Jefferson is a bona fide Grande Dame, with its Beaux-Arts lobby, sweeping staircase, marble statue of Mr. Jefferson and Tiffany stained-glass dome. Before you start thinking ornate equals stuffy, the hotel offers luxuriously modern rooms, an indoor swimming pool, free Wi-Fi and complimentary shuttle service. The on-site restaurant Lemaire is packed with lively locals who drop-in for the upbeat happy hour.
The Linden Row Inn is a more intimate choice. Eight connected row houses share a glorious garden where Edgar Allan Poe played as a child. Complimentary breakfast and in-town shuttle service are included in the room rate. The location, service and amenities are top-notch.
How to Get Here: See oM's Richmond Transportation Guide. Amtrak's Palmetto gets you to Richmond in six hours. The Palmetto journeys from New York all the way to Savannah, with plenty of accoutrements that ring of a time when travel was a gentler experience. Megabus is a less expensive alternative.
For more information on planning your visit to Richmond go to www.Visitrichmondva.com or www.Virginia.org.
Photos: Allison Tibaldi, taberandrew, sdreelin, kmsYES, David Stover, Virginia Museum of Art, Richmond Brewery Tours
Allison is a native New Yorker, who has lived in Rome, Tuscany, Melbourne, Toronto and Los Angeles. She frequently contributes travel pieces to Family Travel Forum, using her own children as guinea pigs as they travel the globe. She is fluent in Italian and Spanish and laughably adequate in French. Her background as an Early Childhood Educator gives her an added understanding of what it takes to travel with kids in tow. She firmly believes that the most important part of education takes place outside of the classroom, on the road, around the world. She never misses a chance to sample local delicacies, as her love for travel goes hand-in-hand with her love for food and wine. Follow Allison at @gourmetrav.