My idea of a perfect getaway starts with a bike. Be it a quick escape across the George Washington Bridge or climbing a volcano in Hawaii, two wheels have a way of creating memorable adventures better than any other mode of transportation I've known. Recently, the perfect getaway evolved to include a bike and a bunch of strangers in a strange land.
The strange land was Easton, Maryland, where my husband and I joined Discovery Bicycle Tours, an inn-to-inn tour company that leads trips in 11 destinations, including Vermont, Cape Cod, California, Martha's Vineyard, Quebec, Italy, and Scotland. I'd only ever breezed through Baltimore for a couple crab cakes, so a guided ride around the Free State sounded like a great way to meet Maryland and enjoy a weekend getaway—without having to plan a thing.
Inside Blackwater National Wildlife Refuge on our first day of riding, I flagged down a fellow DBT cyclist and pointed at something that few are privileged to see in a lifetime. "That's a bald eagle," I said. "Make that two bald eagles!"
Some 50 miles and four bald eagles later, the wild world had put on a magnificent show for us—the snapping turtles, water snakes, bathing muskrats, red-winged black birds, yellow warblers, blue herons, and egrets—like they were all part of the act, paid by Discovery Bicycle Tours to appear on cue. Would we have seen so many species had we done a DIY bike trip? Maybe. But during the increasingly hot afternoon, the ease with which we had our water bottles refilled by our tour guide Meg, our snacks replenished, sunscreen reapplied, undoubtedly made the journey better. We could relax and roll on through the spectacular expanse of the Chesapeake, so pristine and soothing; we had nothing to ponder but the next well-plotted turn in the road, the way the hawks shook the trees when they landed with a fish in their talons, and would we be having fish for dinner, too?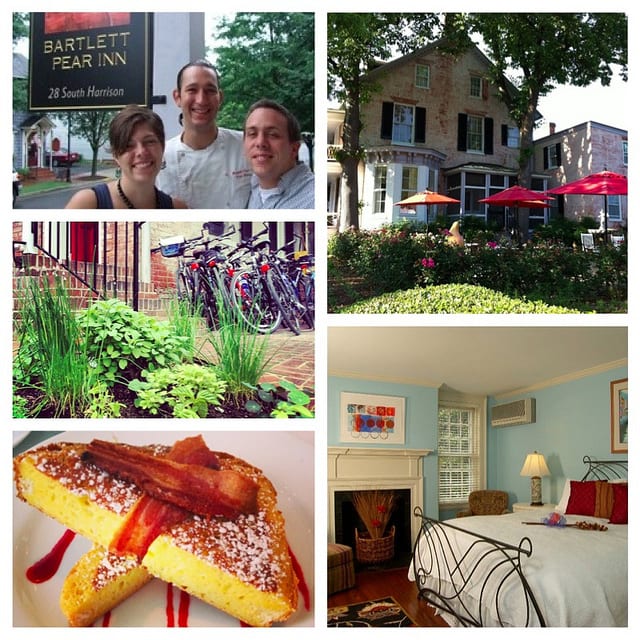 Back at The Bartlett Pear Inn, run by Chef Jordan Lloyd and his wife Alice, we sat on white couches in the garden and watched the setting sun warm the bricks, first laid in 1790. We sipped a vodka cocktail topped with a ruby red grapefruit slice that had been frozen, much like the smiles on our faces as we talked about our day, the bald eagles and bald friends we'd made.
As is custom following nearly every DBT ride, the intimate group of cyclists gathered around a long table for dinner at the inn's eco-minded restaurant. We ate want-to-lick-the-plate-clean dishes like Maryland wild striped bass with Turtle Boy Farms radishes and inn cured bacon, and shared stories about biking and our lives back home. Sincere invitations to visit were exchanged. Some of us had one bedroom apartments in New York, others lived in log cabins and had cows and law practices.
"We are a small company of folks who love what we do, look forward to coming to work each day and truly enjoy talking with each individual customer to help them make their best tour and travel decisions," said Larry Niles, the owner of Discovery Bicycle Tours since 1991. "We are prejudiced, but feel that bicyclists are the very best people. They are fun to talk to, fun to work with and fun to ride with. And we know we are lucky to be in a business whose goal is to help them have a wonderful, well-deserved memorable vacation."
We met Coloradan Chuck Shom, who talked about wanting a taste of the softer, less hectic side of the East Coast, and Long Islander Roberta Bocker who, "really enjoyed the DBT trip. The inns were beautiful, the guides were fun, the food was great and the group fantastic; riders really looked out for one another every day. It was a wonderful experience." Buffalo native Bonita Ryan said her "interest in history and nature and fondness for biking all seemed to be beautifully combined in the tour to the Chesapeake Bay area."
On our last morning of the tour, our bellies full of homemade french toast, we convened in the lobby with cue sheets and listened to our delightful, dedicated guides Bill and Meg tell us where to look for historic signs about Harriet Tubman, where to take a scenic detour and regroup for an energy-boosting nibble. I looked around at the people who had started out as strangers and in a matter of days had become a sort of family. On each ride, my husband and I might bike separately at our own pace or we'd chat and pedal with riders like Dave, who lived in Vermont and had raised millions of dollars for cancer research by biking a century every year for the past 20 years. At other times, we'd ride out ahead, just the two of us and the open road.
"We offer a huge choice of tours with over 150 start dates a year, and, unlike our competitors, we offer a large selection of shorter weekend tours in Vermont, Martha's Vineyard and the Eastern Shore of Maryland," said Niles. "Being small and family owned means we can be flexible, empathetic and responsive to all sorts of questions or issues that might arise. We feel that these attributes, above all others, are why our repeat customer rate year after year exceeds 60%."
On another morning, back on our bikes in Central Park, we began planning our next getaway. We tried to imagine ourselves on the Vermont tour, drinking Long Trail in a jacuzzi overlooking Lake Champlain after a day of riding through apple orchards and farmland. Or riding the Chemin Gaspe, passed fishing villages and lighthouses, up through vineyards and to the little mountain town of Abercorn on the Quebec tour. We have yet to decide which destination we'll soon explore on two wheels, but at least we can both agree it will be with Discovery Bicycle Tours.
Visit discoverybicycletours.com for upcoming easy, intermediate and advanced tours, and to take advantage of special online promotions like the Eastern Shore of Maryland and Chestertown Weekend. Tours start at $495 and include accommodations and meals, guided routes, experienced tour guides, full van support, free use of bikes, and free shuttles for most tours. Call 1-800-257-2226 for more information or to book a customized trip. 
Check out these 2014 tours, including Ireland, Scotland, Tuscany and Quebec, being offered at 2013 rates for a limited time. Before you book a tour, enter to win a Garmin Edge 510 Cyclocomputer. DBT will announce a winner on October 1! 
Photos: WickedVT, Author, DBT, shenamt
The co-founder and editor-at-large at offMetro, Lauren is a sustainable travel specialist and freelance journalist with frequent bylines in National Geographic, Bicycling Magazine and Shape. Follow Lauren's adventures at @laurenmati.