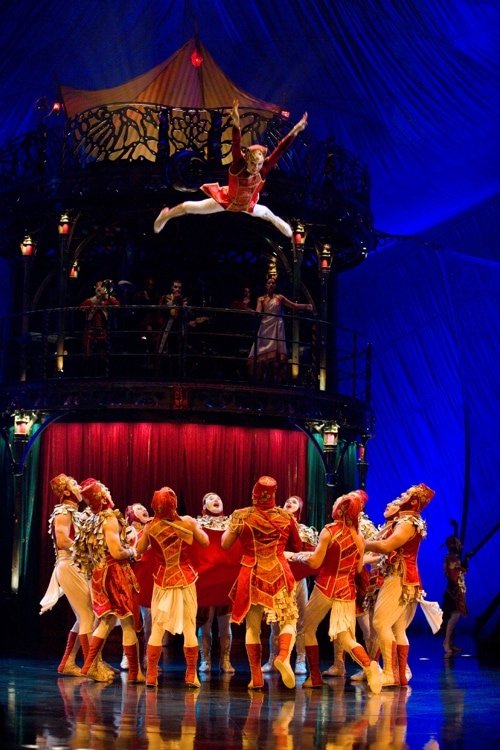 There isn't a bad seat in the house. When the lights turn vibrant colors, the dramatic music and the dancing on air begins, every person is pulled into the thrilling two-hour ride that is Cirque du Soleil. While it is usually better to be right up front in the action, beneath the Grand Chapiteau on Randall's Island, the nosebleeds will do just as well. Save your extra penny for the chicken club panini.
Kooza is like stepping inside the mystical world of Narnia, except there are no Hollywood tricks, no superimposing, and the mostly adult crowd is whispering, "This reminds me of when I was a kid." Between the Wheel of Death, the three contortionists, a Unicycle Duo, and the waggish charm of clowns, there is no time to check blackberry emails or worry about paying the bills.
The real magic of Cirque du Soleil is making a recession disappear for a night. Less than 10 minutes later, when you're off the bus and back in Manhattan, the conversation is still about the tiny tattooed man who balanced on 10 chairs, the flying stilt-strapped performers, the peeing dog, the juggler…
The show runs through June 21. When was the last time you went to a place where grown men shrieked, "Oh my God! Oh my God!" like little girls?
How to get there: Take the X80 buses that will leave exclusively for Randall's Island from Lexington Avenue and East 125th Street. Hop on the 4, 5, or 6 on Lexington Ave line to get to 125th. Buses will run from at least 70 minutes before showtime to 30 minutes following the performance, approximately every ten minutes. Round-trip bus fare is $5.00 and make sure to bring a pay-as-you-go Metro Card.
New York Water Taxi is an alternative way to get to Randall's Island. It departs from the E. 35th Street Pier in Midtown and E 90th Street Pier in the Upper East Side. Ferry Price: $15 one way, $20 round trip.
Visit Cirque du Soleil's website for more details and ticket info.
Photos: Courtesy of Cirque du Soleil
The co-founder and editor-at-large at offMetro, Lauren is a sustainable travel specialist and freelance journalist with frequent bylines in National Geographic, Bicycling Magazine and Shape. Follow Lauren's adventures at @laurenmati.