You've got the Finger Lakes for a wine weekend; the Hudson Valley for a day in the mountains; and enough surf between Montauk and Rockaway to keep you bound near New York year round. But what about when you don't need to get out of the city, so much as get out of this city?

Syracuse may not be your dream destination (heck, it's probably not even on your radar), but sometimes the best break from the big city is a trip to a smaller city. Syracuse may have a few high rises in its midst, but mostly the city feels like one big town. Filled with approachable art, laid back cafes, local brews and plenty of waterside walking, Syracuse deserves a spot on your fall getaway list.
Where to see art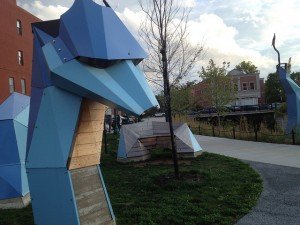 "My favorite thing about Syracuse is definitely the art," said Lauren Bristol, fiber artist and owner of Sparky Town restaurant. It's easy to see why. First and foremost, there's the Everson Museum of Art. Home to a diverse and gorgeous ceramics collection, The Everson is at the center of The Other New York (TONY), a community-wide, biennial showcase of Upstate artists, with a focus on Central New York and surrounding counties. I was in town for TONY 2012, which spread across twelve venues, including social change gallery ArtRage, and XL Projects, Syracuse University's downtown venue. Even technology incubator The Tech Garden doubles as a gallery, exploring the intersection of art, science and technology.
Catch sometimes-free opera and always-free Shakespeare in the Park at Thorden Park's spacious amphitheater. The Westcott Theater presents local, regional and national acts in a converted movie theater; or take yourself to the movies with the annual SYRFILMFEST October 11-14. If it's blues you crave, look no further than the nightly, cover-free entertainment at Dinosaur BBQ (yes, the same Dino as the one in Harlem; this one came first). During ArtsWeek, the Annual Syracuse Arts & Crafts Festival, the Northeast Jazz and Wine Festival and the Syracuse New Times Street Painting Festival come together as one summertime super-fest. Designers, crafters, dancers, musicians and food vendors fill the Westcott neighborhood for the annual Westcott Street Cultural Fair.
How to get around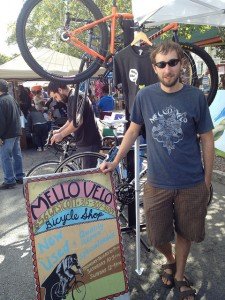 Syracuse is walkable, if not dense, though most locals I spoke with get around by car. The bike rack-equipped Centro buses can get you where you're going for $2 a ride or $3-4 to surrounding areas. If you're looking to rent your (two) wheels, head to Mello Velo. The bike shop doubles as a café, where you can map out your path over a cup of coffee (owners Steve and Sara Morris will be happy to help).
Outdoor adventures

Syracuse and its suburbs have more than enough crowd-free green to leave you feeling genuinely refreshed. A walk through the 76-acre Thorden Park, home to a community pool and rose garden, will talk you from University grounds to the heart of Westcott, Syracuse's beloved bohemian neighborhood.
Follow the Creekwalk for a gentle ride or walk from shopping/dining hotspot Armory Square to the southern shore of Onondaga Lake. It'll be hard to miss the sprawling building by the lake: Destiny USA, newly crowned the sixth largest mall in the country. From there, you can explore Onondaga Lake Park, the "Central Park of Central NY." Along the park's seven miles of shoreline are bocce courts, picnic spots, a skate park and the 35,000-square-foot Wegman's Playground. We hear this is no water for swimming, but rowboats and kayaks are available for rent. The Creekwalk is a work in progress. Once finished, it will extend past Armory Square to Kirk Park, which runs right into Upper Onondaga Park (not to be confused with Onondaga Lake Park; this one sits on the smaller Hiawatha Lake).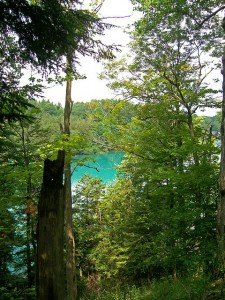 A few miles outside of Syracuse, Fayetteville is home to Green Lakes State Park, one of Mello Velo's Steve's favorite places to bike. The park is a refuge from the city all year round, offering a sandy, swimmable beach in the summer and cross-country skiing paths in the winter. Right by Green Lakes, you can catch some fly-by history with fifteen miles on the Erie Canal. This 36-mile path parallels the abandoned canal for 17 miles.
History
"This town is full of history. More than people realize," said shuttle driver and proud lifelong Syracuse resident, "Bruce from the 'cuse." Indeed, from Erie Boulevard to the old buildings that seem to pop up in the oddest of places (in the shadow of a highway overpass), Syracuse's history is palpable.
Give yourself a walking tour of the charming Hanover Square and Clinton Square, the city's grand gathering space. Bruce informed us that The Mission Restaurant, formerly the Wesleyan Chapel, was once an important stop along the Underground Railroad. Carvings in the chapel basement/Mission wine cellar suggest freedom seekers used the space for shelter. You can also follow the Freedom Trail throughout the city (click on "Stops in Syracuse on UGRR"), and learn more about the city's place in the anti-slavery movement at the Onondaga Historical Association Museum (admission is free), where the Wesleyan Chapel face carvings are now on display.
Study up on Syracuse's water-centric history at the Erie Canal Museum, which doubles as a visitor's center, and Onondaga Lake Park's Salt Museum. Admission is free to both, though there is a $5 suggested donation at the Erie Canal Museum.
Where to eat and drink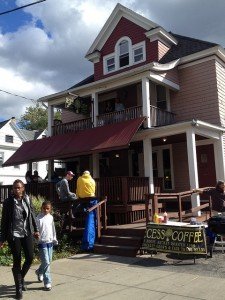 Wake up with some "coffee for the soul" at one of Café Kubal's handsome shops, or take it slow at Recess Coffee, a funky coffee shop and roastery housed in one of Westcott's characteristic wooden two stories. Though you can't go wrong with a simple cup of organic, fair-trade coffee, your sweet tooth deserves at least one of Recess's specialty cappuccinos (say Nutella or the peanut buttery Elvis) and homemade desserts.
Grab a local snack at the Saturday Central New York Farmers' Market, adjacent to the bus station, or the Downtown Farmers' Market in Clinton Square, should you be in town on Tuesday. For a more indulgent bite, pop into the Kandied Kernel. Though wacky flavors like PB&J and chocolate covered banana may beckon, don't overlook the classic caramel.
Also famous for its brunch (and cornbread), Alto Cinco serves local-minded Mexican and friendly vibes on Westcott St. Alto Cinco's not vegetarian, but year after year, local foodies deem it the city's best vegetarian fare. Try the veggie special burrito and you'll understand why. For some comfort food with quality carbs, you'll find it at Pastabilities, where homemade bread ready you for tasty homemade pastas. Grab some of that bread to go across the street at Pasta's Daily Bread.
If you're still thirsty after Empire, find your way to more local brews around the corner at the Syracuse Suds Factory. Across the street, the swanky yet casual Al's Wine and Whiskey Lounge boasts an incredible, ladder-accessible wall of booze–quite possibly the country's largest selection. British beer lovers would be wise to walk the half-mile from Armory Square for handcrafted, Medieval style beer at Middle Ages Brewing Company.
Where to sleep

Built in an old synagogue with an eco-friendly mindset, Hotel Skyler is a comfortable, modern boutique hotel near the University (average $229 and up). If you're looking for a more affordable weekend, Airbnb has plenty of impressive choices for under $100.
How to get there

Megabus runs directly from Manhattan to Syracuse (usually $23 or $35 per ride), with one morning and one evening bus running each way. Catch a Friday morning bus to take advantage of the view. Tree-lined Route 81 is especially striking when the leaves start changing color. There's a taxi stand at the bus depot, which is also served by public buses and many hotel shuttles. Visit megabus.com to book your trip.

View Getaway to Syracuse, New York in a larger map
KPICASA_GALLERY(GetawayToSyracuseNewYork)
Photos: Lead photo by Steve Sartori, Green Lakes State Park by phearce, all others by Jaclyn Einis