Fancy a ride down a winding canal, but don't think your weekend can accommodate jet-setting to Venice? There is a small but very of-the-moment neighborhood in Brooklyn worth a visit. Just south of downtown, and flanked by adorable Carroll Gardens on one side and the rolling hills of Park Slope on the other, Gowanus is the perfect spot for a day trip, no jet fuel required.
Sparkly new restaurants and wine bars are popping up next to old-time Mafia standards like Monte's (around since 1906), and yes, as promised, there are canals. The clean-up for the long neglected area is currently being plotted by the ecological masterminds at the Gowanus Canal Conservancy, and upcoming beautification projects are aplenty. Though lacking in Venice's scenic splendor, these baby rivers are possibly a better fit for the urban tourist, complete with graffiti lined walls and hipsters hunched over their sketchbooks canalside. The neighborhood gives you that adrenaline-laced feeling that you've just discovered something awesome, and let's face it, we New Yorkers live for that. The bars and bakeries dotted between huge abandoned warehouses, and the steel and glass apartments rising against humble brick buildings lend Gowanus an almost-there quality that we consider to be just right.
Here are 10 ways to spend a day in Gowanus.
Four & Twenty Blackbirds | 439 Third Ave. | birdsblack.com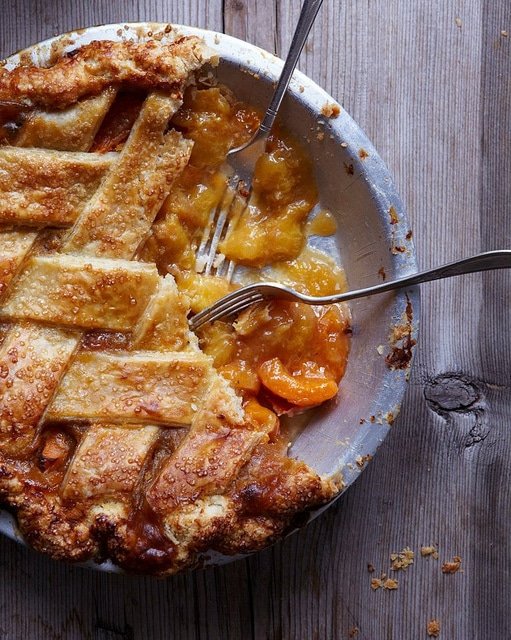 This corner cafe's austere facade is quickly forgotten once you enter the highly stylized little room with bright, airy windows and ironwork-esque wall decor. Specializing in pastries and pies, which are available by the slice in the cafe or whole via phone order, these treats are not to be missed. Everything down to the crusts are made by hand, and fruits and custard flavors make seasonal appearances on the menu. Paprika Peach and Salty Honey are two stars from the early fall line-up. Let's just say, we're very impressed.
Brooklyn Homebrew | 163 8th St. | Brooklyn-Homebrew.com
If anyone was questioning the hipster merits of Gowanus, look no further than Brooklyn Homebrew, where DIY types can stop by to pick up all the ingredients necessary to make beer in their bathtubs. The hole-in-the wall supply closet is amply staffed by knowledgeable beer geeks who are more than willing to discuss the process and the products at hand. It's one of those places that you can't help but smirk about, but then again, that's why we love Brooklyn.
Michael & Ping's Modern Chinese Take-Out | 437 Third Ave.
Light and healthy Chinese take-out? Rare. But even harder to find? The one and only Certified Green Restaurant that also happens to serve light and healthy Chinese dishes. Your lightly fried General Tso's Bean Curd won't come with plastic cutlery or chopsticks unless you explicitly request it. And that shower of sauces you get with every order? Also, only upon request. For the unlucky bulk of us who live out of Michael & Ping's delivery area, stop in while you're touring Gowanus and enjoy their dining room, which is charming and sleek, another way it strays from your local take-out spot
Twig | 287 3rd Ave. | twigterrariums.com

A true fairyland for terrarium lovers, and really, who doesn't adore a plant that's hard to kill and looks like a talented 2nd graders' diorama? Inside Twig, you'll find shelves upon shelves of glass jars, bottles and bubbles all begging to be scooped up and planted in. The elves that run Twig are always busy meticulously tending to a budding terrarium, and this open studio is a lovely spot to get a window on the local arts scene, and an ideal gift shop for a memento true to the Gowanus spirit.

FIND Home Furnishings | 43C 9th St. | findhomefursishings.com
On a dark street under the above-ground subway lines, you'll find a thriving furniture store, curating unique objects and pieces of design from around the world. Set up in a series of intimate living spaces, the store suggests what your parlour might look like, if you called it "the parlour." They excel at custom upholstery and have a large and varied selection of tables and chairs, as well as taxidermied accessories and a hanging labyrinth of lighting. Their efforts to create a furniture store that feels like a diamond in the rough is genuine, not tiring, and if possible, time your visit to the late afternoon, so you can enjoy 'happy hour' in the store, where ornate shot glasses of wine are carried around on a tray. That's what we call welcoming.
The Bell House | 149 7th St. | thebellhouseny.com
This spacious bar and venue may seem an unlikely destination on a street of seemingly empty warehouses in Gowanus, but people come in crowds for their lineup of musical performances, comedians and festivals. The Main Event Hall features a 450-square-foot stage and high ceilings to amplify sounds, while The Frontier Room has a more intimate feel and smaller stage, packing no less high impact performances, however. The converted 1920's warehouse is a nod to the possibilities of enviable space available in Gowanus, and the trademark Brooklyn eye for the avant-garde.
Lavender Lake | 383 Carroll St. | lavenderlake.com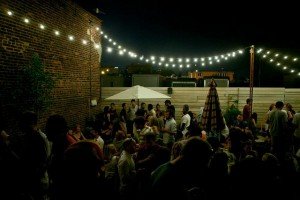 In an old horse stable just steps from the water, lovingly titled Lavender Lake, after the old neighborhood's ironic nickname for the polluted waters of the canals, you'll find a sprawling bar space and gastropub; brickwalled and dimly lit. Whether you're visiting to eat, (try the fried brussel sprouts with lemon aioli or the steak tartare with crostini) or just imbibing with friends, it's an excellent pause during a long day of walking or cycling the neighborhood. Filled with regulars and usually the owners too, there's always a party out in the large garden in the back, with patrons sipping signature cocktails such as the Lavender Lake Iced Tea; lavender infused vodka and earl grey iced tea and the Lucy Ricardo; jalepeno infused tequila, strawberry puree with mint.
The Pines | 284 3rd Ave. | thepinesbrooklyn.com
The new kid on the block, by the people who bring us next-door's Little Neck, this restaurant and bar is slated to be famous for their creative seasonal salads, like their apples with sheep's milk, sesame and hibiscus, as well as their classic mains, cow, chicken, pig, with quirky touches, such as the pork chop's husk cherries accompaniment. Boasting a quaint backyard seating area, a covetable feature, as well as a warm, rustic interior, decorated with repurposed wood materials and a young, attractive staff, this is a destination that is not season-specific.
Little Neck | 288 Third Ave. | littleneckbrooklyn.com
They don't catch the daily grub in the nearby water, and for that we're glad. Other things Little Neck does right? Their Full Belly Ipswich Clam Roll, Maine Lobster Roll, Glazed Polish Bacon… shall we go on? Alongside an extensive beer and wine list, this petite joint is casual but harbors a rare sophistication for a seafood shack and its popularity proves this. Started by two friends, now rising industry stars, Andy Curtin and Aaron Lefkove, and partially funded by a Kickstarter campaign, their personal touch is present in all aspects of the place.
Gowanus Dredgers Canoe Club | 2nd St. near Bond St. | gowanuscanal.org

Your trip to Gowanus would not be complete without a canal ride. Luckily, the generous people at the Dredgers Canoe Club are happily giving out boats for you to do just that. Take a relaxing, private tour of the estuary by canoe after receiving maps and a short history lesson on the canal. All this, for free. (Well, there is a suggested donation.) The Dredgers Canoe Club also coordinates bicycle and walking tours in the hopes of garnering interest in the community and reinvigorate the waterfront, which they believe can act as a great outlet for activity while functioning as an important historical area. Tours run most Saturdays of the month and are first come, first served, check the website for more details or questions. For more information on the history of the Gowanus Canal and to get involved in clean-up projects, check out the Gowanus Canal Conservancy.
How to get there: Gowanus is easily accessible via subway by multiple angles. The R train is at Union and at 4th Ave. and 9th St., and the F and G trains are located at Carroll. It's small enough to walk to each location in a day but certainly bike friendly.
Photos: j livingston, Angela Rutherford, respective venues, Carly Pifer

View Adventures in Gowanus, NY in a larger map