In anticipation of a busy winter filled with business trips and ski retreats, I called Koren Barwis, a health and wellness coach and a director at Pure Matters, eager for any on-the-go fitness tips or favorite vitamins that could help prevent me from getting sick or run down while traveling.
"Start before you go," said Koren, who was more than happy to provide this wayfarer with some easy, all-natural solutions found inside as well as outside a vitamin bottle. "Take your allergy medicine and load up on anti-oxidants at least a few days prior to going away, before having an on-set of symptoms. It helps with histamine response and your reaction to the allergens will be lessened."
Six (Pure!) Products for Fit Travelers
1. For Better Sleep On (and Off) the Road
Pure Matters Rest Easy promotes healthy sleep cycles with valerian root for relaxation and enteric-coated Melatonin to keep you asleep longer. You'll wake up feeling ready for the day—whether it's filled with meetings or museum-hopping.

2. For a Long-Lasting Energy Boost Green Tea Extract is a natural antioxidant powerhouse—yet a more gentle and effective alternative to coffee—and provides an all-natural pick-me-up. Fight off a cold and flu by keeping your immune system strong and supporting a healthy metabolism during your active getaway.

3. For Immunity and Digestive Support Immunity starts in the gut. Stay on track on your next vacation with this Complete Biotic that should be taken for at least 10 days prior and throughout your trip.

4. For Extra Immune System Support
If you're susceptible to allergies and bacteria, Immunity Gold is a fantastic, fierce product you want for your upcoming retreat from the city. Immunity Gold is packed with vitamins C and D, zinc and an herbal blend with Olive Leaf Extract that is shown to help ward off viruses.

5. For a Stress-free Getaway
BeCalm, travel on. This glorious creation has GABA, valerian root and DMAE for relaxation and to help you manage the symptoms of stress, be it from planning a getaway or juggling the pressures of everyday life.
6. For Adventurous Travelers
Take GlucoChon MSM four to six weeks prior to your trip and have happier joints as the result of it. Keep connective tissue healthy so you can better enjoy that bike ride or summit that mountain.

Note: Consult the Pure Matters website for suggested usage
Here are Koren's best health tips for active travelers:

How can travelers stay well rested during and after a trip?  "Melatonin helps you fall asleep and restores disrupted sleeping schedules so you can wake up feeling refreshed and energized. You can look for natural sources of melatonin like bananas, rice and almonds."
It's hard to stick with a workout routine on vacation. How do you stay fit while traveling?
"I walk everywhere I can. Walking is free exercise. You don't even think about it. I also really love running when I'm on vacation; it allows me to see the sites, learn the neighborhoods. You can kill two birds with one stone. If you can't book a hotel with a gym, there is so much you can do in your room. Try a twenty minute workout of jumping jacks, squats, planks, pushups, situps. I've been known to go to the beach with a jump rope."
What's something you're always careful about while on vacation? "When I'm interacting with new bacteria on a plane or traveling through a destination that's filled with germs, I take care to wash my hands consistently. I make sure to carry anti-bacterial wipes and hand sanitizer."
What's your favorite on-the-go snack?
"My go-to on-the-go snack is an unsalted pack of roasted nuts, which are full of energy and calories."
Do you stick to eating a well-balanced meal when traveling?
"I like to order a salad with fresh grilled chicken or shrimp. For breakfast, I'll eat an egg white omelet. I'll eat foods that are rich in phytonutrients like fruits and vegetables. The cleaner you eat, the better you feel."
What do you mean by 'cleaner'?
"Eat close to the ground. The closer you can eat to a food's primary form, the cleaner it is. If you're eating an apple, that's the best. Apple sauce, apple fruit leather, apple Jolly Rancher…then you're getting father away. All that being said, I'm a huge fan of moderation. Pick a couple of meals that you're just going to have whatever you want, then do your best to eat healthy meals with lean proteins, complex carbs."
Any other tricks to being a healthy traveler?
"If you forget to take krill oil or your immunity boosters [see sidebar], I recommend finding natural antioxidants in superfoods like apples, green tea, dried cranberries."
About Koren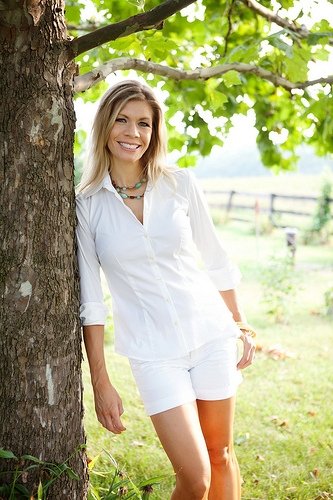 In addition to being the director of customer experience at Pure Matters, Koren is a certified holistic health counselor and personal trainer. She's an authority on health and wellness with an extensive knowledge of food, fitness and supplements. Her life's mission is to share what she has learned with clarity, empathy, and realism. Koren lives and works in Northern Virginia with her husband, a Navy Captain, and their four children. Follow Koren's blog at purematters.com

Photos: Pure Matter, Espen Faugstad
The co-founder and editor-at-large at offMetro, Lauren is a sustainable travel specialist and freelance journalist with frequent bylines in National Geographic, Bicycling Magazine and Shape. Follow Lauren's adventures at @laurenmati.