Autumn is perhaps the most beautiful and comfortable time to ride a bicycle in the New York City area. Register for one of these organized events that offer cyclists opportunities to challenge themselves, raise money for a good cause, learn something new or simply enjoy a scenic ride among fellow enthusiasts.
Escape New York 2012 | nycc.org/eny
When: Saturday, September 22. Staggered starts from 7am-10pm
Where: Sakura Park, Manhattan
Why: Besides free bike socks for the first 500 registrants, enjoy the best of the routes ridden by NYCC club members. Choose from 25 (new this year!), 50, 65 and 100 miles. Travel across the George Washington Bridge and take in views of the Hudson River and Palisades, then explore the roads of Bergen and Rockland counties. Light breakfast at the start, plus fueling stops along the way and hero sandwiches from Manganero's to finish the festival, now in its 18th year. Mostly flat, with moderate hills in the longer-distance rides. Proceeds benefit Recycle A Bicycle and I Challenge Myself youth programs.
Cost: $50 through September 18
Five Tips for a Care-free Ride
1. To prevent mechanical problems, make sure your tires are pumped up and that your brakes and gearing are in good working order.

2. Most event websites provide comprehensive-ride information; read them to avoid day-of surprises.
3. Helmets are mandatory for most events.
4. Obey all local traffic laws and be aware of motorists around you. Ride in single file for safety.
5. Check your cue sheets and watch for road markers—no guarantees that the riders in front of you know where they're going!
Tour of the Hamptons | massparkbikeclub.org
When: Sunday, September 23. Staggered start times, beginning at 7am
Why: The 21st annual edition of this popular farewell to summer ride offers routes for every distance (25, 50, 70, 100) and level from beginner to expert. All riders start at Southampton High School. Cruise through the historic hamlets and along the back roads and byways of East Hampton, Amagansett and Montauk. The route is marked and cue sheets are provided. Rest stops along the way. Proceeds help fund contributions to a variety of local charities.
Cost: $30 in advance, $40 day of
Brooklyn Queens Land Trust Garden Bike Tour | bqltgardenbiketour.eventbrite.com
When: Sunday, September 23
Why: Join the Brooklyn Queens Land Trust on this educational 11-mile tour of Brooklyn. Explore 10 community gardens in a borough that is proving how easy it is to embrace a green life in a city setting. Learn about urban farming—including growing fruits, vegetables, herbs, and flowers—in Clinton Hill, Fort Greene, Bedford Stuyvesant and Bushwick. Also learn about beekeeping, raising chickens, composting and rainwater harvesting. The ride concludes with a summer garden party featuring live music and beverages from Brooklyn vendors.
Cost: Free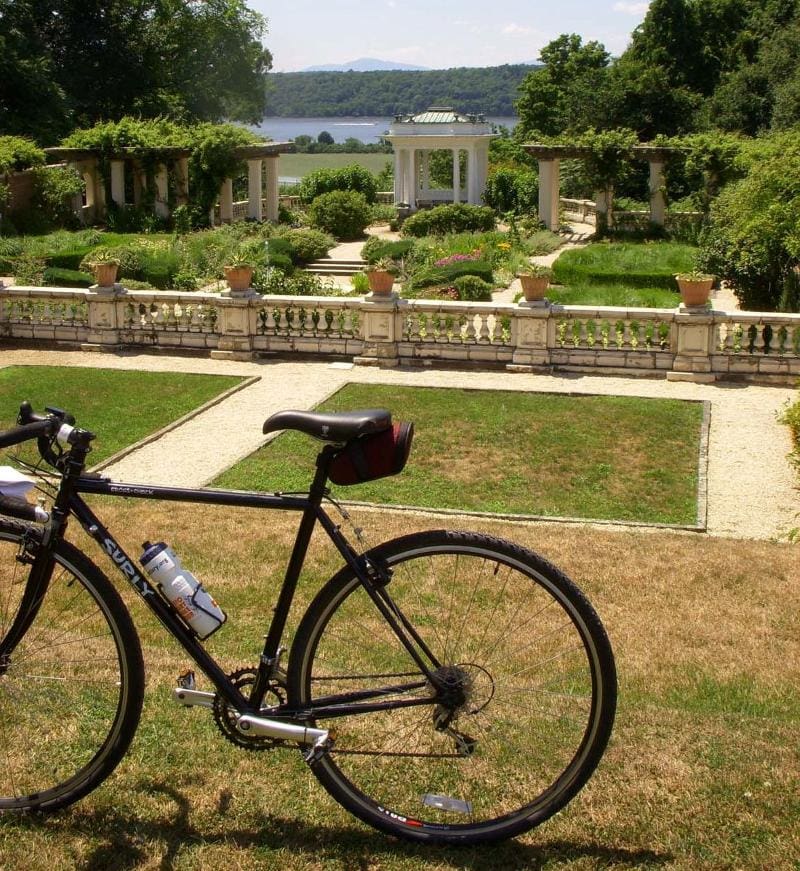 Bike the River Valley | biketherivervalley.com
When: Sunday, October 14. Check-in: 7am-8:30am
Why: Leaf-peep by bicycle on this ride along the Hudson, through rolling farmlands, over bridges and a few modest hills. The start line for all routes is the Bard College campus in Annandale-on-Hudson with optional transportation from NYC at an additional charge. (While there, don't miss the Frank Gehry-designed Fisher Center.) Fully supported ride with printed directions, marked routes—choose from 35, 70, 100 miles—rest stops, free hot showers at the finish line, plus post-ride meal and massages.
Cost: $95, no fundraising required. Kids under 12 ride free.
2012 Bike MS New York City | bikenyn.nationalmssociety.org
When: Sunday, October 21 at Pier 92/94
Why: Pedal with a purpose alongside 5,000 riders and help raise funds to find a cure of MS. It's the only ride that allows cyclists to circle Manhattan on closed roads, including FDR and Westside Highway. The extended 100-mile route takes riders through a traffic-free Holland Tunnel, along the scenic sides of upstate New York and New Jersey, returning over the George Washington Bridge. Enjoy a finish-line festival featuring food, beverages, live entertainment, massages, a sponsor expo, and a team fashion show.
Cost: $75 until October 19. Fundraising minimum $150.
Guest post by Susi Wunsch, founder of Velojoy, a blog about the fun of bicycling. Visit the site for hints, happenings and fabulous finds from the bike lanes of New York City.
Photos: JPChamberland, Sabine Eberle