Brooklyn certainly has its fair share of prominent writers who call the borough home. Pulitzer prize winners Jennifer Egan and Jhumpa Lahiri, literary power couple Jonathan Safran Foer and Nicole Krauss, Paul Auster, Rick Moody and Jonathan Ames are just a few of the accomplished wordsmiths that reside in one of Brooklyn's westerly brownstone-filled neighborhoods. The crowning moment for Brooklyn's literati seemed to occur last year when British writer Martin Amis moved to Cobble Hill, an event that prompted the New York Times headline "Literary Brooklyn Gets its Leading Man."
Given Brooklyn's flourishing literary scene, it should come as no surprise that the borough hosts the annual Brooklyn Book Festival featuring critically acclaimed local authors as well as international ones. Brooklyn Borough President Marty Markowitz says the festival is one of the "most prestigious" literary events and adds that Brooklyn "has more writers per square inch than almost anywhere else in the country, all contributing to our growing reputation as the epicenter of the literary universe."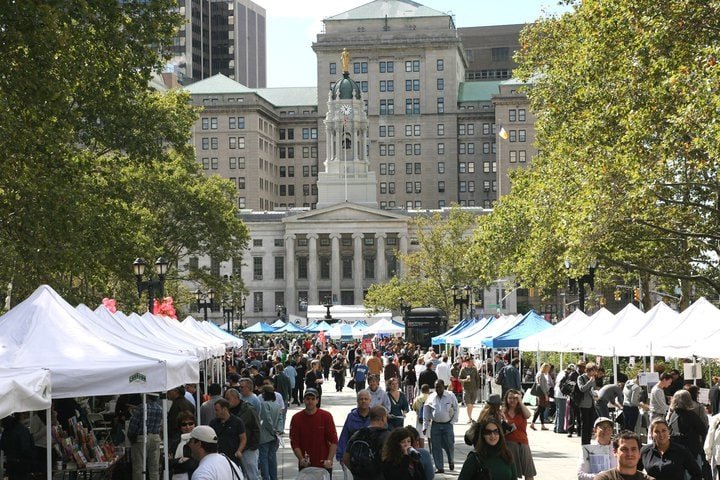 Now in its seventh year, the Brooklyn Book Festival will take place on September 23rd with author talks, writing workshops, panel discussions, Q&A sessions and more scheduled at various Brooklyn locations. Highlights for this year's festival include poetry readings and performances from past and present Poets Laureate Tina Chang, Billy Collins and Ishmael Islam; a panel discussion on marriage and monogamy featuring columnist Dan Savage, anthropologist Christopher Ryan and authors Kristin Davis and Eric Klinenberg; and fiction readings from literary luminaries Bernice L. McFadden, Joyce Carol Oates and Colson Whitehead followed by a Q & A session. Visit the Brooklyn Book Festival website for the full schedule.
In addition to festival events, other literary events—labeled "bookends"—will be held at Brooklyn libraries, bars, event spaces, theaters, parks, galleries and, of course, bookstores over the seven days leading up to the book festival, an expansion over last year's four day schedule. Some of Brooklyn's top independent bookstores host bookend events giving bibliophiles a great opportunity to get their literary fix while supporting their local community bookstore.
Here is offMetro's guide to Brooklyn's best independent bookstores and the bookend events they plan to host.
BookCourt – 163 Court Street
This cozy Cobble Hill shop has been in business for more than 30 years. In-store bestsellers are always thirty percent off and the decent sized children's area makes this a great bookstore for families.
Bookend event: A panel discussion on literary magazines and contemporary culture featuring editors Lori Stein, Rob Spillman and John Freeman of The Paris Review, Tin House and Granta respectively.
When: September 17 at 7:00 pm.
Where: BookCourt
Cost: Free

Powerhouse Arena – 37 Main Street
Powerhouse is an art book publisher in addition to a bookstore and event space. You'll find art, architecture, design and photography titles alongside the latest literary releases.
Bookend events: Salman Rushdie will discuss his new book Joseph Anton, a memoir, and later in the week Jeffrey Eugenides will read from his popular novel The Marriage Plot.
When: Salman Rushdie on September 19 and Jeffrey Eugenides on September 21.  Both events begin at 7:00 pm.
Where: Powerhouse Arena
Cost: $35 for Salman Rushdie, which includes a signed copy of Joseph Anton. $5 for Jeffrey Eugenides. Tickets can be purchased via the Powerhouse Arena website
Greenlight Bookstore – 686 Fulton Street
With the help of neighborhood organizations and financial support from the Fort Greene community, Greenlight Bookstore opened its doors in October 2009.  In addition to monthly reading groups and a packed events calendar aimed at both children and adults, the bookstore also offers a gift registry for school libraries or individual events.
Bookend event: The Brooklyn Indie Party where you can expect to mingle with representatives from independent magazine and book publishers based in Brooklyn. "We've added some new publishers [this year], which I think is a sign of the vibrant and growing literary community in Brooklyn," says Jessica Stockton Bagnulo, co-owner and events coordinator.
When: September 21 at 7:30 pm.
Where: Greenlight Bookstore
Cost: Free
WORD – 126 Franklin Street
With staff picks highlighted throughout the store, you'll never be without a recommendation for a novel, cookbook, young adult thriller or non-fiction narrative. Word also hosts three different book clubs so whether you're into classics or music writing, there's a book club for you.
Bookend event: The Emma Straub Hollywood Variety Hour with author Andrew McCarthy, singer-songwriter Stephin Merritt and blogger Maris Kreizman.
When: September 22 at 8:00 pm
Where: Public Assembly, 70 North 6th Street
Cost: $26.95 which includes a copy of Straub's new book Laura Lamont's Life in Pictures. Tickets can be purchased via the WORD website.
Photos: Powerhouse Arena, Brooklyn Book Festival, Greenlight Bookstore/arrbecca