If the Hamptons are the go to getaway for Manhattanites, then the North Fork may just be a haven for us quirky Brooklyners. It itself is a bit off the beaten path, a bit further from the city and reveling in its solitude and undiscovered cool. Instead of Rodeo-like Main Streets, you'll find sprawling farmland and vineyard after vineyard all dotted with local farm stands that act as an alternative to the supermarket. With such abundance of fresh produce, it's no wonder that the North Fork specializes in delivering their recent harvests with a gourmet twist into your waiting belly.
We trekked through the narrow peninsula to bring you our favorite hidden gems that are humbly serving the fruits of their labor (sometimes literally) or else letting you do the picking. Visiting each place along the route would make for an eventful day, given you have the stamina for a semi-serious bike ride or a set of four wheels to leisurely wander the roads. In either case, at every stop, you can be sure everything is straight from the source.
North Fork Table and Inn | nofoti.com | 57225 Main Road, Southold
One of the classiest restaurants north of the Hamptons, skip out on their pricey tasting menu and the stuffy dining room for the food truck out back that is open for lunch daily. Specialties like a 'Grown-Up Grilled Cheese' with goat cheese and bacon, and 'Housemade Chorizo and Black Bean Chili' are featured on a seasonal menu, that in some opinions is more exciting than what's inside the restaurant. The best part about this take-out? There are picnic blankets and lounge chairs set up on a grassy patch which make for the perfect DIY picnic experience.
Lavender By The Bay | lavenderbythebay.com | 7540 Main Road, East Marion
You can smell the lavender from the road, and when the fields are in bloom the sight is something special. Picking your own lavender is a fun way to gather a bunch to bring home and dry for a fragrant decor touch, but you can also purchase both fresh and dry bunches in the open-air store, where the scent wafts in with the breeze. Many other products made from lavender, like soaps, lotions, oils and honey, are also available, as are lovely, inedible souvenirs from the region to remember your gluttonous day.
Catapano Dairy Farm | catapanodairyfarm.com | 33705 North Road (Rte 48), Peconic

It's hard to decide whether this place is a better destination for a petting zoo, or the goat cheese tasting room. Whatever your interests, there is plenty to occupy you here. Goats, and lots of them, play outside in large pens where you can see for yourself the glorious animal producing the luxurious cheese sold here.
In the small store and tasting room, sample varieties like Honey Lavender, sweet and smooth, or Chunky Garlic, with a kick. All of the cheeses are available for sale if the tasting hasn't satisfied your desires, or if it has convinced you to bring home the experience.
Shinn Estate Vineyard | shinnestatevineyards.com | 2000 Oregon Road, Mattituck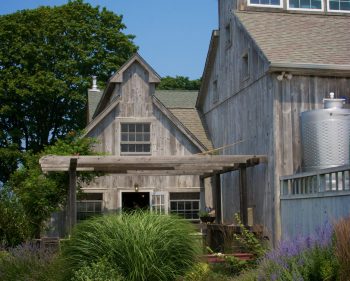 Everything we love about the North Fork is epitomized by this winery. Though it is more of a hike than the bigger vineyards on the main roads, it lies in an almost forgotten nook of land, where fields and old, stately homes loom over the modest barn and production area. You may have visited the owners' restaurant in the West Village, a delightful New American bistro, Home. Using a similar aesthetic, and powered by solar panels and a single windmill, the winery strives to produce local takes on classic wines. They happen to be open for tastings a bit later than most (8pm) and in the true offbeat spirit of the North Fork, Friday nights feature a palm reader to illuminate guests during their tastings. If you have one too many wine tastes, visit the Farmhouse Inn for a room overnight on the vineyard. The intimate setting makes for an idyllic experience that could only occur in the midst of it all.
Magic Fountain Ice Cream | magicfountainicecream.net | 9825 Main Road, Mattituck
To unknowing visitors passing the ice cream shop, flavors on the signage like Sweet Corn, Goat Cheese and Malted Olive Oil may confuse, but trust that they are harmonious to the taste buds. Housed in a retro drive-up, this ice cream fountain makes all their flavors from local ingredients, and you can taste the difference. Naturally, the menu is seasonal, which only means there's always something new to try.
Patty's Berries and Bunches | pattysberriesandbunches.com | 410 Sound Ave., Mattituck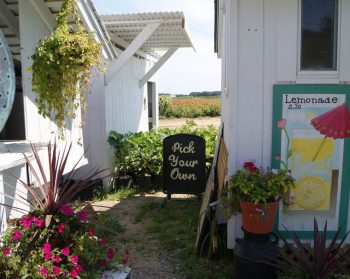 Patty's at first appears like your neighborhood bodega's flower section exploded and multiplied. Selling fresh picked sunflowers (the field is behind their stand) and many other flower varietals, this is our favorite place to grab a lovely centerpiece. Varying by season, Patty's also sells berries, and you can pick your own right off the plants in the fields behind. Through October, pick raspberries and try not to eat them all before you reach the register.
If you're not content to carry your berries home, have them whipped up into a fresh smoothie made on-site, and with their very own honey, it's guaranteed to be sweet. There is a lovely garden area with seating to soak in the afternoon air.
How to get there: Take the LIRR to Greenport or the Jitney to the East Marion stop, and start your journey on bike in reverse. To return to the city catch the Jitney or the LIRR in Mattituck.
Photos: Lead photo byChris Goldberg, Shinn Estate, Caitlinator, all others by the author

View Six Spots Worth a Trip to Long Island in a larger map
Carly Pifer is a freelance writer who has been known to follow whims inspired by romantic movie scenes or colorful street style shots to India, Japan, Tunisia and Argentina. After stints living in Seoul, Boston, Paris and Los Angeles, writing and searching for something intangible, she landed somewhat steadily in Brooklyn and has begun to find inspiration in her more immediate surroundings (and also the permanence of her bookshelf). She writes about fashion for Refinery29 and has been known to pack an outfit per day on backpacking trips. Please visit her website to read her travel diaries and other writing on the web at www.carlypifer.com or follow her on instagram .