"Four other countries have cities named Brooklyn, but only the U.S. has Barclays Center," boasts a recent post on the Barclays Center Brooklyn Facebook page.
On Atlantic Avenue in Park Slope, the shiny new 18,200-seat venue (with 19,000 seats for concerts) is ready to welcome the re-branded Brooklyn Nets basketball team. Barclays Center is a hop, skip and a jump on public transportation from almost anywhere you're starting. Barclays is asking people to leave their cars at home and take their bikes, locking them up at one of the 400 bicycle parking spots.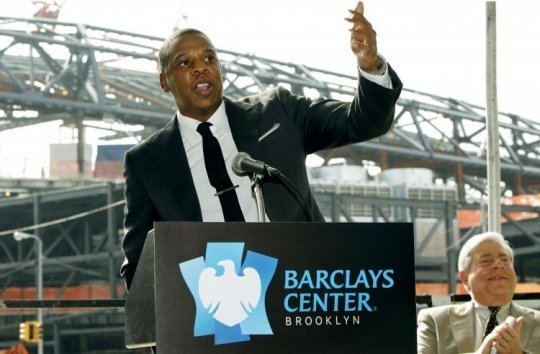 Opening September 28 with a sold-out Jay-Z rap show extravaganza, the Barclays Center wants us all to know that "September is just the beginning." Jay-Z, who is part owner of the Nets, will go on to play seven more shows to kick off October, and from there the scheduled line-up offers something for almost every taste. Brooklyn native Barbara Streisand comes home again. The Harlem Globetrotters (Oct. 7) show off their tricks and b-ball magic skills while fans of other sports can see the New York Islanders hockey team take on the New Jersey Devils (Oct. 2), World Championship Boxing (Oct. 20), or the Kellogg's Tour of Gymnastics Champions 2012 (Nov. 18). And for the teenage girls, the "Biebs" will also take the stage at Barclays Center (Nov. 21).
The Brooklyn Nets home opener is November 1 against other borough-rival the New York Knicks. As the Nets website touts, "Bridges will be crossed." The Brooklyn Bridge, to be exact.

Additional highlights throughout the first season include The King's Men ($55-$170), a celebration of contemporary gospel music featuring genre great Kirk Franklin on October 14, The Who (from $54) on November 14, Andrea Bocelli (from $133) on December 5, and the Ringling Brothers Barnum & Bailey Circus in the Spring 2013. For the full calendar and ticket prices, visit barclayscenter.com.
How to get there: Barclays Center will be accessible by 11 subway lines, the Long Island Rail Road, and 11 bus lines. Fans can take the 2, 3, 4, 5, B, D, N, Q, R to Atlantic Ave-Barclays Center stop or the C to Lafayette Ave or the G to Fulton Street. From out east, take the LIRR to Atlantic Terminal. To further discourage driving to the venue, motorists will be encouraged to park at a half-priced lot a mile away near the BQE, and take a free shuttle bus.
Photos: NYMag/Sean Perry, Barclays