Plan to celebrate winter with a flourish by attending one of these seven mid-winter carnivals. Ice carvings, snow sculptures and polar bear swims are some traditional winter pastimes that will warm your spirit in spite of the single digit temps.
No car is needed to explore the Northeast's best winter carnivals of 2015. You do need to pack your warmest clothes, as it all takes place in the great outdoors. These events are 100% kid-friendly, so pack the kids along with your long johns and make the most of this snowy season.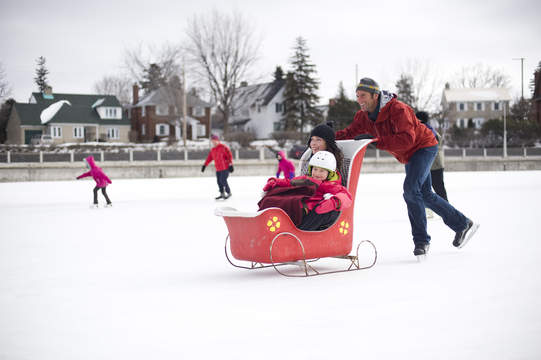 What: Stowe Winter Carnival
Where: Stowe, Vermont
When: January 17-25
Why: If there is a quintessential New England town, Stowe is a contender. Vermont-style skiing (read freezing cold temperatures and icy slopes) is top-caliber here. The Stowe Winter Carnival fits in so perfectly with the scenery, you may feel as if you walked into the back lot of a movie studio. Traditional winter activities like an awesome ice sculpting competition and a Super-G schuss blend with the slightly zany snow volleyball and snow golf.
Where to stay: The Green Mountain Inn is located on Main Street, putting you in the epicenter of fun. It is a charming place, established in 1833, loaded with modern amenities. Stowe has a variety of lodging options, either in town or along the shuttle route. Call 1-800-GO-STOWE and you will speak to a real, live local who can suggest the perfect accommodations and guarantee the best rate.
How to get there: Take the Amtrak Vermonter to Waterbury, followed by a 10-minute taxi ride to Stowe. Two reliable local taxis are Jessica's Vital Transit (802- 279-8251) and Stowe Taxi (802- 253-9490). You will need to call ahead to have a taxi meet your train. Getting around Stowe is easy and eco-friendly, thanks to a free trolley that makes its way around town every twenty minutes and runs all winter.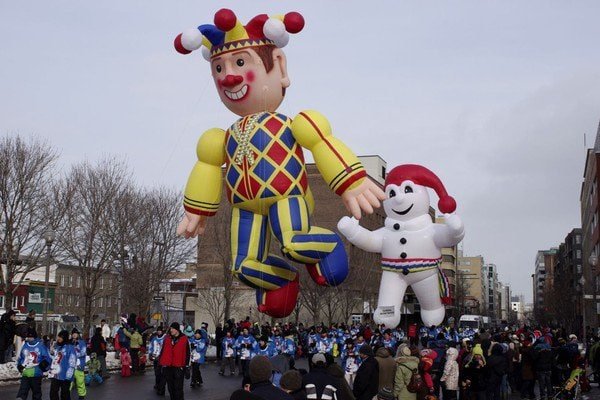 What: Quebec Winter Carnival
Where: Quebec City, Canada
When: January 30-February 15
Why: Brush up on your college French and head north to Canada's oldest established city. The granddaddy of all winter festivals knows how to fête in style. You will quickly forget the sub-zero temperatures as you watch parades, canoe races and an international snow sculpture event. It's not about what winter activities can you do, rather what can't you do in Quebec? Sleigh rides, a 400-foot ice slide, zip lining, dog- sledding, snow rafting, an arctic spa and dance parties are all here. The festival mascot is a pudgy snowman named Bonhomme, who will delight kids with his cuteness.
Where to stay: Quebec City has a great variety of accommodations that offer packages, ranging from the classic luxury of the castle-like Fairmont Le Château Frontenac to the modern, airy style at Hotel Pur.
How to get there: Montreal via Amtrak, then transfer to VIA Rail Canada trains for Québec City. It takes approximately 14 hours, but the scenery is an arctic dream. Continental flies non-stop from Newark in an hour and twenty minutes. From Jean-Lesage International Airport, a taxi is your best bet into downtown and should cost around $35. You can make your way around town riding the Ecolobus, which loops the city and runs on electricity. The funicular will give you an aerial view as you travel between the Upper and Lower towns.
What: 35th Annual Winterlude
Where: Ottawa
When: Three consecutive weekends, from January 30-February 16
Why: See for yourself that the residents of this functional Canadian capital know how to work and play. Hockey tournaments, glimmering ice carvings and a hilarious bed race are just a taste of the many scheduled happenings. Foodies will not be left out, as a Winterlude Food and Fashion Evening, offering culinary and wine related diversions.
Where to stay: The imposing, old-world Fairmont Château Laurier celebrates its 100th anniversary in 2012, so it's a festive time to splurge for a stay at this history-heavy, elegant hotel. It's perfectly located in the heart of downtown and all of Winterlude's action. Hotel Indigo is another convenient option and it gets a gold star for its emphasis on discretely blending elements of nature into a functional setting.
How to get there: It's just over an hour non-stop flight to Ottawa from LaGuardia on Air Canada, or Continental Express from Newark. Once you arrive at Ottawa Macdonald-Cartier International Airport, the OC Transpo bus into town departs outside of the arrivals terminal. When you hit the city, lace your skates and go for a spin on the Rideau Canal Skateway, the world's longest skating rink. Residents skate to work, school and everywhere in between, once the ice on the Rideau Canal is a foot thick. It snakes 4.8 miles through downtown Ottawa. There are shuttle buses in operation during Winterlude that can get you to all of the events.
What: Dartmouth College Winter Carnival
Where: Hanover, New Hampshire
When: February 5-8
Why: Held since 1911, the Dartmouth College Winter Carnival demonstrates that Ivy Leaguers know how to party in all kinds of weather. Collegiate lore says that this event was invented to lure females to the frosty campus during the doldrums of winter, back when the school was all male. Today, students, locals and visitors ice-skate on Occum Pond, ski race at the Dartmouth Ski way, eat snow topped with local maple syrup and participate in a human dogsled-style race on the picturesque Dartmouth Green. In the middle of the green sit giant ice sculptures constructed by pros, as well as smaller works done by frats, sororities and various student organizations.
Where to stay: The Hanover Inn overlooks the Green, perfectly situated to enjoy all the events. The 109 rooms are all newly renovated. Dine on site at Zins, where the menu serves organic produce and humanely raised meats, highlighting Northern New England bounty.
How to get there: The Dartmouth Coach departs from the Yale Club near Grand Central and drops off at the Hanover Inn in under five hours.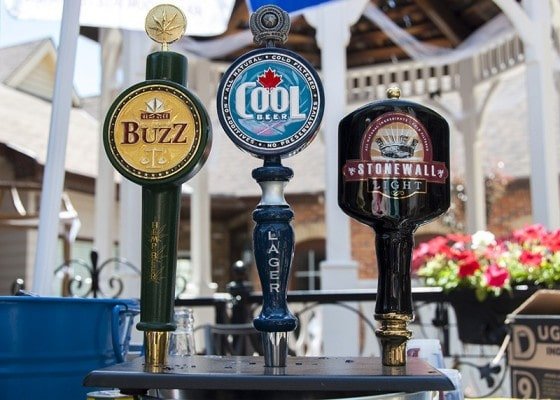 What: Burlington Winter Beer Festival
Where: Burlington, Ontario
When: February 6-7
Why: The Burlington Winter Beer Festival is an intimate affair featuring dozens of local brewers, food pairings, live entertainment, workshops, panels, and craft beer connoisseurs, all on the shores of stunning Lake Ontario.
Where to stay: The Waterfront Hotel offers spacious, modern rooms (from $139) with beautiful views of the lake.
How to get there: Amtrak's Maple Leaf takes you to Ontario in nine hours or fly from JFK to Toronto in less than 2 hours. Rent a car at Toronto Pearson Int'l Airport and drive 30 miles to the hotel.
What: Lake George Winter Carnival Weekend
Where: Lake George, New York
When: February 7-8
Why: Events for the Lake George Winter Carnival website 53rd anniversary edition includes tethered hot air balloon rides, bonfires, helicopter rides, air ballooning, fireworks, a chili cook off and a communal polar plunge that welcome winter to the Adirondacks. Picturesque Lake George is a pristine winter setting, and February is a peaceful time to be here.
Where to stay: The Quality Inn is located in the center of the village, so you can walk pretty much everywhere. The 54 rooms are functional, and wireless Internet access and continental breakfast are included in your room rate.
How to get there: The Adirondack Trailways bus from Port Authority takes 4 and 1/2 hours.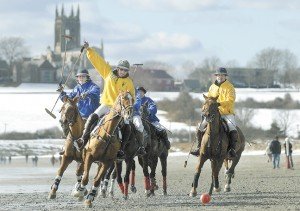 What: 27th Annual Newport Winter Festival
Where: Newport, Rhode Island
When:February 13-22
Why:Traditions here include polo on the beach, a citywide scavenger hunt, seal cruises, live music and ice-skating in downtown Newport. A visit to the Newport Winter Festival guarantees a nippy infusion of seaside fun.
Where to stay: February means great rates at Forty 1 North and Hotel Viking, luxurious properties that are both centrally located. If you are traveling with kids, the Marriot Newport should work nicely, thanks to its great location and indoor pool.
How to get there: Take Bonanza or Megabus to Providence from Port Authority or Amtrak from Penn Station. Once in Providence, you can hop bus number 60 run by RIPTA from Kennedy Plaza towards Newport. Get off at the last stop at Newport Gateway Center at 23 America's Cup Avenue a, 1hour and 10 minute ride from Providence.
What: Montreal High Lights Festival
Where: The High Lights event and all affiliated outdoor activities take place in Old Montreal and the Quays of the Old Port; performances and culinary events happen all throughout the city.
When: February 19-March 1
Why: We all need a little more light in the dark, dreary days of winter, and no one does light better than the good people of Montreal. This year's festival celebrates Buenos Aires in a festive lineup of culinary and entertainment events to please all the senses. Enjoy the warmth of cozy bonfires and under the illumination of spectacular light shows and torchlight processions. The High Lights Event takes the already fabulous (and free) daily activities to higher heights, lighting up land and sky with mind-blowing digital arts, circus feats, and more. Audiences looking to be shaken all night long need look no further than Nuit blanche à Montréal (a.k.a. the Montreal all-nighter) and its 175 mostly free concerts, exhibitions, and performances.
Where to stay: The Fairmont Queen Elizabeth and Square Phillips offer luxurious and affordable accommodations in the heart of Montreal. Check back on their websites for specific festival packages.
How to get there: There are a few options. You can take the 11-hour ride on Amtrak, or the Greyhound bus, which generally takes 8 or 9 hours. Or touch down at Montreal Trudeau Airport, where there are a number of transportation options heading into central Montreal. Check with your hotel to see if it provides a shuttle. Otherwise, take the 204 bus or L'Aérobus shuttle. For a full list of transportation options, click here.
Photos: caribb, Carnaval de Québec, Winterlude, Ottawa Tourism
Allison is a native New Yorker, who has lived in Rome, Tuscany, Melbourne, Toronto and Los Angeles. She frequently contributes travel pieces to Family Travel Forum, using her own children as guinea pigs as they travel the globe. She is fluent in Italian and Spanish and laughably adequate in French. Her background as an Early Childhood Educator gives her an added understanding of what it takes to travel with kids in tow. She firmly believes that the most important part of education takes place outside of the classroom, on the road, around the world. She never misses a chance to sample local delicacies, as her love for travel goes hand-in-hand with her love for food and wine. Follow Allison at @gourmetrav.