Hopping on a Metro-North train from Grand Central, I'm heading up to the new Canaan Farmer's Market (Saturday's May – December) to meet entrepreneur Donny Raus and try his Cold Roman coffee.  After a little over an hour on the train (and a switch in Stamford), I hop off to walk a half mile into the quaint downtown of affluent New Canaan. Tucked away on the corner of South Avenue and Main Street, in Connecticut, dozens of vendors and a throng of eager shoppers have swarmed on the old Center School parking lot. A constant stream of traffic has required two crossing guards to oversee the operation, and empty parking spaces are pounced on by waiting cars. With the scent of pie, home-made pasta and produce of every variety wafting to antsy Connecticut locavores, the New Canaan Farmers Market is the Saturday morning hot spot for sustainable shoppers in Fairfield County.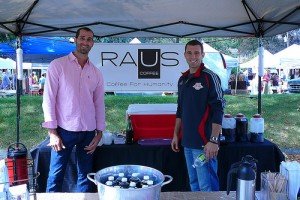 I wanted to fuel up for a day of weighing, bagging and snacking with a cup of freshly-brewed java at Raus Coffee, specifically Donny Raus's "Cold Roman." The cold espresso-based drink is Raus's own secret recipe, and fans from far and wide clamor for the stuff at his weekly appearances at Connecticut markets. After a shot of the smooth and sweet Cold Roman, I was ready to sit down with Donny for an interview.
Raus's organic, fair trade organization operates on the motto of "Coffee for Humanity," and combines two of his passions: helping the impoverished and, well, coffee.
"I've always loved coffee and people, and I just found coffee to be fueling my initiative to help families in need," said Raus. A portion of his sales are donated to Juvenile Diabetes Research and to helping feed the homeless. Raus's beans arrive from the far reaches of Sumatra, Ethiopia, Rwanda and more. Grown on organic co-ops, Raus's sourcing from impoverished countries, as well as working on a fair trade model, is for the benefit of his consumers and producers.
Under a fair trade policy, his producers around the world will receive fair rates for their organic, sustainably-grown beans. As such, Raus's rates for a bag of beans are around $15.00 for a bag, or $42 for two bottles (32 shots) of Cold Roman. For coffee enthusiasts who can't trek to Connecticut for a cup, consider participating in the Live Coffee. Past meet-ups have taken place in Connecticut and NYC, and have consisted of instructional "coffee cuppings" at Chelsea's Café Grumpy, a tequila and coffee party at a Stamford restaurant, and a trip to the annual NYC Coffee and Tea Festival.
Raus recommends his Ethiopian grounds, best paired with some dark chocolate fudge, and the classic Cold Roman—topped off with a bit of pumpkin liqueur, to put some moxie in your morning.