The train ride passes through just three states but what awaits at the end of the six-and-a-half-hour journey is a picturesque setting that feels worlds away from New York City.
Nestled in the watchful shadows of the majestic Blue Ridge Mountains, Virginia's Albemarle County is home to long sleepy country roads, idyllic farms, great wine and music, and some of the friendliest people you'll ever meet. This diverse southern retreat offers a divine romantic getaway from the city at any time of year. Here, a few of the adventures to be had.
Mountain Retreat
While ordinarily we at offMetro steer clear of car travel, we chose to endeavor the full, faraway mountain experience and so we rented a car (hybrid, of course). It took us along a windy, wooded road to Scottsville, a historic town on the James River.
See
Founded in 1745, Scottsville is a treasure trove of Greek Revival homes, colonial cottages, and lovely churches. Pick up a map at the Scottsville Town Office and stroll through town, making sure to stop at the Scottsville Museum and the Confederate Cemetery.
Hear
Celebrate local folk art and fiddle music by taking in a show at the Scottsville Center for Arts and Nature.
Eat
Enjoy addictive pub food at Tavern on the James, where a bowl of gourmet mac and cheese shares menu space with crispy fried catfish fingers and crab stuffed jumbo shrimp. Sounds like something we can sink our teeth into!
Sleep
Set on the James River, the James River Inn is like camp for adults, complete with a capacious, lodge-style building with stairs (we counted 67) down to the river, a cheerful, chatty proprietor, and a resident dog named Flea Collar. Book a river room and get there in time to watch the incredible sunset over the river (rooms from $165 per night).
Get Learned
It may be steeped in history and surrounded by some of America's prettiest countryside, but Charlottesville, VA is all things modern and cosmopolitan, from its cutting-edge culinary feats to its vibrant music scene. Home to the University of Virginia, one of America's most pristine examples of collegiate splendor (it was, after all, designed by Thomas Jefferson himself), "C-Ville" is the quintessential college town—with a decidedly grown-up, cultured twist.
The historic, pedestrian-only mall that runs through the center of town is lined with historic brick buildings, now home to chic boutiques and inventive eateries. From there, the free trolley is a scenic (and simple) route to UVA, where Jefferson's rotunda and other classical edifices hold court. Regular tours of the Rotunda are available several times a day during most of the school year (check the website for schedules).
For more of America's original Renaissance man, head up to Jefferson's paradisiacal hilltop retreat, Monticello, famous as much for its magical views as for its spectacular, Jefferson-designed architecture and gorgeous restoration. Expert guides give regular tours of the house and then set you free to explore the gardens, grounds, and Jefferson's wine cellar.
Wine and Dine
Fact: The first grapes were planted in the Monticello area in 1774. Even though he didn't see the wine in his lifetime, Thomas Jefferson's determination that the region was "ripe" for wine was  realized in 1970s, and the area has been turning out quality vinos every since. The long forested roads and mountain backdrop are only two more reasons to take a wine-tasting adventure.
We started our day, appropriately, where Jefferson introduced grapes to American soil. Jefferson Vineyards sits on the very land that was originally planted in 1774, under the watch of Filippo Mazzei, a Florentine Viticulturist who Jefferson tasked with the project of native wine production. Of course, the Revolutionary War thwarted that dream, but the modern winery has been making quality wines since 1981. The $12 tasting ( of 10 wines) includes a tour (noon, 1, p.m., 2 p.m.), and a tasting glass.
Blenheim Vineyards has the lively, playful feel you'd expect from a winery owned by chill musician Dave Matthews, who designed the rustic, eco-friendly tasting room, which looks out to Jefferson's "sea view" out back, and the tank and barrel room below. Everything has an element of the artistic here, from the "Pythagoras tree fractal" label, to the rotating artwork in the tasting room, to the wines themselves. The focus is on sustainable practices and a tasting is a mere $8 for six generous pours.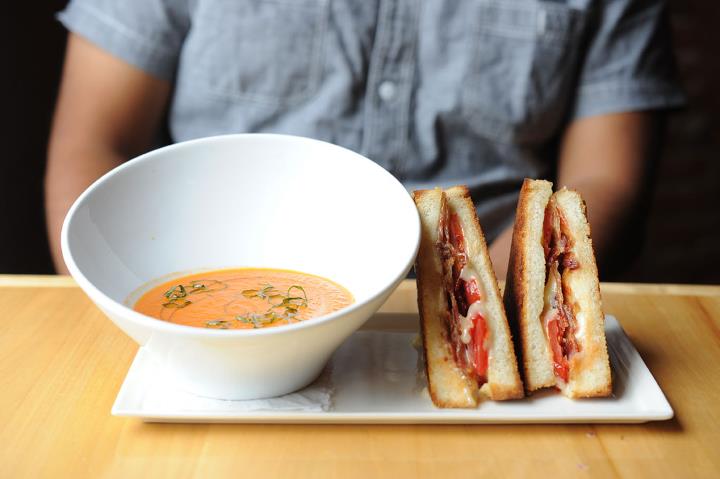 Plus, various companies provide complete wine tours or car service to wineries in Charlottesville.
Back in Charlottesville, soak up all that wine at Brookville (225 W. Main Street), a cozy upstairs nook on the mall that serves up tasty eats made from almost all local ingredients. Like the foods on his daily changing menu, Chef Harrison Keevil is a Charlottesville native. After stints on the New York and San Francisco food circuits, the UVA grad returned home to make the most of the area's cornucopia of farm fresh fare.
Where to Sleep

Situated a short stroll from the downtown mall, the home that houses the sweet Inn at 400 West High dates back to 1900, but the luxurious experience here is all 21st century. With just five cheery and beautifully decorated rooms, the bed and breakfast offers a homey, friendly atmosphere, made all the more so by Carolyn, its affable proprietor. Room rates (from $210 per night) include a blow-your-mind breakfast (think homemade waffles, incredible, locally made bread, and fresh fruit and granola), private rooftops, evening wine tastings (weekends only), and access to the famous (and dangerously addictive) kitchen cookie jar. Call ahead to arrange a free pickup at the train station or airport. If you're looking to get a lot of bang for a bit more buck, the Boar's Head Inn rotates deals throughout the year, such as the Bed, Breakfast, and Balloon Package for $371 per person per night and includes a hot air balloon ride for two, breakfast, deluxe overnight accommodations, and resort fees and taxes. (Regular rates start at $190/night.)
How to get Charlottesville from NYC
Take Amtrak to Charlottesville. Download a good book and snuggle up with your travel companion for the roughly 7 hour ride. If you're planning to explore more of the area, consult oM's guide to renting hybrids in NYC.

Photos: Reid Kasprowicz, Peter Hatch, Inn at 400, Brookville