Turkey Day, Tofurky Day or whatever your cuisine of choice may be, Thanksgiving is an excuse to eat yourself silly and give thanks for what you've got. Families and couples looking for an escape from decorating the dining room, broiling the bird and entertaining droves of in-laws, might consider leaving the planning to someone else this year.
With these seven Thanksgiving getaways covering the cooking, cleaning, calorie-burning activities, and afternoon tea, stressful holidays are a thing of the past, at least until next month.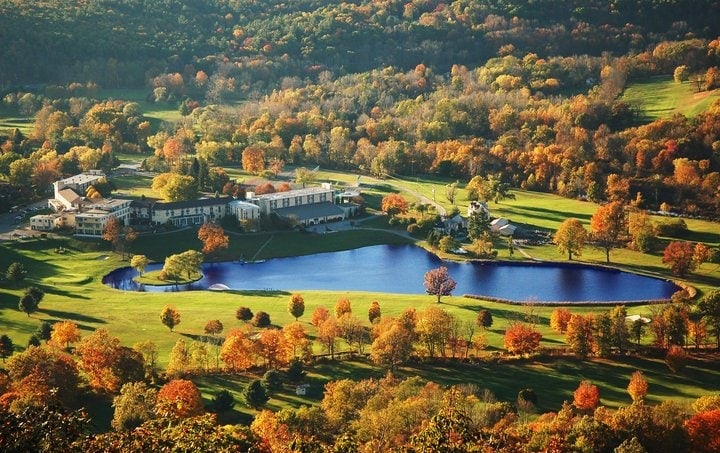 The Main Course: Honor's Haven Resort & Spa is one of the best-kept secrets of the Catskills, located in the middle of the Shawangunk Wine Trail and surrounded by fall foliage to make the most cynical New Yorker gasp. However, with their affordable and activity-packed Thanksgiving getaway offer, keeping a low profile will be impossible. For $300/room (for two) per night, enjoy two meals a day, yoga classes, and, most importantly, a bountiful Thanksgiving dinner in their elegant dining room. Use your Thanksgiving recovery time to visit the Monticello Racetrack or, for serious shoppers only, try hop on the hotel's shuttle on Black Friday heading to the Woodbury Common Outlet Mall .
The Trimmings: Deluxe room for two nights, two meals per day, Thanksgiving dinner, fishing, usage of indoor pool and tennis facilities, spa, fitness center, complimentary shuttle to nearby attractions.
How to get there: Take the Metro-North Port Jervis line to Campbell Hall Station. Take a taxi the remaining 45 minutes to Honor's Haven or consult oM's guide to renting Hybrids in NYC.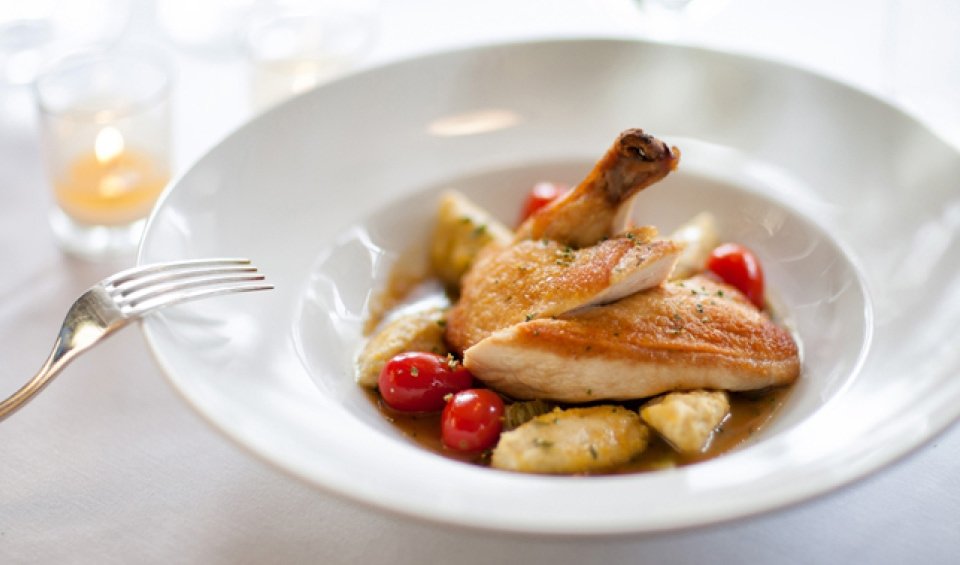 The Main Course: Head out to coffee country (and potentially ski or snowboard country) for Thanksgiving at the Green Mountain Inn. Your day will begin with a full country breakfast accompanied by those delicious Vermont syrups. After fueling up, find some serenity with a nature walk around Mount Mansfield, explore the town of Stowe, or meet fellow vacationers at the Inn's 4:00pm tea time, in the Main Street Dining Room. Thanksgiving Dinner will include traditional turkey and Fall-inspired fare, from dishes like acorn squash ravioli to maple glazed pork chop. Finish the night off with the classics: pumpkin or apple pie. 
The Trimmings: Double occupancy room, two nights lodging, Thanksgiving dinner and daily breakfast: From $230/pp per night. Valid November 20-22. 
How to get there: Take the Amtrak Vermonter to Waterbury. Take a taxi for the remaining 10 minute travel.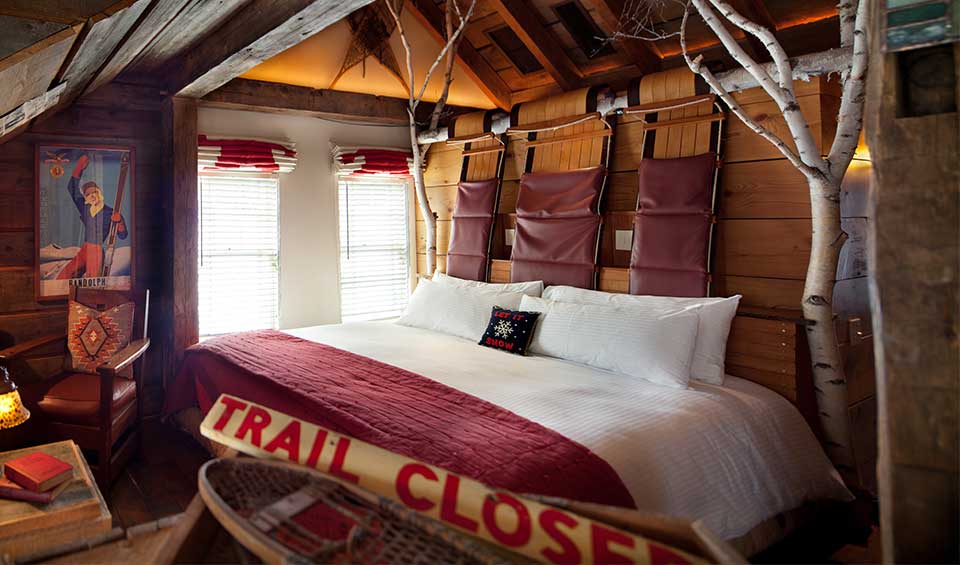 The Main Course: If you're looking for a one-on-one retreat with your significant other, The Pitcher Inn's Romantic Escape package is for you. Arrive to a lit fireplace and bottle of champagne and enjoy an intimate dinner at the Inn's luxurious restaurant, 275 Main. Or consider the Gourmet Package and enjoy a well-fed early winter courtesy of Warren, VT.
The Trimmings: The Romantic Escape starts at $910 and includes two nights, breakfast and afternoon tea for two. The Gourmet Package starts at $1270 and includes deluxe king bed accommodations, full daily breakfast and afternoon tea, plus dinner with wine pairings at 275 Main Restaurant for up to two guests. 
How to get there: Take the Amtrak Vermonter to Waterbury. Take a taxi the remaining 10 minute ride to Pitcher Inn.
The Main Course: Escape the cooking, cleaning and preparation of Thanksgiving with a trip to Maine. Your hours in travel time will be rewarded with a sumptuous feast, oceanfront views, and a special coupon book for the Kittery and Freeport outlets to make your Black Friday shopping easy and unforgettable. Begin your days with a continental breakfast and head our for a walk on the beach along Oarweed Cove. The Meadowmere's Thanksgiving in Ogonquit package recognizes the importance of tucking into a Thanksgiving dinner, as well as stocking up on some creature comforts at L.L. Bean, and gives visitors the flexibility to stay as many as four nights or a quick two night trip. Remember to pack some reusable bags to stuff your Black Friday finds in.
The Trimmings: Double occupancy room for two visitors for two nights, Thanksgiving dinner, Kittery Outlets passbook, Freeport Outlets coupons: From $349 (usually $698) per night for a resort room from November 22-27.
How to get there: Take the Amtrak Downeaster line to Wells, ME. Take a taxi for the remaining 10 minute travel.
Editor's Note: Under renovation for 2018 season.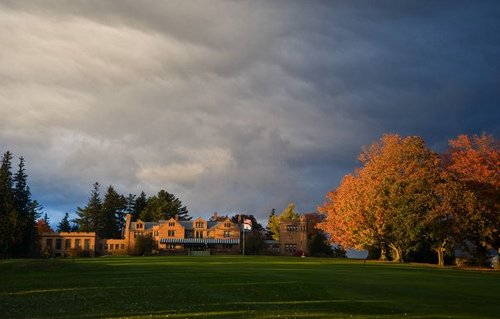 The Main Course: Feast your eyes on the rolling hills of the Berkshires and fill your stomach with the bountiful offerings of Cornish game hen, leg of lamb and more at the regal Cranwell Resort. Set on 380 well-manicured acres, the historic red-brick resort is your escape to fall foliage and babbling brooks, situated just over the New York to Massachusetts border in Lenox. The New England Thanksgiving package includes a Thanksgiving Buffet for two, full breakfast, and full access to Cranwell Resort's rejuvenating spa. 
The Trimmings: Double occupancy room, overnight accommodations, breakfast on Friday morning, access to Thanksgiving Buffet with a chef-attended carving and plenty to eat. Begins at $415 from Nov 20-27. 
How to get there: Take Amtrak to Pittsfield, MA. From there, take a Berkshire Regional transit bus to Lenox.
The Main Course: New Paltz's picturesque Mohonk Mountain House is the resort to visit at any time of year, and is especially inviting around the holidays. Enjoy their sumptuous Thanksgiving Buffet,  then burn off the turkey with a guided tour of the grounds and a nature walk, rock climbing, yoga, or laps in the indoor heated pool.
The Trimmings: Double room with double occupancy, bountiful breakfast and lunch buffets, and a delicious dinner, along with afternoon tea and cookies, and most resort activities. From $600/pp per night, book in advance as it oftens sells out.
How to get there: Take Metro-North to the Poughkeepsie station. Call the hotel's Transportation Department 844.993.9833 at least 24 hours in advance to arrange for a pick up. Alternatively, take the Adirondack Trailways Bus directly to New Paltz.
The Main Course: Have your Thanksgiving and ski it off, too with the Stay Here, Ski Free package.
The Trimmings: Luxurious accommodations for two, plus complimentary ski lift tickets per night. Daily meal options for an additional charge. $737.10/night if purchased in advance; $800/night otherwise.
How to get there: Consult oM's guide to renting a hybrid car in Manhattan.