Perched on top of the Shawangunk Ridge, 90 miles north New York City, the elegant Mohonk Mountain House is an ideal weekend getaway any time of year.
The Nature Conservancy named the Shawangunks, with their sandstone cliffs and copious rock-climbing routes, one of earth's "Last Great Places". Mohonk takes full advantage of its location as the gateway to the range, with over 85 miles of hiking trails, classic rock climbs, and the sandy beach of Lake Mohonk.
Get Outdoors: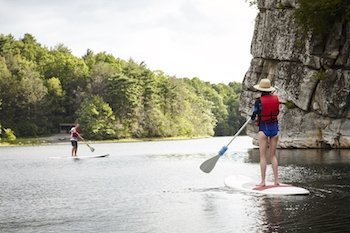 Overnight guests are encouraged to get outside and enjoy the resort's easy access to nature. Whether that's cross-country skiing and snowshoeing in winter or plunging into the refreshing waters of Lake Mohonk in summer.
The resort has undergone multiple renovations since its 1869 founding and also boasts an ice-skating rink, a lake, horse stables, an award-winning spa with an indoor pool and outdoor hot tub facing the mountains, a golf course, and a garden. Organized activities and entertainment at this family friendly hotel are plentiful and often high-brow: from evening jazz to movie nights.
Eats + Drinks: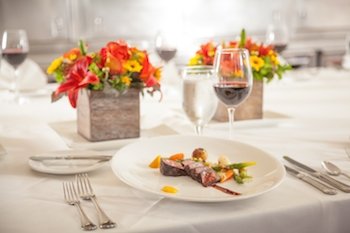 The basic room rate includes three square meals a day. Fuel up at breakfast before you hit the trails; or take advantage of the three-story spa (offering steam baths, warm-stone massages and an indoor pool) because, after all, you deserve a break. Then re-fuel in the evening (men, remember to pack a dinner jacket) over a three-course meal sourced from the Hudson Valley's seasonally available produce.
Stay at Mohonk Mountain House:
Most rooms come equipped with a fireplace (and detailed instructions on how to light one properly, thankfully) and all offer sweeping views of either the Catskill Mountains, Lake Mohonk, or the gardens ($328 / per night, mid-week special, inc. two-meals).
The rooms don't come with televisions (or even clocks), but with all that nature just steps away, do you really need any other entertainment? If you're traveling with a group, larger cottages are also available.
Mohonk is a dream for families. They offer periodic deals when kids stay and eat free, so be on the lookout.
Take the Bus from NYC:
New Paltz is a 90 minute bus ride from New York City. Trailways departs from Port Authority numerous times daily. Ask the hotel to arrange a taxi to pick you up on arrival.
Photo credit: Mohonk Mountain House
Gordon Macrae is a travel writer based in Brooklyn. He is currently writing a travel guide to the beaches of New York City and around. He is less Scottish than you think.