They don't call New Jersey the Garden State for nothing. Long before it gained pop culture status as the favorite hang out for Snooki, it was prominent on the culinary map. Yes, the state known for its big hair and turnpike is actually bursting with farms producing homegrown flavors. Adventurous eating the oM way means you will ignore driving on dismal roads, where all exits lead to dreary rest stop food. Public transportation will get you a taste of authentic Jersey delights that even the Big Apple can't provide.
From an old-fashioned pizzeria by the sea to a sublime ice cream scoop to an all-American diner and a festive meal at a country inn, there are flavors to fit every craving and wallet. The following eight New Jersey eats are worth the pilgrimage across the Hudson River.
Roasted Butternut Squash Soup
Courtesy of The Bernards Inn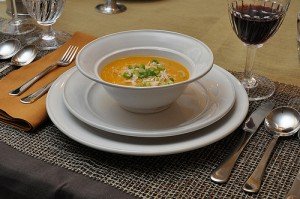 Roasted squash has a delicate flavor; slightly earthy and mildly sweet. In order to capture that flavor, one must not cover, but accompany this delicate taste. Here is a simple recipe to help those at home make a great soup.
Serves 6
Ingredients:
3 Medium butternut squash, cut in half, seeds removed (reserve for later)
¼ Teaspoon grated nutmeg
2 Tablespoons Butter, melted
1 Tablespoon honey
1 Cup of heavy cream (optional)
1 Large white onion, cut in small pieces
1 Rib celery, cut in small pieces
3 Quarts water
1 Bay leaf
1 Sprig thyme
½ Stick cinnamon
1 Clove, whole
1 Tablespoon salt
Method:
1.  Preheat oven to 400° F.
2.  Place butternut squash flesh side up on a cookie sheet.
3.  Mix the melted butter, nutmeg and honey together, and brush the mixture on the squash.  Season with ½ Tablespoon salt.
4.  Wrap the squash in foil and bake for approximately 30 minutes then remove the foil and continue to bake until tender.
5.  Meanwhile, in a heavy bottomed sauce pot, make a squash stock by combining the water, the reserved squash seeds and all other spices.  Bring mixture to a boil, reduce to a simmer and cook for about 45 minutes.
6.  After the stock is flavorful and slightly reduced, strain through a fine mesh sieve.  Reserve for later.
7.  When the roasted squash has cooled slightly, using a large spoon, remove the flesh from the skin.  The skin may be discarded.
8.  In a blender combine the roasted squash, squash stock and heavy cream (optional).  Puree until smooth and creamy.
9.  Adjust consistency with some water, if desired and season with remaining salt.
Chef's note: The soup may be garnished with some toasted pumpkin seeds or julienne pear if desired.
The Bernards Inn | 27 Mine Brook Road | Bernardsville | bernardsinn.com

Why it's worth the trip: Be pampered at a traditional country inn, only one hour from mid-town
The Bernards Inn is all about low-key elegance. This oasis of privilege has an aura of quiet luxury, reminiscent of a British country inn. Executive Chef Corey Heyer's menu highlights the windfall of fresh produce from the inn's own garden.  The intimate dining room's fare is contemporary American, and locally raised meats, such as pheasant and venison, stand out.  The wine list is an eclectic mélange, with over 45 by-the-glass selections, including hard to-find California "cult" Cabernets and sought after Super Tuscans that compliment the sophisticated menu. The 20 guest rooms in this 100 year-old historic inn are individually appointed, and make for a gracious overnight getaway. Check out the inn's Gourmet Getaways that combine fine dining with an overnight stay.
How to get here: NJ Transit from Penn Station in just over an hour minutes. The Bernards Inn is across the street from the station.
Soul Kitchen | 207 Monmouth Street | Red Bank | jbjsoulkitchen.org
Why it's worth the trip: A pay-what-you-wish restaurant, established by iconic rocker Jon Bon Jovi
Soul Kitchen aims to give people the dignity of the dining-out experience, no matter what their economic status. This community restaurant's menu has no set prices. You leave a donation in an envelope on the table, or you may perform a few simple volunteer tasks in exchange for your meal. Soul Kitchen serves healthy food, prepared with ingredients harvested from the vegetable and herb garden outside of the restaurant's front door. Although housed in a former mechanic shop, this is not a soup kitchen. You dine on proper linens with non-plastic cutlery. The Jersey-born and bred rocker lives in the area and he and his wife often greet guests. Time your visit, as Soul Kitchen is only open Thursday-Saturday from 5 p.m.-7 p.m., and Sundays 12-3 p.m.
How to get here: NJ Transit to Red Bank in approximately an hour. Soul Kitchen is down the street from the station.
Stage Left and Catherine Lombardi | 3 and 5 Livingston Ave. | New Brunswick | stageleft.com
Why it's worth the trip: Have dinner with the Restaurant Guys, radio culinary stars
Serious foodies tune in weekly to listen to Mark Pascal and Francis Schott's radio show, the Restaurant Guys. These gentlemen are experts on a wide range of dining topics, offering intelligent on-air conversation and a soupçon of humor with culinary powerhouses like Eric Ripert, Gabrielle Hamilton, and Lidia Bastianich. Hear their golden voices in person at their twin restaurants, Stage Left and Catherine Lombardi. These omnipresent oenophiles host frequent wine events, such as blind and vertical tastings, and wine dinners with internationally respected producers. A favorite is the Thursday Night Spirits Project, where guests sample a one-ounce pour of a super-luxury spirit at cost. Think rare Chartreuse produced by French monks, long-aged in wood barrels for under $7 a taste.
How to get here: NJ Transit from Penn Station to New Brunswick in 45 minutes. Exit the station toward the front of the platform, make a right on George St. and continue four blocks, turning right on Livingston St.
White Manna | 358 River Street | Hackensack | yelp.com
Why it's worth the trip: Sliders with the perfect ratio of meat to bun
Juicy hand-formed patties served on potato buns present the perfect proportion of meat to bread. Don't say no to the fried onion topping, as they add a sweet, caramelized flavor that is worth the potential for bad breath. The burger's diminutive size means that you may need to indulge in several of these juicy treats. A loyal clientele, low-prices and lots of publicity (White Manna has been featured on The Food Network and The Travel Channel) means that you should bring your patience, because there is usually a wait at this lilliputian- sized eatery.
How to get here: The Anderson Street Train Station is about a 10-minute walk to White Manna's River and Passaic Street location. It will be hard to miss the gleam from the chrome is this diner-like structure. You need to change trains in Secaucus but the entire trip is under an hour.
Lambertville Station Restaurant | 11 Bridge Street | Lambertville | lambertvillestation.com
Why it's worth the trip: Classic cuisine served in an authentic railroad station
Dine in a meticulously restored mid-19th century train station that recalls the glory days of the railroad.  The menu suits the vintage ambience, with timeless dishes such as rack of lamb, crab cakes and coconut bread. Self-taught Executive Chef Chris Beall is passionate about using the freshest local ingredients to whip up flavors that are pure on the palate. All the culinary herbs are grown on-site. The wine list offers several adventurous wine flights that allow you to sample three different labels. Since you came by bus, you can allow yourself to indulge in an after dinner digestive in the cozy downstairs cellar in front of the fire.
How to get here: Trans-Bridge Bus Lines Flemington/Frenchtown/ Doylestown route from Port Authority to Lambertville in 2 hours.
Mack and Manco | 9th and Boardwalk | Ocean City | mackandmancos.com
Why it's worth the trip: A traditional slice of pizza, with a twist
South Jersey natives crave this legendary thin-crusted slice no matter where in the world they venture. Like homing pigeons, they are drawn back to this old-fashioned pizzeria-by-the-sea. While a slice looks deceptively normal, watch the pizza maker's technique closely as they prepare each pie. What makes Mack and Manco's taste so unique is that the cheese is placed directly on the crust, with the tomato sauce lacing the top of the pie. Once it's cooked in the super-hot oven, the cheese and sauce tend to blend, but one bite and your palate will taste the subtle difference. Open year round, habitués will tell you that there is nothing quite like a steaming slice eaten as you stare at the frosty Atlantic and dream of summer.
How to get here: Follow oM's Transportation Guide to Atlantic City. From the Atlantic City Bus Station, take NJ Transit to Ocean City, about a 15-minute ride, and head towards the Boardwalk.
The Bent Spoon | 35 Palmer Square West | Princeton | thebentspoon.net

Why it's worth the trip: Ice cream made with fresh New Jersey produce
While it is true that fine frozen desserts can be found in our fair city, the constantly rotating list of flavors made with local produce is what makes The Bent Spoon worth the train ride. Perhaps a scoop of sophisticated cassis cardamom gelato or delicate New Jersey Bartlett pear sorbet will set you straight. If your taste buds crave the more classic notes, chocolate, vanilla bean and traditional fruit flavors are also available. Be warned, ice cream addicts are not influenced by foul weather, so this place has lines even in January. Leave time to explore this Ivy League town's authentic vinyl shop, the Princeton Record Exchange and its mega music collection.
How to get here: NJ Transit from Penn Station to Princeton Junction, where you catch the "dinky" shuttle train to Princeton.  You will have your cone in hand in about an hour and fifteen minutes time. For more ideas on things to do here, read oM's Mini Guide to Princeton: A Stroll Full of Surprises

Summit Diner | 1 Union Place | Summit | yelp.com
Why it's worth the trip: Eat at a classic roadside diner in the state that is synonymous with these stainless steel structures
In today's high tech world, few things are as comforting as a traditional diner meal. New Jersey is bursting with retro diners, and the Summit is an enduring version, complete with comfy booths and spinning stools at the lunch counter. Since 1938, the Summit has welcomed guests to the land of giant portions, Bible-sized menus, and old-school waiters. The bacon and egg sandwich is delectable in its simplicity, best accompanied by a cup of coffee that should bring the Starbucks crowd to their knees.
How to get here: The Summit Diner is located down the Street from the Summit Train Station, making it the hands-down diner of choice for oM readers.  NJ Transit will have you there in an hour, departing from Penn Station.
Photos: Courtesy of respective establishments and Robyn

Allison is a native New Yorker, who has lived in Rome, Tuscany, Melbourne, Toronto and Los Angeles. She frequently contributes travel pieces to Family Travel Forum, using her own children as guinea pigs as they travel the globe. She is fluent in Italian and Spanish and laughably adequate in French. Her background as an Early Childhood Educator gives her an added understanding of what it takes to travel with kids in tow. She firmly believes that the most important part of education takes place outside of the classroom, on the road, around the world. She never misses a chance to sample local delicacies, as her love for travel goes hand-in-hand with her love for food and wine. Follow Allison at @gourmetrav.