The grass-based Cricket Creek Farm in Williamstown, Massachusetts runs a cheese CSA out of Picado y Vino in Park Slope and regularly produces five cow's milk cheeses, including the semi-soft Berkshire Bloom, the chèvre-like Cricket Creek Fresh (whose five variations include Lavender & Honey and Sundried Tomato & Kalamata Olive) and Maggie's Round, a sharp, semi-firm raw, whole-milk cheese.
All of the above work well on a cheese board (see below for cheese plating tips), and Brooklyn native Suzy Konecky says the Tobasi, a grassy, semi-soft raw cow's milk cheese aged 3-4 months, "melts beautifully for cooking and makes a divine cream sauce." Konecky's always experimenting with new varieties, like a double cream Bloomy Rind cheese and rustic hard grating cheese.
The Skinny on Brooklyn Cheese Shopping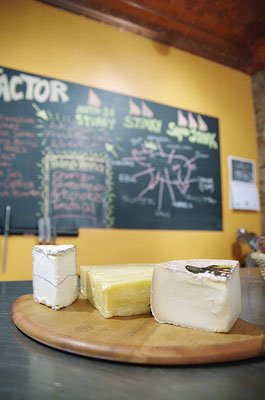 If you want to get to know the story behind that delicious, smelly food, these nine dairy destinations will make picking the cheese just as fun as eating it—well, almost.

The Brooklyn Slate Company sells gorgeous cheese boards made from red and black upstate slate. (See list of stockists here.)
The Brooklyn Kitchen carries cheese boards, knives, planes and even buttons,
Bklyn Larder, 228 Flatbush Avenue
StinkyBklyn, 215 Smith Street
Bedford Cheese Shop, 229 Bedford Avenue
Bierkraft, 191 Fifth Avenue
Blue Apron Foods, 814 Union Street
Fairway, 480-500 Van Brunt Street
D'Vine Taste, 150 7th Avenue
A Fromager Shows How to Make a Fabulous Cheese Plate
A crew of dairyheads recently joined forces for "How to Milk It," a night of cheese and butter at the Brooklyn Brewery. Fromager Tia Keenan got the crowd's entertaining minds churning with tips on preparing the ultimate cheese plate. With wistful expertise, Keenan advised, "Eating should be like a dream, familiar and unfamiliar at the same time." Here are her recommendations for making that dream happen on your cheese plate:
The Cheese
1) Infuse your plate with contrast in the cheeses' taste, texture and appearance
2) Always include something mild, simple and clean, like a soft, fresh ricotta or chèvre.
3) Incorporate another relatively mild cheese that's lightly aged but with a bit more flavor, like a slightly acidic goat's milk cheese.
4) Have a couple of "middle of the road" options between the subtle and the stinky. In her sample slate, Keenan included one toothier, firmer cooked, pressed cheese (cooked, pressed cheeses – like Parmigiano-Reggiano – have their curds heated before being pressed) and another washed in brine.
5) Include a funkier option for bold palates, like a complex, veiny blue.
Its Companions
1) Don't underestimate the importance, and potential, of the foods your cheese is macking it with. Buck the run-of-the-mill fruit and nut mix and experiment with unconventional pairings (like toasted nori). Keenan chose a 75% dark chocolate (never milk!) for a fresh, young blue cheese.
2) Bring contrast to your condiments through a mix of sugar, acid and heat and variety of textures. Keenan's sample plate featured strawberry jam (for sugar), curried mustard (for acidity) a spicy olive oil (for heat) and a nut brittle (for crunch and sugar).
3) There are a few ways to draw out the flavor of a cheese through its accompaniments. You can: mimic or contrast the cheese's flavor, focus on pleasant texture couplings or pair based on a food the cheese tastes like (e.g. pairing a nutty cheese reminiscent of almond butter with fruit preserves).