A breezy three and a half-hour train or bus ride from Penn Station, Providence, Rhode Island, deserves to be at the top of your must-visit list. And because it's so tiny (in a good, intimate, everybody knows your name kind of way) you can navigate the entire city without the use of a car.
Here to get you and the Creative Capitol better acquainted is our insider's guide, featuring some of Providence's biggest draws along with a tasty morsel of native knowledge.
Bordering the bustling Burnside Park (say that three times real fast), the pet-friendly Biltmore Providence spills you out into an area of the city peppered with all walks of life. It's in the heart of downtown, so you're mere minutes from College Hill (home to the Brown and RISD campus), Federal Hill (the old Italian neighborhood), and West Broadway (where the hipsters hang).
Insider's tip: When you're done goofing off in the Biltmore's humungous Alice in Wonderland-like tufted chairs, schedule a Signature Massage and choose your own aromatherapy oils to complement your mood.
You'll likely walk right past this un-marked restaurant, but it's certainly one not to miss. The come-as-you-are, '60s punk-inspired eatery serves up southwestern/American fusion fare like smoked chicken tacos, steak fajitas with corn relish, and a mac and cheese with buttered breadcrumbs that is physically impossible not to finish.
Insider's tip: Order the kitchen a six-pack of Schlitz through your waiter and they'll hoot, holler, and sing your praises from the kitchen.
If the in-house beats from the DJ don't get you moving, the pickle-back shots certainly will. High on life? The ping pong table offers a no-booze-required diversion. With picnic tables lining the wall (ask the bartender for a Sharpie and leave your mark), mingling and cross-clan conversation is inevitable.
Insider's tip: If you're lucky, the Big Nazo creatures will be parading the street. The larger than life characters are crafted in the workshop located directly across from The Salon and wander the streets at night performing music, impromptu plays, and general revelry.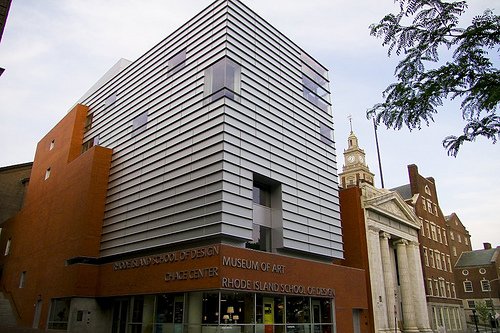 This multi-level art house features everything from artifacts from ancient Greece to contemporary art from Andy Warhol and Roy Lichtenstein. Rotating exhibitions offer an eclectic and curated look at some of today's most aspiring artists, as well as yesterday's masters.
Insider's tip: Hanging from the ceiling of the top floor is a stunning blown-glass chandelier by Dale Chihuly (who just so happens to be a RISD grad). And the twentieth century gallery houses an iconic Cy Twombly chalkboard painting, so you can pay proper tribute to the recently deceased painter.
If serving irresistible confections is cool, consider the Scialo Brothers Miles Davis. Actually, these days the bakery (founded in 1916) is run by three Scialo sisters. This Federal Hill institution is the little bakery that could: after surviving two crippling oven failures that put them out of business for months, the family business is in full swing again, churning out delicious rum cakes, authentic Italian cookies, and Sicilian bread.
Insider's tip:The Scialo Brother's Bakery has an online store where you can buy a majority of their products—except for the bread. Because it's made without preservatives, they're hesitant to ship it. But we have it on good authority that if you beg and plead with Carol, she'll send some your way.
How to get there: Take Greyhound, PetePan bus or Amtrak, or consult offMetro's public transit guide to Providence. For more ideas of things to do in Providence, read offMetro's Good Things Come in Small States: Providence's Eco East Side, Creative Eats, Beats, and Arts: Providence, RI Attractions, and Enjoy the Outdoors in Providence This Summer.
Photos: Courtesy of Taber Andrew Bain, Biltmore Hotel, Thee Red Fez, Stephanie Ewens, OwlPacino, Scialo Brother's Bakery