When Bostonians are asked about the Beehive, they look upon it as a full embodiment of South End Chic: An exquisite quintessence of an artsy, perpetually up-and-coming neighborhood. It's one source of Boston's finest cocktails, a contemporary jazz bar and an ideal locale to rub shoulders with the city's Bohemian upper crust.
What locals don't typically see the Beehive as, however, is a place to enjoy a truly superb meal, not because of poor dining experiences, but because the venue hasn't exactly sold itself as such. Little do they know of the effort and strategy put into the menu by both executive chef Becca Newell and co-owner Jack Bardy, who have not only created outstanding dishes, but also maintained the farm-to-table principles they hold dear.
Bardy is the first to admit that the Beehive is one to practice without preaching. "It's not our focus to espouse farm-to-table," he says. "We like to give preference to local sources, local produce. It's just something that we believe in."
On the other hand, Newell is one to "go crazy about farm stuff," in her own words. Having grown up in the Lake George region of New York, her family was always maintaining a farm of some sort and presently has a small farm on Cape Cod with her husband, Stephen Butters, owner of Walpole's Butter Café & Bakery.
Coming from a small farming family, Bardy, too, has always carried deep roots in food. Though he initially graduated from Northeastern University to manage an organization that provided technology to human rights groups, he ultimately returned to the culinary realm, starting first with Pho Republique (a former Southeast Asian restaurant) and then the Beehive.
"I will say this much about Jack," remarked Newell. "He likes to eat more than anyone else I've ever met."
And not in a gluttonous way, either, but more with a palate for eclecticism: one that is reflected in the various sources used by the Beehive for seasonal, sustainable food. Like most New England restaurants, Beehive takes advantage of the proximity to sea fare (which is purveyed from local sources year-round), ranging from farm-raised Prince Edward Island mussels expertly prepared with a sauce of lager, tomato and Old Bay seasoning, to cod, baked and crusted to perfection with broccoli rabe, olive oil and lemon.
Also used on a continual basis is all-natural meat, like organic chicken from Bell & Evans, grass-fed beef from Nebraska and duck from Long Island, resulting in a brilliant duck breast a l'Orange served with a parsnip puree. Natural meat, Newell says, "really makes a difference," one that patrons certainly notice, as does the use of cage-free eggs from Maine in scrambles served during Beehive's popular brunches.
The farm-to-table practice, however, speaks to much larger issues in which the Beehive is deeply involved, even if not deafeningly championing them. The establishment is a member of Boston's Chef Collaborative, an organization that works to improve working relationships between farms and restaurants, and the individuals behind the eatery all share a clear passion for the matter.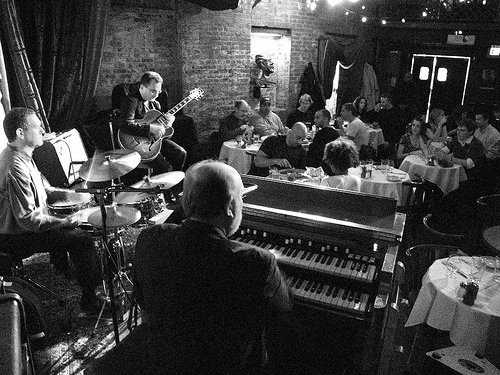 "People are dying because of the chemicals…we're feeding each other," Newell says. "It makes me feel good when I see a kid eating eggs here and I know that the egg was cage-free and the chicken was only being fed corn."
"These corporate food producers and farmers are doing some very unsavory things," adds Bardy. "People don't want to recognize, or they don't know if there's a practical alternative.
"Because we're in the restaurant business, we have more of an influence than your average person," he continues. "It's a growing movement."
The Beehive is located in Boston's South End at 541 Tremont Street. For reservations, call 617.423.0069 or visit beehiveboston.com. Enjoy the outdoor patio and jazz brunch on weekends, 10am-3pm. Brunch this summer might involve a basket of beignets ($9) and Eggs Shakshuka "A Real Bohemian Breakfast" ($14) while dinner could offer Cornmeal Crusted Soft Shell Crab Tacos ($24) and Moroccan Cigars, Lamb-filled Phyllo Springrolls ($10.5).
How to get there: Consult offManhattan's Public Transportation Guide to Boston. Take the Orange Line subway towards Forest Hills and get out at Back Bay Station. Walk to 541 Tremont St. in less than 10 minutes.